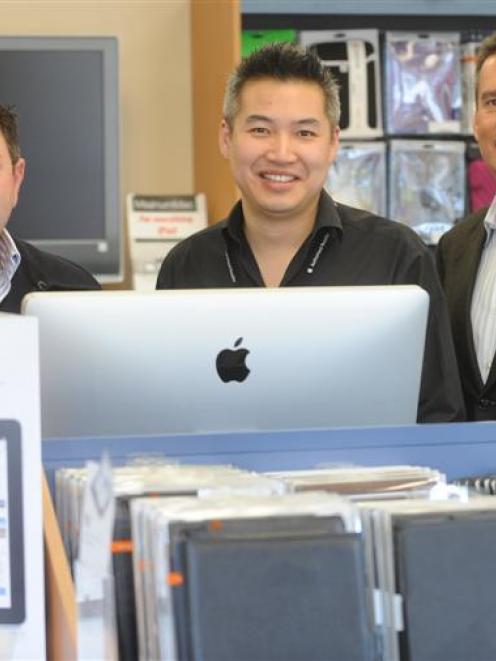 Renaissance Corporation is taking its name, which means revival or rebirth, seriously. It earlier this year appointed a new chief executive, Richard Webb, to lead the group in its quest to become a world leading supplier of information technology services. Business editor Dene Mackenzie investigates.
Richard Webb took over as chief executive of Renaissance Corporation in January and has wasted no time in introducing major changes to the company.
Renaissance is probably most well known as the Apple authorised distributor in New Zealand, providing Apple products and accessories through its network of resellers and retailers, including the MagnumMac and StudentIT stores, both of which are in Dunedin.
But Mr Webb (53) has a much bigger agenda for the group and already the results of his vision for the company are coming to fruition.
He wants Renaissance to be thought of as the IT version of Weta Workshops, the Wellington-based company which works with the global entertainment industry.
Before that happened, the company needed to refocus, he said in an interview in Dunedin.
"The company had a rough 2009 and the board was compelled to look at the direction of the company. I met with the board in December and joined in January."
The company went from reporting an operating profit of $4.65 million for the year ended December 2008 to a profit of $1.3 million in the same period last year.
The reported profit of $1.2 million in 2008 was turned into a $2.7 million loss a year later on turnover of about $200 million.
Renaissance had a large exposure to the distribution market when more and more IT companies were going direct to the consumer, he said.
The board realised that relying on distribution only was not a long-term viable model, Mr Webb said.
What many people did not realise was the extent of the products and services Renaissance offered beyond distributing Apple products.
It represented 50 brands, including Microsoft, Adobe, Cyber Clean, McAfee, Logitech, Quantum and Canon.
Also, it offered training through three NatColl (National College) sites in Christchurch, Wellington and Auckland.
What Mr Webb found when he arrived was that Renaissance had 400 employees and 13 silo-type businesses that spent most of their time competing against each other.
There were 20 URLs, 13 websites and three e-commerce sites, making it difficult for customers to find what they were looking for from the group.
Mr Webb spent the first few months in the job refreshing and rebranding the company which now had one URL and brands that worked together across the group rather than in competition.
"We want to be a one-stop for IT, hardware, software and training through NatColl, taking our customers on the entire journey of being creative."
The company had to become more customer focused rather than product focused and start offering a wider range of services, he said.
One of the things he was talking to staff about was talking to the customers about what they needed to complete their tasks.
Whether that was someone writing a novel or someone starting a business, Renaissance wanted to provide the total package.
As the customer moved on to a next phase, Renaissance wanted to have the products available, Mr Webb said.
Part of that development would be developing Renaissance's own intellectual property instead of importing the IP of others.
"It's a change to the way we do business."
One of the changes that excited Mr Webb the most was the establishment of a mobile applications team which was designing and building apps for the iPhone, iPad, Google Android and Telecom phones with Windows Mobile applications.
A recent iPad app, called My Secret Diary, had spent two weeks in iTunes top 10 and been downloaded 50,000 times in that period.
Those customers gave Renaissance a captive audience for future downloads, he said.
The future would be about mobile apps as more people in New Zealand adopted the global trend of providing their own hardware - iPads, computers, smart phones, notebooks - and using their employers' agnostic network.
Government workers, those in education and students were the most likely to start taking their own equipment to work but private sector employers were also likely to follow the growing trend, he said.
Renaissance was working on a scalable network to meet the demands of allowing employees to connect their own devices to their employers' networks and was six months away from launching its enterprise apps.
Most of the enterprises and employers Mr Webb had spoken to this year liked the idea.
Most would subsidise some of the tools used by their workers.
More changes were on the way for Renaissance retail outlets - MagnumMac and StudentIT - with the group looking for a much larger Dunedin site close to the University of Otago.
MagnumMac was now in Crawford St and StudentIT was in Frederick St.
The refreshing and rebranding would allow the group to offer the "best of breed", stopping it from being identified as a branded retailer, he said.
Asked about staff reaction to the sudden, and widespread change, Mr Webb said there was always a natural resistance to change.
But when he first met the board, he found a willingness to look for a different way of doing business and provided his mandate to implement the new measures.
Some staff had been hesitant about the change, but Mr Webb had personally met every staff member and explained what it would mean for each of them.
As he visited each branch, he took senior executives with him to encourage staff to ask any questions they might have.
While some staff had left, there had been no net job losses.
However, 11 of the top 16 managers were new to the company.
But finally the proof was in performance, and Mr Webb was happy with early results.
The first half of the financial year showed profit up 150% on the previous period.
In the second quarter, Apple's share of the New Zealand personal computer market exceeded 11% for the first time in more than 15 years.
"The growth in our Apple business is a reflection of our improved execution following the restructure of the business early in 2010," he said.
Renaissance had also changed its financial year to start on October 1.
The October to December quarter was always volatile, with the company not knowing what it would sell leading up to Christmas.
"It's better to have a volatile quarter at the start of the year than the end," Mr Webb said.