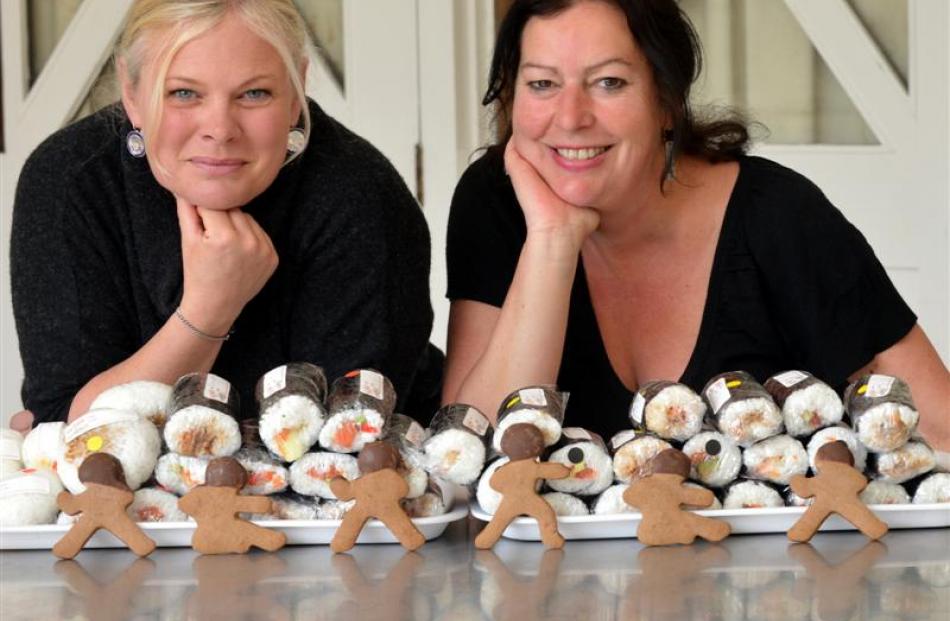 Sushi 4 Schools is more than just a business for Dunedin mothers Nickee Blucher and Angela Howell - it is a passion.
The two women came up with the innovative idea late last year, in response to a lack of healthy school lunch options.
Both with school-aged children, they found getting nutritional lunches that the children would eat "a bit of a hassle", Mrs Blucher said.
Ms Howell was already making sushi in the mornings for her own children, while Mrs Blucher was making it in the canteen at St Hilda's Collegiate.
They conceived the idea of orders being made in the morning, with the sushi arriving in time for the school lunch break.
A pilot programme, involving three schools, was launched in February this year and those schools involved were "incredibly supportive".
The women were overwhelmed by the response and they realised the only way to grow was to get more schools involved.
They now deliver sushi to more than 30 schools in the Dunedin area.
A Ninja Man gingerbread biscuit was also on the menu.
The pair, who are also directors of Goddess Catering, decided they could not develop the sushi business and also run the St Hilda's canteen, so they gave notice at the school.
To increase sales and production, they moved into a much larger commercial kitchen at the Kaikorai Rugby Football Club.
The Lynn St premises had a great kitchen and it was also a central location, Ms Howell said.
The two women can be found there every school morning, making fresh sushi.
It worked well with their schedule.
Once the deliveries were made and the kitchen cleaned up, they were "done for the day".
They also had school holidays off so it fitted in well with their lifestyles, Ms Howell said.
While ultimately, they would love to expand the business to other centres, they were very aware that they needed to have the model "completely right".
Making a mistake potentially resulted in a hungry child at lunchtime and that was "unthinkable" so they had to ensure the model was "100% robust", she said.
Schools either phoned or emailed orders by 9.30am each day and it was then very busy as they worked out the production totals, made the sushi and delivered it. One staff member was now employed.
They mostly supplied primary and intermediate schools, along with Bayfield High School and Columba College.
The pair's backgrounds were very different.
Mrs Blucher was a qualified social worker who changed career in 2010 to run the St Hilda's canteen, while Ms Howell returned to Dunedin last year after 19 years living overseas.
She set up a technology marketing company in England, employing 60 staff, which she sold three and a-half years ago.
Moving back to Dunedin was a "complete change of pace".
She wanted to be involved in a business that meant something to her and it was "incredibly satisfying".
Children loved the sushi and the two women often received emails from parents thanking them. Some children also bought sushi to take home for their parents, and teachers were also among their customers.
The women were looking at rolling it out to workplaces soon, with a pilot planned in Port Chalmers.