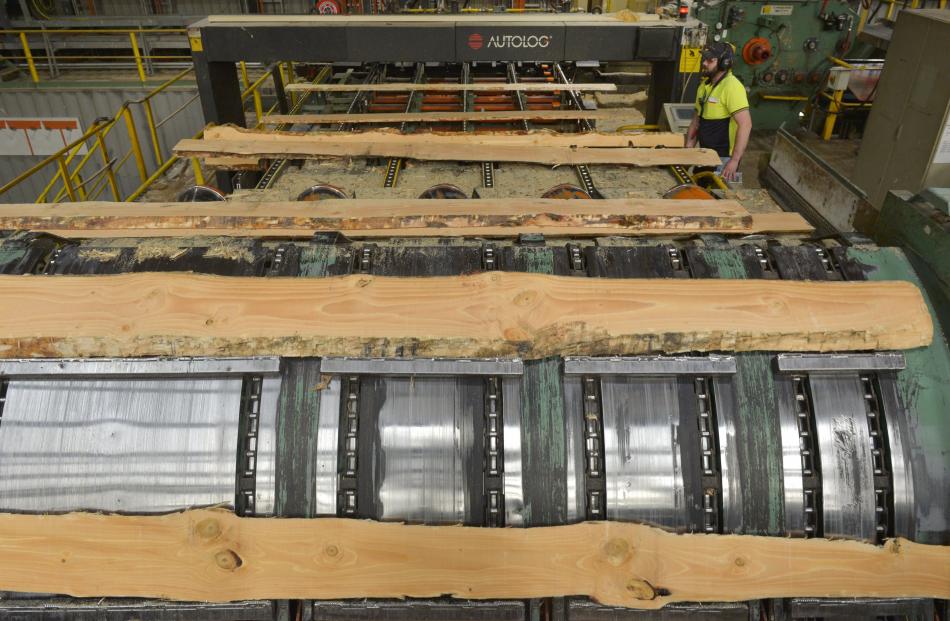 Japanese-owned Pan Pac Forest Products has completed the $24million redevelopment of its Milburn sawmill, which is now fully operational and staffed.
The Milburn plant, south of Dunedin, near Milton, has some of the newest and most environmentally efficient equipment on site, from its fuel source, to air emission cleansing to its "latest technology" kiln drying facilities.
Milburn uses 100% radiata pine to mill appearance grade lumber, at present solely for export to Asian customers.
The more than year-long redevelopment has doubled output from 50,000cum of lumber a year to 100,000cum,  with plenty of capacity to spare.
The heat plant is entirely fuelled by using woodchips, bark and sawdust to heat bore water to 165degC in a boiler operating up to 1000degC. That heated water is then circulated to the drying kiln. Anything left over is recirculated back into the system, at about 145degC.
Up to 90cum of sawdust and chips fuel the plant daily, Pan Pac managing director Doug Ducker  said.
"The new boiler plant is a super incinerator ... it acts much like a woodburner does in a home," Mr Ducker said.
The overall project was a few weeks behind schedule and the initial $23million investment had been "bumped up" by another $1million, he said.
Pan Pac has been operating in  Hawke's Bay for 44 years and 30 months ago bought part of the former Southern Cross Forest Products company out of receivership, which is its first foray into Otago.
With minimal loss to production, the dry sorting equipment from the Milton plant was moved to Milburn, and  other new sawmilling equipment installed, all in large sheds.
"Really, at 100,000cum we are in the niche market area. Output of 500,000[cu m] has become the commercial industry standard," Mr Ducker said.
Pan Pac's operations manager at Milburn, Blair Watson, said logs were sourced from around Otago, from small forest holdings and also City Forests, Matariki and Wenita.
The appearance-grade lumber was used for furniture, casings or boxing, including finger-jointed and edge-glued products.  Most sales were to Vietnam, Taiwan, China and Indonesia, while the woodchips went to Dongwha's plant south of Gore, which makes MDF products.
Mr Watson said the kiln was the largest one of its kind in the southern hemisphere.
Stacked packs of green lumber entered a 60m, insulated, dry kiln and were moved on rails towards the other end, while being dried at around 95degC.
The trolleys moved at about 1m an hour and would be in the kiln system for about 65 hours.
To accommodate different lumber sizes, the speed of the either of the two opposing rail systems were controlled, which delivered more or less exposure to the drying section.
Mr Ducker said emission issues at the former Milton site had been overcome with the installation of a $1.5million electrostatic precipitator, which is the final cleanser for emissions.
The filtration system removes fine particles from gases using an induced electrostatic charge.
The plant uses just 5ha of the total 37ha of land around it.
Mr Ducker said expansion was part of the future plans. The new plant itself was operating at about 50% of capacity at the moment.
He expected that in 10 to 15 years there would be a large amount of 1990s-planted Otago forests "coming on stream", largely from small forest owners.
Poor returns three to five years  ago resulted in widespread rationalisation in the forestry sector, where many small, and some not so small, operators were forced out or placed in receivership, with the loss of hundreds of jobs across the country.
Staffing at Milburn  has increased from 25 to 37 with the redevelopment.Mr Watson said about 10% of the staff came from Southern Cross, about 50% were from the immediate Milton area and others were from as far afield as Dunedin, Mosgiel and Balclutha.
While the plant at present operates one shift, the kiln operates around the clock.
"While we've made a significant capital investment, we understand that our staff are our greatest asset," Mr Watson said.
Mr Ducker said given some staff had been through the receivership process, it took time to gain their trust as Pan Pac implemented changes, brought in the new technology and consolidated the two sites.
"We've a very loyal staff. The ongoing success of the plant is due to the engaged team on site," he said.
Prices in the past two years had been "resilient and secure" for the sector and Pan Pac was fortunate in always having had a steady pipeline of orders, he said.
He  noted that while high export log prices were often headlined in reporting of the forestry sector, New Zealand sawmillers had to be able tocompete against offshore interests to get the logs.
"It can be challenging, when 70% of costs are for the logs," he said.
Mr Ducker expected that during the next 18 months there would be  stabilisationof  prices and demand.
"[However] China is hard to read. At the moment, it's taking all the wood that can be supplied," he said.