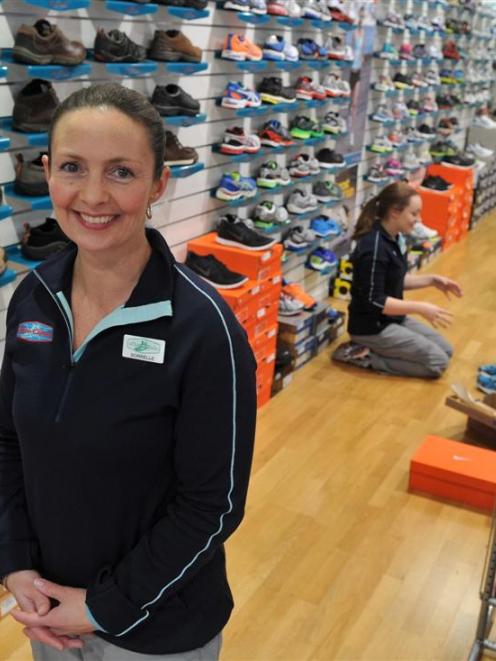 When Shoe Clinic owner Sorrelle Pearson lined up at the start of a half-marathon in Dunedin last year, she did not care ''how ugly'' her race was - all that mattered was getting to the finish line.
That was because the former keen runner, aerobics instructor and body-builder had a long break from running, forced upon her by the development of a neurological disease.
Her knees might have been complaining, but completing the event was psychologically ''pretty cool'', she admitted. She is planning to run the half-marathon again this year and, in the future, hopes to tackle a full marathon.
As well as setting herself personal goals, Miss Pearson (38) also has goals for her George St business; she wants to see it continue to grow and to become even more involved with the local community and events.
Running a shoe and apparel business is a far cry from her earlier career in the wine industry.
''It's just one of those funny things. Whereas some people really like handbags and high heels, I just had a thing for stainless steel tanks ... now I've got a new passion in shoes in a different form,'' she laughed.
Brought up in Dunedin, it was on a school trip in year 13 that visited Gibbston Valley winery, near Queenstown, that she thought ''what a cool occupation that would be''.
She completed a certificate in grape-growing and winemaking at Hawkes Bay Polytechnic and became involved in the wine industry.
After working for Montana Wines - later Pernod Ricard after it took over Allied Domecq, which had previously taken over Montana - in sales, she decided she needed a new challenge, and the Shoe Clinic opportunity presented itself.
Shoe Clinic was established in 1998 by Hamish French and Neville McAlister who decided there was a ''real gap'' in the market for a sports footwear group that concentrated on injury prevention as well as customer wellbeing. It has grown to 18 stores in New Zealand.
Before opening the Dunedin store in December 2011, Miss Pearson felt her life had been ''on hold'' and when the opportunity arose, she
took the plunge, even knowing her health was still ''a little bit up and down''. In early 2007, she developed double-vision ''out of the blue'' and a visit to an optometrist was followed by an appointment with an ophthalmologist and then a neurologist.
She remained undiagnosed for seven months and it was not until her symptoms developed to such a strong point - drooping eyelids, slurred speech, facial paralysis, double-vision and difficulty with breathing and swallowing - that she was finally diagnosed with myasthenia gravis, an auto-immune neurological disease which creates muscle weakness.
Treatment initially failed to get a response and she was eventually admitted to hospital, not knowing when she was going to leave.
Recalling how it was ''pretty scary'', she admitted it was probably scarier for her family and friends.
It got to the point where she had a nasal gastric tube to feed her, she could not lift her arms in front of her, and her speech was so slurred her mother had to help translate.
It was finally decided to ''do some thing quite drastic'' and a line was put into her neck for plasma exchanges.
Slowly, her symptoms reversed and she was discharged from hospital on December 24, 2007, determined to enjoy Christmas dinner - turkey, Christmas pudding and a glass of French Champagne.
She underwent a thymectomy (removal of the thymus gland) the following February and blood tests later revealed she had a rare form of myasthenia gravis and the only effective treatment was plasma exchanges.
Early last year, her neurologist successfully applied for funding for an immunosuppressant drug. Last month, she marked 12 months since her last plasma exchange and has been symptom-free for a year. She felt ''completely and utterly privileged'' to get the drug funding.
Miss Pearson urged others to take opportunities - ''you don't know what's around the corner'' - saying she had been a fit, healthy 32-year-old, who was making plans, when ''all of a sudden, it just stopped''.
Her health was something she had previously taken for granted. But she also discovered ''you can be a lot stronger than you ever thought you could be''.
With the business, everyone who came in had a ''story''. If she could play the tiniest part in helping a customer achieve a goal - whether it was weight loss, running their first half-marathon, running 5km, or just getting out and walking pain-free, then ''that to me is what this is all about''.
''That's the real feel-good factor. I like to think we're doing something more than [selling shoes],'' she said.
She knew the business was going to be a challenge and that she had an ''awful lot to learn'' but decided to to just ''jump in and give it a go''.
''It's definitely different running your own business to working for a huge global company but I enjoy it and enjoy being part of the local community,'' she said.
It was a competitive industry and one faced with the challenges of online shopping. There was also a competitive market in Dunedin but the other retailers were ''fantastic'' and respectful of each other, she said.
Technology from Dunedin-based company Siliconcoach is used at Shoe Clinic and customers are taken through an individual fitting process with movement in the foot assessed.
''It's not just about technology; it's also about fit and feel and then about the customer going out and starting to use their shoes,'' she said.
Injuries are discussed along with what customers require their shoes for so they can be fitted accordingly. She also works with local podiatrists and physiotherapists.