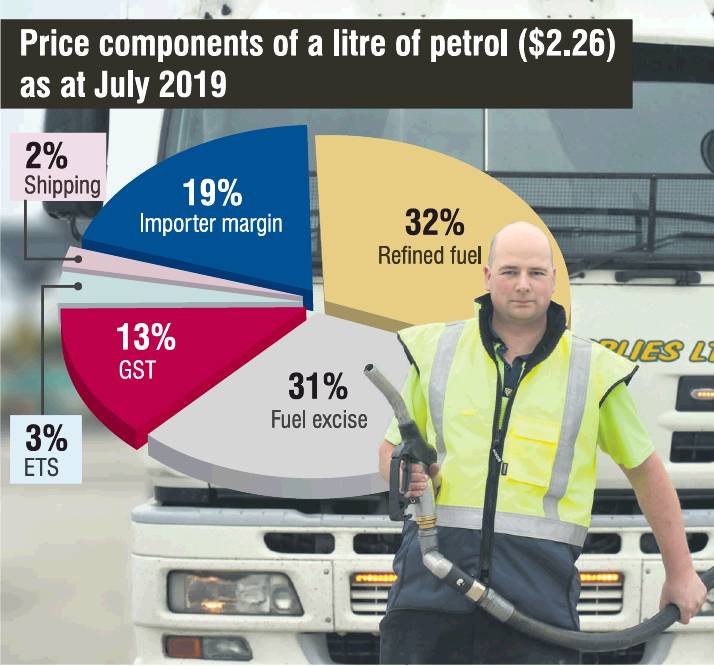 Otago and the South Island have been shouldering ''unreasonably high'' fuel prices at the pump, according to a detailed regulatory report on the national fuel retail sector.
The Commerce Commission report into the $10 billion retail fuel industry positioned New Zealand at the upper end of petrol and diesel prices in the OECD.
It laid the blame for high prices squarely on the tight control held by the ''big three'' fuel companies - BP, Mobil and Z Energy - who control 90% of the market and could be earning as much as $400 million in excess returns annually from the retail sector.
It also highlighted regional fuel price differences due to what it called ''different levels of retail competition''.
An Otago Daily Times survey of current prices across Otago and Southland retail outlets showed they ranged from a high of $2.40 a litre for 91 regular and $1.78 for diesel at BP in Wanaka, to a low of $2.09 for 91 regular and $1.34 for diesel at Allied Petroleum's Tramway station in Invercargill.
Z Energy chief executive Mike Bennett said high pricing ''shouldn't be a surprise'', given New Zealand's geographical position and country size.
However, he conceded distance to market could not explain pricing in Invercargill, for example, which sometimes came in at ''third-lowest pump price in the country''.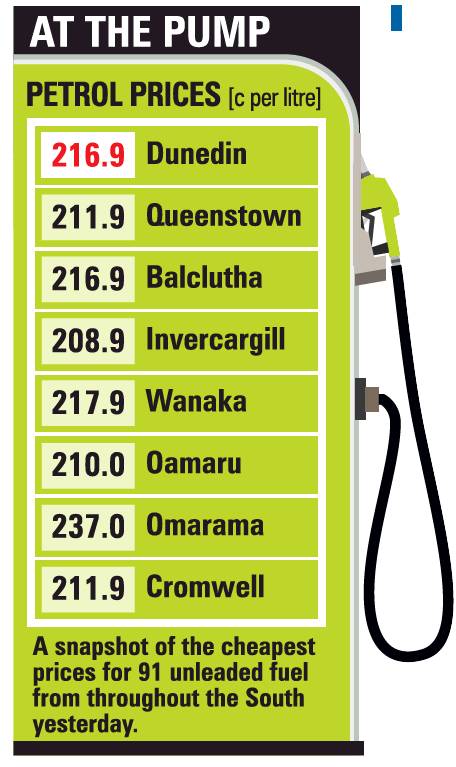 Commercial freight, logistics and transport companies in Otago said the report did not yield any surprises, and most welcomed any moves to drive down pricing at the pump.
Kelvin Fortis, fleet and logistics manager at Dunedin based Kaan's Catering, one of the South Island's largest catering companies, said with almost 100 trucks and cars supplying restaurants and retail food outlets throughout the South Island daily, fuel prices represented one of the company's biggest costs.
''We spend around $60,000 a month on fuel.
''Fuel prices seem to go up but rarely go down and we then need to pass those delivery and other costs on to our customers.''
Doug Hall, owner of Hall Brothers Transport, which had a fuel bill of about $70,000 a month, said it was one of the biggest costs of doing business.
''But that would easily be more than $100,000 if we didn't get a rebate from Mobil which evens our prices out across the board,'' he said.
Troy Bradley, of Morven, said he frequently filled his tank at Allied Petroleum's Glenavy station north of Oamaru, or at NPD in the South Canterbury township of Makikihi, as they both accepted his fuel card.
He monitored fuel prices, and understood why some people struggled to afford fuel.
''I always drive past them and have a look. It's been quite stable lately, but you do spend a lot on fuel.
''For an average-income family, the cost to fill your car up is $120 to $130 a week, which is bloody expensive, along with everything else.''
AA PetrolWatch spokesman Mark Stockdale said while New Zealanders had a lot of choice as to who buy from, the problem lay at the wholesale end.
''Three providers are effectively providing fuel to 20 different retail brands, not including Gull, which provides very little wriggle room for pricing,'' he said.
''So we agree with the report's recommendation that there are changes at the wholesale end of the market.''
Mr Stockdale said the AA had also called on retail stations to clearly post pricing for their premium petrol products.
''We've worked out the price difference for premium at around 4c a litre, but there are huge differences at the pump with premiums at around 13c-15c per litre.
''That's a big price difference across the board, which impacts anyone who drives a European or classic car.''
Commerce Commission chairwoman Anna Rawlings said wholesale sharing arrangements between the three companies had also given them ''an advantage over any other potential rival importers, as their costs to deliver fuel are lower''.
''They also have long-term supply relationships with their resellers, most of whom have only ever had the same supplier, which has made it very difficult for competitors to enter or compete more vigorously in the market,'' she said.
She noted that the large players also had ''limited incentive to compete with each other during the terms of their supply contracts''.
''As a result, competitive pressure does not appear to be driving down wholesale prices in New Zealand,'' she said.
The commission recommended opening up the wholesale market for petrol and diesel, to make it easier for petrol stations to switch suppliers and allow greater participation by competitors.
Submissions on the draft report are open until September 13.
A final report is due in December.