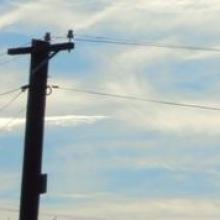 Aurora  Energy spent almost $16,000 on consultants in two weeks as it dealt with fallout from accusations it dangerously mismanaged Dunedin and Central Otago's power network.
The revelation came as yet another staff member has come forward to slam management at Delta, which is tasked with maintaining Aurora's network, saying staff were sick of the company's ``spin'' downplaying the extent of the issues with the network.
An Aurora spokesman said the $15,926.35 spent on consultants in the second half of October went towards legal firm Chapman Tripp and public relations company SenateSHJ, which specialises in ``crisis communication''.
Chapman Tripp was part of its legal team providing advice on ``health and safety'' matters and the three separate reviews looking into allegations Aurora had mismanaged the network.
SenateSHJ was contracted to Chapman Tripp and had been used to provide ``advice, and resources to support Delta and Aurora Energy's communications''.
Asked if the spend was justified, he said: ``Like many organisations we contract specialist advice and additional resources to support our people as and when required.''
The company only supplied figures for how much it spent on consultants in October as it was yet to be billed for November.
Revelations about the amount spent on consultants, which came in response to a Local Government Official Information and Meeting Act request, came as Delta project development engineer Steve Tilleyshort yesterday came forward to express concern about the way the company was being managed.
Staff were becoming increasingly distressed as they faced an accelerated programme to replace ageing poles, restructuring and a culture which meant management were out of touch with their staff, he said.
``At a time when staff need support, the lack of trust in managers and some managers being made redundant has left staff to support one another.''
This was compounded by Delta and Aurora trying to ``spin'' the situation in the media downplaying the degraded state of the network and denying safety risks.
Staff ``knew damn well'' the network was unsafe and in a badly damaged state and hearing the company say otherwise made them ``furious''.
He was so concerned about the safety of the network and the risk of downed lines - as happened in Tainui last week - he was considering taking out an advertisement in the Otago Daily Times telling people how to avoid being electrocuted.
``The staff at Delta are passionate about the network and it [is] heartbreaking to see them witness its demise under the present management,'' he said.
He feared losing his 44-year career as an electrical engineer as a result of going public but felt staff needed a voice.
Aurora and Delta chief executive Grady Cameron said it was inappropriate to discuss an employee's concerns in the media. Aurora and Delta had an employee assistance programme which staff could use confidentially at no cost, he said.