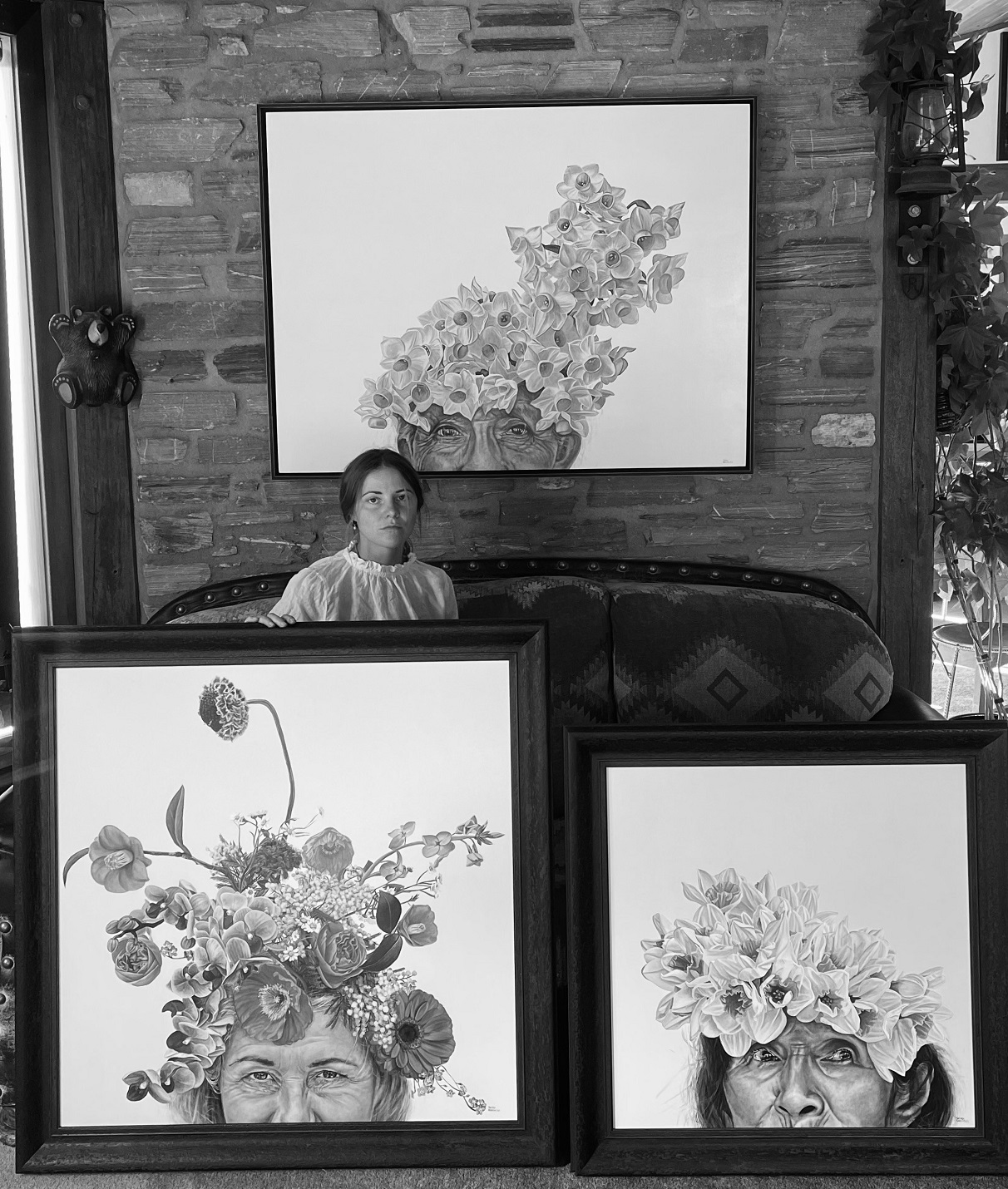 Two Wanaka artists have again made the list of finalists for the country's top portraiture award. Rebecca Fox talks to Sierra Roberts and former winner of the Adam Portraiture Award Stephen Martyn Welch.
Difficult times are often what drive a portrait painter.
Witnessing or experiencing people's emotions as they go through some of life's tough moments is often the trigger for their work.
That is true for Wanaka painters Sierra Roberts and Stephen Martyn Welch. The pair are both former finalists, and Welch a former winner of the biennial Adam Portraiture Award.
They are among 45 finalists selected from 351 entries to be shown at the New Zealand Portraiture Gallery Te Pukenga Whakaata in Wellington.
Roberts entered a portrait of her mother this year which she says encompasses the female experience of life.
"As I am slowly getting older I am fascinated and horrified by what the female experience can entail."
It is a topic Roberts has become increasingly passionate about highlighting in her work, especially after a good friend experienced a stillbirth two years ago.
"That is what really changed everything for me. She had to give birth in a maternity ward surrounded by other mothers giving birth to healthy babies and the sound of babies crying. I was so shocked by the heartbreak and horror of the whole thing.
"It got me fascinated, horrified thinking about all the choices you have to make as a woman and how these choices and burdens unify women of any culture or class."
Over 90% of the women who hang in acclaimed museums across the world are idealised beings, painted by men.
"I am hoping to share a more 'truthful' version of women."
Roberts, who left Wanaka at 18 years old, only returned to her hometown for good in 2019, just before Covid-19 hit.
She first returned in late 2017 after travelling in South America but then headed to Alaska to work for six months in a heli-skiing lodge.
"I would come back to Wanaka for the other half of the year and paint. After my contract ended in 2019, I decided I was ready to pursue painting full time."
Prior to that her travels took her to Salt Lake City for a few years, where she worked at a ski resort, studied and travelled around America and Canada.
"I then moved to Byron Bay, Australia, on and off for a few years, I learnt to surf and would save money for a year so I could travel the following year."
One of those years was spent travelling through Asia spending time in the Himalayas hiking, and another year in South America, travelling from the southern tip of Argentina to Mexico.
"We spent a large portion of our time in Peru in the Cordillera Blancas."
She also worked in a heli-ski lodge in Alaska for a couple years in the Tordrillo Mountains.
Her decision to travel came after an unsuccessful stint at university studying fine art in between ski seasons in America and New Zealand.
"I loved learning art history in university, but really I just wanted to paint. The university wasn't pushing painting as a medium and I was told, 'Painting is a dying art'. I left feeling very disheartened."
She was especially disappointed as she had been painting since she was teenager, finding it an outlet during Wanaka's winter inversion days with no sun.
After she returned home from South America, she had just turned 25 and was feeling a bit lost and exhausted from constantly moving, and did not want to keep waitressing.
"Something started to shift in me in the later parts of our trip, particularly in Colombia. There was some amazing street art, particularly in Medellin and Bogota. I started to see the potential of painting again and how much it can help communities and inspire people. I realised it was what I still wanted to do and that if I dedicated time to it I could make it work."
So she picked up her paint brushes again, mostly painting from travel pictures, but began to view that process differently.
"I didn't find as much creativity in it and my thoughts changed around using people as subjects. I slowly evolved to having more meaning behind the work and not just producing a surface product to hang on the wall."
Roberts had started out painting portraits by copying faces out of magazines.
"As I improved I loved the connection and life coming out of the eyes. I got hooked and still to this day that's all I want to paint."
Her most recent works are of females wearing floral halos, something Roberts has been inspired to do by 20th century Mexican portrait painter Frida Kahlo's sense of identity.
"Kahlo's work has played a large role in influencing me, with her abhorrently honest and personal paintings. I work towards honouring this idea."
She is also interested in the conversation between women and flowers, but particularly in the role women painters have with flower art.
"Throughout history, 'flower art' has always been seen as a lesser form of art, suitable for women, pretty, delicate and not serious. I am trying to challenge this notion."
She uses acrylics in bright bold colours to make a statement.
"People often shy away from colour, sticking to muted tones afraid to stand out. The idea behind the colour is that it's OK to stand out and be yourself. The world is very beautiful if you decide it is."
The works are also deeply personal. For the last Adam award she entered a self-portrait painted in response to online bullying, which helped her work through her feelings. This one is of her mother.
"I know her unique story well and the choices and hardships she's had ... to face.
"The painting could also be viewed as the 'Mother', a central pivoting point of the female experience. Or it could be viewed as a self-portrait, as her experiences become my experiences."
Roberts has found her eight years of travelling has influenced her work in that it helped with her self-development.
"It extricates you from the values of your own culture, showing you how another society can live with entirely different values and function well. This exposure to different cultural values and metrics then forces you to re-evaluate what seems so obvious in your own life and consider that perhaps it isn't necessarily the best way to live. The best part of all my travels was connection and that's what I try to bring about in my paintings."
Now settled back into Wanaka life, Roberts is about to get her own studio, something she is very excited about.
"I still paint in my parents' garage — I'm 29 and have been bouncing around flats for the past few years, my parents' garage provides stability and accountability for me."
She likes the routine of being a 9 to 5 painter, finding it helps her avoid burnout.
"I work on just one painting at a time; as I work in acrylic, the drying time is instant, so I don't have to wait. The paintings can take anywhere between 40 to 250 hours to complete depending on the detail and size of the painting."
 - For Stephen Martyn Welch it took just one night to complete his latest entry for the Adam award.
It is a self-portrait titled One night, one mirror and a cpl of bourbons — which says it all, he says.
The head and shoulders portrait was painted into the night. He got up the next day and finished it off.
"It was a stark time in my life."
The work is his second self-portrait entered for the Adam award. His last, in 2012, 3 Nights, A Mirror and Loads of Coffee won the award.
"I figure you know yourself better than anyone, you know what you are thinking, what is going on in your head."
For the accomplished artist, getting into the final selection is his aim and to be selected alongside some great painters is vindication of his work. Since the 2012 win, he has regularly made the finals.
"I'm stoked really. It's a pat on the back and shows what I'm doing is worth it."
Portraiture is not a big genre in the New Zealand painting scene so the award and the portrait gallery are important, he says.
"Portraiture is hard. If it doesn't look like them then it defeats the point."
It is a genre Welch "fell into" after he failed art at school and taught himself to paint while he was in his 20s.
"I'm not a naturally talented painter but it's something I've always enjoyed."
After getting support from an Auckland gallery he continued to paint and then one day a work sold.
"I thought I'd made it. I quit my job and did not sell another work for three years, but I had faith."
As a father to a disabled child he spent some time in hospitals, often with a sketch pad in hand.
"It is a place of great heartache and joy, just raw emotions and I gravitate towards that."
He was selected to paint portraits of New Zealanders for a television show and then a second series three years later.
"The second series aired the same week I won the Adam."
That is when he became known for his work and commissions started to come in from around the country and overseas.
"I can't seem to get away from painting faces. They engage me constantly."
While Covid-19 has been tough for many, for him it has been the most financially rewarding years he has had as a painter.
"A lot of people have been sat at home looking at the kids, looking at the wall and thinking they've the space for an art work."
So he has been busy in his studio where he often meets his subjects. He has a policy of always meeting the person he paints and does not paint from photographs.
"It's the little things you get from meeting someone that makes it special."
Welch likes to spend time with his subjects to understand where they are coming from as it all translates on to the canvas.
He considers it an honour to have painted the late Dunedin mayor Dave Cull — "that was pretty special" — and urges anyone considering having a portrait done to not to leave it until it is too late.
These days, he tries to divide his time between commissions and his own art projects.
He finds subjects in all sorts of places, as he finds models to be too posed.
"I usually pick up people in New World or Kmart. I might see something about them. I've spoken to people as they're crying — I'm interested in experiencing life.
"I'm attracted to tattoos, to people who live off the envelope, who have out-there hairstyles or disabilities."
If people agree, it is often a commitment to sit for him over several days and repeated visits to get the final product.
"It can take three to four months to do. But it's a process that works and everyone is happy."
The 2022 winning submission will be announced on May 26.
TO SEE
Adam Portraiture Award exhibition is at the New Zealand Portrait Gallery Te Pukenga Whakaata in Shed 11 on Wellington's waterfront from May 27 to August 14.