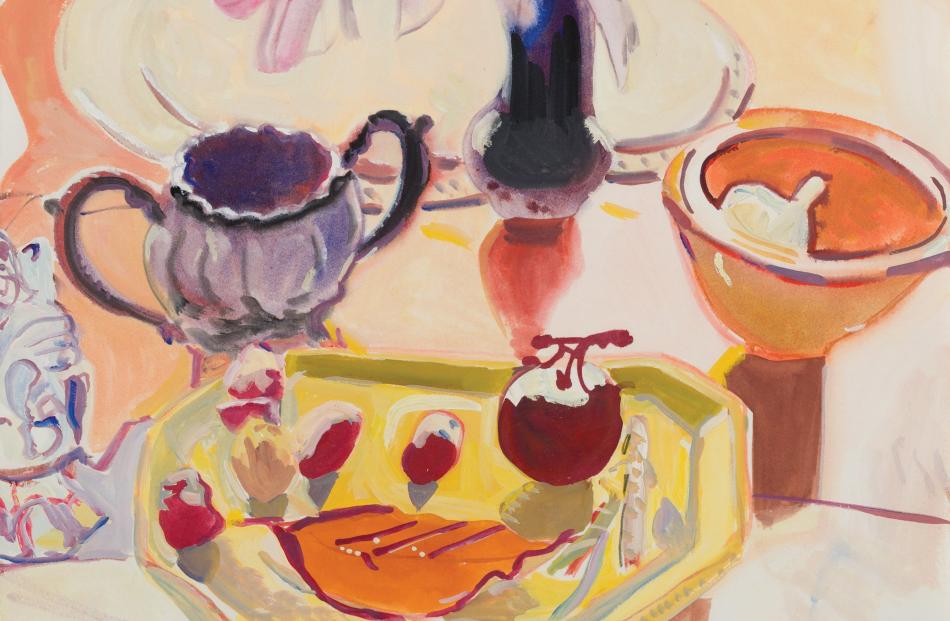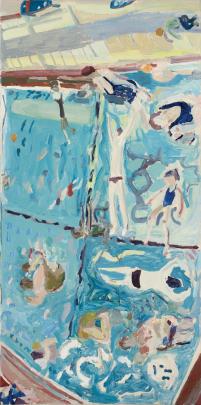 Nearly 20 years after Joanna Margaret Paul's death her work is resonating with contemporary artists. A new exhibition and book by the Dunedin Public Art Gallery puts her work in context, curators Lauren Gutsell and Lucy Hammonds tell Rebecca Fox.
Painting, drawing, experimental film-making, photography, poetry — Joanna Margaret Paul shifted between mediums as it suited her lifestyle at the time.
A prolific and successful artist, her painting and drawings are well known, but it has been some time since all aspects of her work have been pulled together in a major retrospective and the first time a book comprehensively outlining her practice has been produced.
As Hamilton-born, Paul spent many years living in Dunedin, including a year as the Frances Hodgkins Fellow, and visiting, the Dunedin Public Art Gallery seemed the right home for such an exhibition.
But in recognition of her later years in Whanganui, the exhibition is co-curated by DPAG curators Lauren Gutsell and Lucy Hammonds with the Sarjeant Gallery's Greg Donson, who knew Paul and co-curated ''Beauty, even: A tribute to Joanna Margaret Paul 1945-2003'' after her death.
''There has been a sense of how her work was resonating with contemporary artists and it then became really important for us to provide a solid grounding in what her contribution as an artist really was and unpack all the many different parts of her career,'' Hammonds says.
They feel it is important to expand how the artist's career is recorded in New Zealand's art history in the book Joanna Margaret Paul imagined in the context of a room and exhibition of the same name, she says.
''What I see in the exhibition is that she was great painter, she was a pioneering experimental film-maker, a very talented photographer, excellent poet. She was very perceptive at all the things she did and she utilised them very deftly at the times she did those things.
''It is a real celebration of an important figure and in understanding the diversity of the second half of the [20th] century's art history.''
Comprehensive examinations of New Zealand women's artistic practices such as Paul's have been lacking, Hammonds says.
''It is an area that continues to need more work. There's a lot more work to be done to understand more about figures like this who have significant bodies of work, had significant careers but haven't yet been deeply expanded upon through the lens of exhibition-making or scholarly writing.''
It is also reflected in the lack of institutional holdings of her work as most are held in private ownership — in comparison to the DPAG's last major exhibition of Ralph Hotere, many of whose works are held in public spaces.
''It has been much more of a detective mission than some projects. It does make for quite a complicated logistical process,'' Hammonds says.
With help from her family, who had been very supportive of the project, they had been able to find works and approach people to lend those works.
''People are universally thrilled the project is happening. There is a deep love for the artist and her work, which is a sign to me something important is happening. People feel very strongly connected to works.''
Unfortunately, that love for her work has made it very difficult to convince people to release them to the DPAG for an extended period of time for the exhibition.
The family has also given the DPAG access to her estate and archival material held privately and in public custodianship.
Paul's sister, Charlotte Paul, speaking for sister Mary and Joanna's children, Magdalena, Felix and Pascal Harris, says that they are all delighted by the creation of this survey show of Joanna's work, fittingly curated by galleries in the two places that were most important to her — Dunedin and Whanganui.
''It is wonderful to see a new generation of artists and curators respond to her work afresh. The prospect of seeing major works from public and private collections brought together is exciting.''
Gutsell says that lack of public visibility meant many people felt like they ''discovered'' her work even though she was very prolific and well collected privately. She was also awarded many fellowships and residencies.
''In contemporary practices at the moment there is this element of discovery of Joanna's practice.''
Those who knew Joanna well would say she was incredibly active and always making.
''That's the thing about her work. She really legitimised her lived experience as subject matter for her art. It was very all-consuming in her daily activity,'' Gutsell says.
Hammonds says why Paul chose to move between different mediums is not known.
''At times she was very focused on painting and there were times she was exclusively working on drawing. There were bursts of photography and film at key moments in her career — the same with books and poetry.''
Gutsell says you cannot separate the biography from the work so she believes there were times Paul, a mother of four, chose different mediums due to her circumstances.
''Having a newborn baby for example, so it's easier to work with a camera or water colour because it's easier than oil paints or text. Decision-making across her practice is informed by her environment and circumstances at a given time.''
Felix Harris says his mother was very influenced by her environment.
''She loved to work outdoors, surrounded by nature and that is how I remember her.''
Paul's approaches were unique to her and how she saw and operated within the world.
''You get the sense the world was complicated, hard and messy, as much as things were full of opportunity for art making.''
Hammonds wonders whether the fragmented nature of the way she worked prevented people from looking at her work as a whole.
''I think that is one of the reasons why she is very interesting in the contemporary moment as she becomes a predecessor for a very contemporary way of working.''
To work in a multidisciplinary, multifaceted way of art making is very much what contemporary art making now looks like.
''I think that to some extent when younger artists discover her practice they identify with that flexibility to shift between media, as is most appropriate.''
The interest from contemporary artists has largely been driven by the re-digitisation of her experimental films by her sister Jane Paul and Mark Williams of Circuit, Artist Film and Video Aotearoa, a repository of film and video.
''They put a lot of effort into re-releasing digitised versions of her films that attracted quite a lot of interest because it was a real revelation to some people that she worked and existed as a film-maker.''
Yet her visibility as a photographer was less so. One of the discoveries of the project was to uncover her photographic work and how it influenced the other mediums she worked in.
''You can see the effect of focusing on photography for a period of time impacting on how she constructs a drawing subsequently or how she approached an artist book or its impact on text in subsequent bodies of work
''There is a real carrying over, I think, of the different media she moves between. Over time they accumulated — there is this layered effect.''
Gutsell says while film and painting can seem quite disconnected, Paul often used the same ''lens'' when working on a piece.
''She was very much someone who used framing devices or compositions she would build.
''She would often use architectural features like window frames or doorways or furniture, like the end of a bed frame, to kind of frame the space.
''She linked the indoor and outdoor spaces through that window motif.
''But the framing of those things was actually a consistent thing no matter what medium she is working in.''
The curators want the exhibition to assert how Paul had a solid belief in her own point of view and how she saw the world.
''She wasn't someone interested in hierarchies and trends.''
Many of the works in the exhibition have not been seen publicly before, including some significant works from her time in Port Chalmers in 1970, where she met husband-to-be Jeffrey Harris, and then from their home in Seacliff in 1971 where not only did her interest in experimental film emerge but also the increasing use of the window device.
''The early period of painting in the exhibition made out at Seacliff for me was one of the big impacts of this exhibition,'' Hammonds says.
It is also providing a chance for people to see the 14 Stations of the Cross Paul painted on the walls of the St Mary Star of the Sea Church in Port Chalmers while she lived there.
Gutsell says while the colourful works are usually covered up by ''more literal depictions'' of the stations, the church has agreed to uncover them for a week so people can see them.
''For people to be able to go and see the works in the flesh is really exciting and to be able to contextualise Joanna in the history of Christian art in Aotearoa.''
Many of the works Paul made while living in Whanganui in later years have been exhibited more.
Her time in Whanganui was also when Paul was most politically active around issues such as genetic engineering and heritage activism.
''It feels very rich and layered, the way in which she uses her practice to highlight, question and interrogate different moments in time.''
Talking to family and others who knew her and hearing their stories has been very moving, she says.
''Something in those stories is incredibly powerful and moving even decades later.''

To see

''Joanna Margaret Paul: Imagined in the context of a room'', with the accompanying publication of the same name.
Dunedin Public Art Gallery, August 7
Stations of the Cross, St Mary Star of the Sea
Port Chalmers until August 11, 10am-4pm