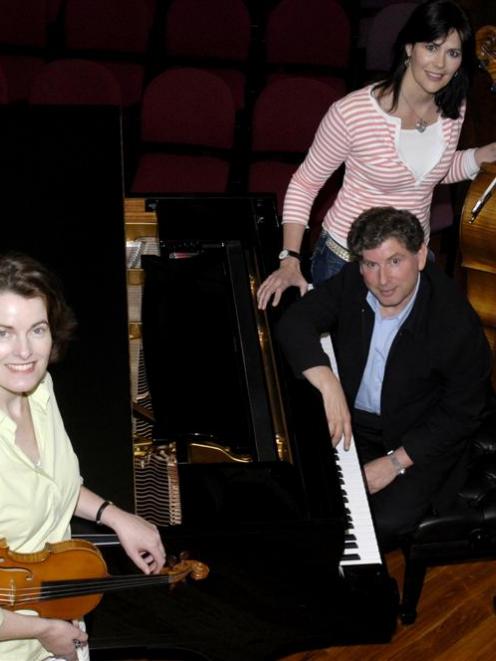 Piano trios - a musical group of piano, violin and cello - have been part of musical life in the University of Otago music department since the 1970s, but the membership changes as staff leave, says Prof Terence Dennis.
Since he joined the staff in 1981, he has been through six versions of the Marama Trio, but now, with Heleen Du Plessis joining the staff as executant lecturer in cello this year, it's time for a fresh start and a new name, he says.
Calling themselves TriOtago, Prof Dennis, Tessa Petersen - William Evans Lecturer in Violin since 2008 - and Heleen Du Plessis are giving their inaugural concert in Marama Hall on Sunday afternoon.
"When you have new personnel, it brings a freshness to what you do. When you have new people there are always new ideas and that keeps the musical interest of players up. Every trio is different," he said.
It's the first chance they've had to get together and put time into rehearsals, as all of them have been busy with other performances and teaching. Now exams have finished, they are working together to become an ensemble, rather than just a group of soloists playing together.
"The whole point is melding your music together to make one intent," he said.
String instruments are tuned differently from pianos so the violin and cello players have to temper their intonation, according to Du Plessis.
"They have different sizes of half tones and whole tones. The basic thing is to find the sound between the violin and cello in terms of intonation quality, and also the balance between the piano and strings. That is most of the work," she explains.
She and Petersen rehearse together, playing scales, working on the bowing, vibrato, colour and mood, and harmonising their sound. Then when they join Prof Dennis at the piano, they again work on colours and textures and phrasing.
"It's a bit of trying different things as well, trying to see which voices, which parts you want to draw out at any different moment," says Petersen.
"You learn individual parts, then you have to have a concept of what the trio will do with that piece. If you have divergent views, that's tricky," Prof Dennis said.
Du Plessis says their experience as musicians with other groups contributes to their flexibility and awareness of what may or not work. Three famous soloists might come together and play a trio, and although they might be playing superbly in their own way, that did not mean to say they were blending. That had to be worked on.
"I find it's a bit like going this way and that way and then juggling. I've seen rehearsals with Yoyo Ma, Emanuel Ax and Isaac Stern, and they go backwards and forwards with the tempo of the slow movement and then they talk about it and try it again."
In a trio, players needed to be individual soloists and bring their own character to the music, but they also had to let go of their egos and serve the music.
"In that sense, you need to be able to merge, almost like a new instrument consisting of the three that become one," she says.
Prof Dennis says it requires a freedom in performance which is gained through long rehearsal and awareness of the work's needs.
"If someone has a solo and wishes to take a little bit more here or there depending on the instrument or the hall or what's going on, the other players have to be able to accommodate that very naturally."
Even though she may have played these works before with others, with different people it's like playing them for the first time, Du Plessis says.
The ensemble's first concert consists of two monumental works, Beethoven's great "Archduke" trio dedicated to his famous patron the Archduke Rudolf, brother of the Emperor of Austria, and Brahms' Trio No 1, one of the great Romantic trios.
In future concerts, the group plans to include some unusual works, especially by local composers, as well as the traditional repertoire, and sometimes to invite other musicians to perform with them.

• See them
TriOtago will give its inaugural concert at Marama Hall at 3pm on Sunday.
- Beethoven: Piano Trio in B flat, op 97 "Archduke"
- Brahms: Piano Trio no 1 in B major, op 8.