Kyle Mewburn's latest offering is a cute story about a stubborn mule who becomes fed up with always walking in the same direction with his other mule friends. Every night, Melu (an anagram of "mule") dreams of venturing down the hill to find lush green grass and swim in the glittering green sea below. One day it becomes too much, so Melu decides it's worth the risk to turn around and head down in the opposite direction from everyone else. Melu has not chosen an easy path. He must overcome many obstacles in order to reach his dream, but during the process he forms some great friendships. This is a fabulously illustrated, well-written, thought-provoking tale. It contains lovely social messages about friendship, teamwork, overcoming adversity, having dreams and achieving dreams through taking risks.
Suitable age: 2-7.
---
A delightfully rhythmic tale about a rusty old tractor which saves the day when a car full of passengers becomes stranded in a river. But not before all the modern vehicles first try to help, because surely something old and rusty would be no good! This well-written story uses fabulous descriptive language, lovely watercolour illustrations and an exciting storyline to appeal to a broad spectrum of children. It has it all - farm animals, cars, excitement, suspense and action. This book is a useful tool to help educate children and give them the knowledge that even when things become old and rusty they still have their purpose in life and can still be useful.
Suitable age: 2-6.
---
A dog tries to bake a birthday cake but it always ends up being destroyed; plus there's a bit of detective work that needs to be done.
This is a fabulous wordless picture book (an English edition of the original Indonesian book). With having no written text the viewer becomes the author, which requires a fair bit of bravery and imagination. These sorts of books give pre-readers an opportunity to actually read and understand a book all by themselves. They help them learn that clues to a story can be found in the pictures, which is a useful strategy for when they learn to read text. Beginner readers get a chance to use words of their own choosing, which can be motivating at a time when reading can be difficult. This is a really fun and special book for helping children develop storytelling skills and encouraging the introduction and use of new vocabulary. Suitable age: 1-10.
---
This book consists of three comical short stories about a little witch named Little Witch (short stories are great for building reading confidence as children move on from picture books).
Little Witch links the stories together to help build familiarity with the main character. These three stories play with words: The Wonderful Sorceress involves an elderly sorceress who is so hard of hearing that she picks up words wrongly; The Magic Word teaches words to do with manners; and Wixed Up Merds is about mixing up words.
These stories are delightfully illustrated and full of funny happenings, and the book is produced in a very child-friendly size. Girls will love it! Suitable age: 4 plus.
---
A little boy finds a mammoth in his fridge. Initially his father doesn't believe him. Eventually the fire brigade is called, but the mammoth manages to escape and climbs up a tree. Now everyone has to work out how to get it down. This is the English edition of the French title
Un Mammouth dans le Frigo
. This is a delightfully simple story with a super-sweet twist. It contains cute and appealing illustrations all vibrantly done in shades of blue, black, white, yellow and red. Highly recommended.
Suitable age: 2-6.
---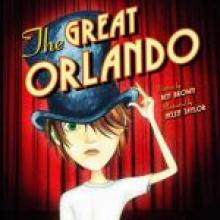 Sunday Jones received his name from his loving mother because she cherished the day that he was born.
Sunday's mother cared for him and protected him from his cruel father.
She told Sunday bedtime stories about The Great Orlando, a boy magician who could make himself invisible or change himself into a bird and fly away. When Sunday's mother died an early death his father continued to make his life a misery. Then a school concert was announced and Sunday leapt at the chance to perform as a magician named The Great Orlando. This strikingly illustrated book contains a rather dark story about despair and hope. It is full of hidden messages and is generally more suitable for an older audience: 8 plus.
---
• Paula Benson-Gamble is an early childhood teacher.