ODT books editor Helen Speirs reviews the latest international picture books for the older child.
THE STORY OF INKDROP AND SNOWFLAKE
Pierdomenico Baccalario, Alessandro Gatti & Simona Mulazzani 
Enchanted Lion/Newsouth
In an artist's studio Inkdrop is trapped in a bottle of black and dreaming of a world of colour. The reader turns over black pages with intricate laser cutout shapes to reveal scenes of riotous colour. Meanwhile, if the reader turns over the whole book, another story starts. Snowflake is tumbling from a cloudscape of white into a landscape of colour viewed through snowflake stencil cutouts. The two meet in some dramatic foldout pages. Stunning.
THE SNOW RABBIT
Camille Garoche
Enchanted Lion/Newsouth
In Frenchwoman Camille Garoche's magical wordless book, two girls peer from the window of a snow-covered cottage in a wood. One ventures outside to play and brings her wheelchair-bound companion a small rabbit she finds in the snow. The girls go into the woods to let the rabbit go, but the wheelchair gets stuck. Luckily the rabbit rises to the occasion. This exquisite book is illustrated with images of scenes created from meticulously made 3-D paper cutouts.
AWAKE BEAUTIFUL CHILD
Amy Krouse Rosenthal & Gracia Lam
McSweeney's/Newsouth
This is a lovely way to learn your ABCs. ''All Begins Cheerily'', in the day of the beautiful child, who feasts on ''Apples, Bananas, Cantaloupe'' amid ''Amusing Breakfast Chatter'' with his mother and ''Adorable Baby Coos'' from his sibling. There is much activity, bustle and celebration, until the ''Almost-Bedtime Countdown'' begins. The illustrations are rich and bright but with an old-fashioned dreamy feel. A great way to experiment with words and phrases. ''Alas, Book Concludes!''
BIRD
Beatriz Martin Vidal
Simply Read/Newsouth
This wordless book is all about testing the heights of the imagination. A flock of birds fly silhouetted across a shadowy sky. They are watched soulfully by a little boy in a old-fashioned flying helmet and suit. One bird becomes the focus on the left-hand pages, as on the right-hand pages the child prepares for his own take-off, slowly fastening his helmet, donning goggles and wings, and assembling his own runway. A quiet, reflective journey.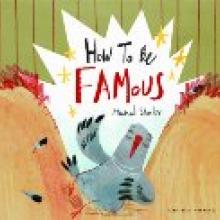 HOW TO BE FAMOUS
Michal Shalev
Gecko Press
Pigeon is famous. She is from a long line of famous pigeons, and believes people from all over the world come to visit her alone at the zoo where she lives. The other animals are getting a bit tired of her showy antics, and Pigeon is too busy being a top model to keep an eye out for the lion who is about to shut her up once and for all! This is a hilarious romp that will introduce children to zoo animals - and the moral, ''pride goes before a fall''.
THE ADVENTURES OF BEEKLE: THE UNIMAGINARY FRIEND
Dan Santat
Lothian/Hachette
Beekle lives on the island of imaginary friends, waiting for a child to imagine him into the ''real'' world. But no one comes, so Beekle does the unimaginable and goes looking for a friend himself. I love everything about this book: the concept, the message about friendship and the imagination, and the Photoshopped illustrations which are alternately colourful and lively or dark, moody and evocative.
LOUIS I: KING OF THE SHEEP
Olivier Tallec
Enchanted Lion/Newsouth
On the top of a windy hill, Louis the Sheep is grazing, when a crown is blown towards him. He puts it on and becomes Louis I, King of the Sheep. He gathers the requisite tools of the trade: sceptre, throne, pulpit to address his flock, gardeners for his Royal gardens, court performers, ambassadors, even an army. But the winds of change are coming . . . Louis had better watch out! This is an adorable big book, with gorgeous natural illustrations.
THE TIGER WHO WOULD BE KING
James Thurber & Joohee Yoon
Enchanted Lion/Newsouth
Another animal with delusions of grandeur, a tiger, announces one day he is going to take on the title of King of the Beasts. Needless to say, Leo the lion is not impressed and the two start to fight. All the jungle animals join in - until they start questioning what they are fighting, and dying, for. The striking illustrations are all in shades of green, orange, white and brown, and there is a not-so-subtle moral to this tale, which adults would also be wise to heed!