Laura Hewson and Gillian Vine round up recent junior and young adult releases.
STRAY
Rachael Craw
Walker Books
Stray is the second in an excellent trilogy by New Zealand author Rachael Craw. In book one, Spark, Craw introduced the idea there are some people who have synthetic DNA (thanks to a military experiment gone wrong) that causes some to become Sparks (in need of protection), Shields (defenders of Sparks), or Strays (out to kill Sparks). Here, Evie has just been triggered as a Shield and must learn to control her superhuman abilities if she has a hope of saving her best friend Kitty from the unknown Stray out to kill her. There's plenty of action, an ultra-intense/ultra-forbidden romance, and high school. There's also The Affinity Project - the organisation responsible for ''what they are and what they do'' - which is explored more deeply in the sequel.
Some minor criticisms don't stop me from highly recommending the series. Ages: 16+.
COOL NUKES
Des Hunt
Scholastic
Cold fusion may seem an unlikely topic for younger readers but this is what New Zealand author Des Hunt has written about in Cool Nukes. When eccentric Professor Walter Mayhew disappears, three of his protegees - Max, Jian Xin (Jensen) and Cleo - decide to continue his work on a nuclear device that could solve the world's energy problems. They face obstacles of course: bikie gangs, rival scientists, parents and the fact no one has ever proven cold fusion is possible. There is a lot of science here and it's not really accessible, so Cool Nukes won't be for everyone. There's a decent amount of action though and the ending has a big finish that will reward patient readers. Ages: 10+.
INBETWEEN DAYS
Vicki Wakefield
Text Publishing
Seventeen-year-old Jack lives in Mobius, a small Australian town that doesn't have much of a future and neither does she. Estranged from her mother, living for better or worse with her older sister and having a very one-sided ''relationship'' with an older boy, Jack is in a rut. When she meets someone camped in the nearby forest and her old neighbour Jeremiah returns to town, Jack is forced to examine her life/existence. This isn't a feel-good book. It's hard watching Jack make mistakes and sabotage herself. But the characters are believably flawed and memorable and there are some good life lessons for young players, the love-is-like-a-pie metaphor is my favourite. Sexual content. Ages: 16+.
OPHELIA: QUEEN OF DENMARK
Jackie French
Angus & Robertson/HarperCollins
We've all heard Hamlet's side of the story. Now it's Ophelia's turn to take centre stage. In Jackie French's novel, we learn more about Ophelia and what she thought and felt about all the stabbings, poisonings and general ghostly happenings. Did she really love Hamlet? Did he break her heart? Was anyone actually mad? French's story doesn't contradict Shakespeare's, it fills in the gaps and adds a new, happy ending - at least for - ''the girl destined to be queen'' Her Ophelia is a strong, intelligent woman and this is an accessible introduction to the characters for those who might be nervous about picking up Hamlet. Ages: 10+.
REMIX
Non Pratt

Walker Books
Best friends Kaz and Ruby are chalk and cheese. They are both dealing with break-ups but in very different ways. While Kaz pines for ''perfect'' Tom who dumped her, Ruby has cut off her cheating ex Stu and she's fed up with hearing about Tom. Now, both girls, both exes and a cast of other colourful characters are all heading to a three-day music festival and it's clear it won't be smooth sailing. This is an energetic story with loads of music, drama and drinking. It gets complicated fast and there are some emotionally intense scenes involving alcohol and sex. No one comes out perfect in this one, which is exactly right. Ages: 16+.
HONOR GIRL
Maggie Thrash
Walker Books
Described as a graphic memoir, I wasn't sure what to expect from Honor Girl, which tells the story of the summer 15-year-old Maggie Thrash fell in love with one of her female camp counsellors. Every summer, Maggie's mother ships her off to an all-girls' camp in Kentucky where conformity is cool and traditions are valued. Things are different for Maggie this year, as she's increasingly attracted to her counsellor Erin and isn't sure how to deal with it. This is a funny story. It's also sweet and sad and completely relatable for anyone who has ever fallen in love, with someone of the same sex or not. Highly recommended. Ages: 13+.
AFTERLIGHT
Rebecca Lim
Text Publishing
Afterlight is an eerie little book, full of ghosts and loose ends, biker gangs and high school drama. Sophie, who is struggling with the death of her parents, is less than thrilled when a ghost starts visiting her. The beautiful ghost, who Sophie dubs ''Eve'', soon has Sophie running errands for her, including solving the mystery of Eve's own death. There are hits and misses here. The story is at its most creepy and interesting when Sophie is following Eve's commands, which increasingly lead her into danger. There is also something compelling about Rebecca Lim's characters, none of whom fit a cookie-cutter mould. On the downside, Sophie's negative self-image gets tiring and her romance with obligatory hot boy Jordan Haig fails to deliver any real spark. As a stand-alone book, it feels unresolved. I would welcome a sequel. Contains violence. Ages: 16+.
SILENCE IS GOLDFISH
Annabel Pitcher
Indigo/Hachette
Tess Turner has spent years trying to be the kind of daughter her dad Jack would like. After accidentally reading something on his computer, Tess decides to stop all that and stop talking. She is now Pluto, silent and inaccessible. The only one she talks to is a torch shaped like a fish, and even that is only in her head. He talks back (in her head) and is both snarky and sensible. Annabel Pitcher is a good writer but being inside Tess' head was at times an ordeal and she was hard to warm to. She also felt much younger than 15. Strong start, slow middle, good ending. Ages: 13+.
MAGNUS CHASE AND THE SWORD OF SUMMER
Rick Riordan
Penguin Random House

At first glance this looks like another Percy Jackson novel. On closer inspection, it still looks like Percy Jackson, only with Norse gods instead of Greek. Hero Magnus Chase also bears a striking resemblance to Percy Jackson, though Magnus is edgier and grittier, says Riordan. Magnus has been living rough on the streets for the past two years, aided only by his friends Blitz and Hearth. But when his uncle and his cousin (Annabeth Chase no less) come looking for him, things take a turn for the supernatural with Magnus learning that he's a demigod. And then he dies. And then he goes on a series of quests. Fire giants, Valkyries, Thor and Loki: there's a lot of good stuff here and a whole lot of information about Norse mythology. Those who've read all the Percy Jackson books may find it unoriginal, but others should enjoy the humour and non-stop action. Ages: 11+.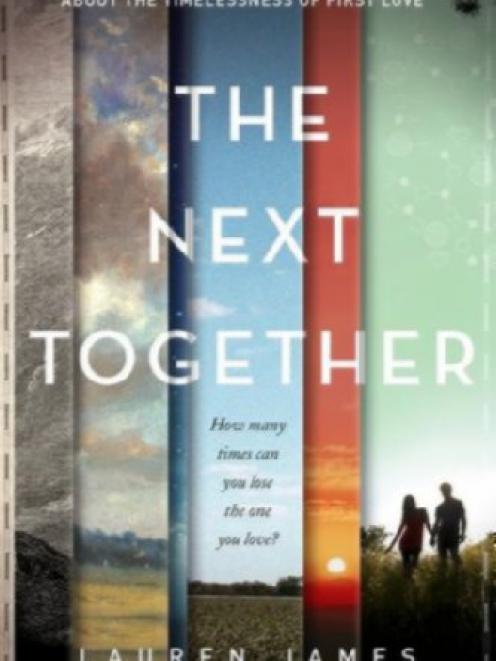 THE NEXT TOGETHER
Lauren James
Walker Books
For those who have never read a ''reincarnation romance'' The Next Together is a perfect example. Katherine and Matthew have lived many lives and they all follow the same pattern: they meet, fall in love, die and then start all over again. The Next Together follows them on four of these lives: 1745 at the Siege of Carlisle, 1854 during the Crimean War, in near-future 2019, and in 2039 post-World War 3. The story skips between the timelines (which some people will love and some will find distracting), with each Katherine and Matthew slightly different while essentially the same people. Matthew blushes a lot in every timeline and Katherine always thinks she's hilarious. It's a compelling idea and there's something for everyone: science, romance, history and war. While I wasn't that invested in the main characters or their romance/s and I was so-so about the historical eras chosen, the mystery of it all kept me reading. Don't expect all the answers, there's a sequel. Ages: 14+. - Laura Hewson
LAKEVIEW COTTAGE
Mary Crosson
Ark House Press
Reading a book with a local setting is always a pleasure and the setting - Queenstown in winter - of Mary Crosson's Lakeview Cottage is excellent. The story starts with Sarah (12) going from Dunedin to holiday with her second cousins, Becca, Paul and Josh. At the family's home in Queenstown, the Lakeview Cottage of the title, they help uncover criminal activity and all ends well, leaving the way open for further stories. Although an enjoyable tale for pre-teens, Lakeview Cottage would have been improved with better editing, as some points needed clarification. And I may have been given an uncorrected proof, as there were a number of spelling mistakes, including the name of a minor character which alternated. If Crosson irons outs the wrinkles, her next Lakeview book will be worth looking out for. Ages 10+.
GRANDPA'S GREAT ESCAPE
David Walliams
Harper Collins
British writer David Walliams has produced another entertaining novel whose latent effect could be to help children understand dementia. Jack loves his grandfather, who entertains him with stories of when he was an RAF pilot. Sadly, Grandpa is slipping into dementia and believes World War 2 is still being fought. Reluctantly, Jack's parents have him moved to an old people's home. All is not well at the home, though, which Grandpa thinks is a POW camp. He's not far wrong, as Jack discovers and together the pair hatch a daring escape plan. With lots of information about Spitfires and other WW2 aircraft woven into the book, a nifty plot and a terrific ending, Grandpa's Great Escape is another winner. Ages 10+.
THE KNOT IMPOSSIBLE
Barbara Else
Gecko Press
New Zealand writer Barbara Else wraps up her Fontania quartet with The Knot Impossible, a stand-alone story that will appeal to boys and girls alike. Because he suffers from crippling stage fright, Rufkin doesn't go on tour with his famous actor parents and two siblings but is shunted off to work in a salvage yard for the summer. There, after hearing a voice calling for help, he teams up with Nissy
and together they uncover a plot that will destroy the kingdom of Fontania. Lots of action in a lively story. Ages 10+. - Gillian Vine