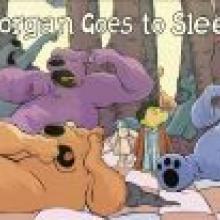 Morgan is back and this time he can't sleep. His parents are no help.
Dad says ''Just go to sleep!''
But where is sleep?
Soon Morgan finds himself on an undercovers adventure, past the end of his bed and on to the path to Sleep, counting sheep and collecting Zs and yawns along the way.
This is the third book in the Morgan series and fans of the first two will welcome more of the same subtle New Zealand references, dry humour and quirky comic-book style.
Ages: 3-5.
•  Laura Hewson is an Allied Press sub-editor and mother.