NINE LIVES
Robert Mads Anderson
Bateman Books
REVIEWED BY DAVID BARNES
Robert Mads Anderson, an American advertising executive who has spent time working in New Zealand, quite probably holds the record for the most attempts to climb Mt Everest before he finally reached the summit. The late Elizabeth Hawley, assiduous Kathmandu-based keeper of Everest records, when telling him that, never used the word failure, which is fair.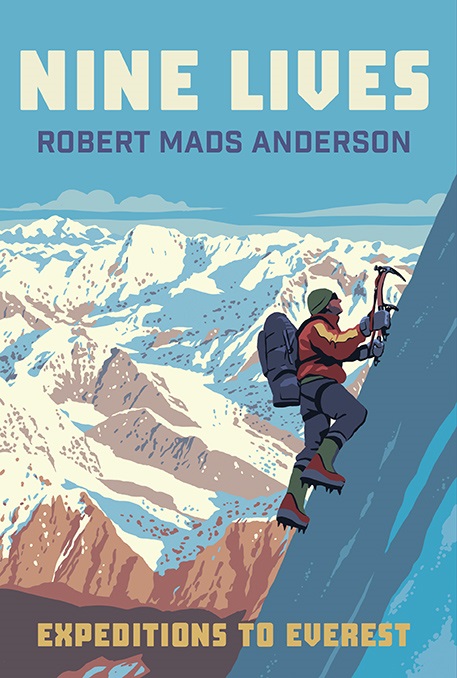 Certainly, the 10 very different climbs described in this book do not ever suggest that a summit-less climb is an unmitigated failure. For example, the second one was the first time the mountain was climbed via the Kangshung Face and the first British ascent without bottled oxygen.
You would think that the many returns would reflect an obsessive need to summit, but my impression was that the obsession was with being on the mountain, with summiting a 'nice to have' rather than a necessity. Initially, I felt that the book was just another Himalayan climbing book, but it grew on me and some sections were real page-turners.
The chapter on a solo attempt on a new route - now called the Anderson Couloir - was perhaps the best writing of the book. The sense of commitment that being alone on a remote part of the world's highest peak, where every step needs to be executed well and every decision could be crucial to survival, is palpable.
The ninth expedition was Anderson's first on the Hillary/Tensing route up the south-east ridge - still the most commonly used route. It was also his first as a guide. He describes the unpleasant experience of 130 climbers snaking their way up from South Col – and then snaking their way back down, summit-less and $100,000 poorer. But his account goes some way to dispelling the common view that guided climbers have it easy and do not really climb the mountain. Sure, the logistics and decision making are taken care of, but they still climb every step and have to survive the weather and the low oxygen levels at altitude.
Anderson's group was in the fortunate position of all being fit enough and well enough resourced to make a second attempt a few days later. He succeeded, but one of his clients lost his sight mere metres from the top.
The tale of the descent is perhaps the best bit of the book. Anderson found himself drawing comparisons with the fate of New Zealander Rob Hall, who he knew and who died while attempting to descend with an incapacitated client. Sobering stuff, and a reminder that anyone at that altitude can find themselves in dire straits.
The sequence of climbs on the same mountain is the point of difference for this book which, while unlikely to make the pantheon of Himalayan classics, is an enjoyable read.
David Barnes is a tramper and armchair mountaineer