Helen Speirs reviews the latest picture books for children. 
PUSSYCAT, PUSSYCAT AND MORE
Purrfect Nursery Rhymes
Donovan Bixley

Upstart Press 
Pussycat, Pussycat, The Owl and the Pussycat, The Cat and the Fiddle and Three Little Kittens get the Donovan Bixley makeover in this rendition of some of the best-known feline rhymes.
The prolific illustrator has hit the mark here, with a set of richly coloured dramatic and dreamily evocative images that draw you into the page.
Simply gorgeous. Ages 1+.
WE'RE GOING ON A MOA HUNT
Patrick McDonald
Puffin/Penguin Random House 
''Uh-oh'', this Kiwi retelling of the classic children's tale is likely to prove as popular as the original! In this version, three children venture out in search of the eponymous moa ''swishing and rustling'' across a wide paddock, scalding their feet on ''scorching sizzling sand'', slurping their way through a ''sucky mucky swamp'' and so on.
Vivid illustrations of a variety of New Zealand landscapes, flora and fauna are sure to keep another generation enthralled, and kids will have fun finding the moa lurking on every page.
Ages: 2+.
FIRST TO THE TOP
Sir Edmund Hillary's Amazing Everest Adventure
David Hill & Phoebe Morris
Puffin/Penguin Random House
Respected children's author David Hill has penned this biography of one of our most famous and well-loved New Zealanders, tracing ''Sir Ed's'' birth and education to his wartime and mountaineering achievements.
The text is informative, but on the wordy side, so my feeling is the book would be for a slightly older readership than its 3-10 age billing.
For me, the richly coloured but uncluttered illustrations by first-time children's illustrator Phoebe Morris are the standout element.
Ages 5+.
PIRI'S BIG ALL BLACK DREAM
Jared Bell & Jimmy Diaz
Puffin/Penguin Random House
Another true story is that of Piri Weepu, a little boy with a very big dream - becoming an All Black.
It's pretty basic and I found it more than a bit fulsome, but it will appeal to many children and does have the important message that anyone from any background can attain their goals through discipline and hard work.
Ages 3+.
QUAKY CAT HELPS OUT
Diana Noonan & Gavin Bishop
Scholastic
Although it is five years since the Canterbury quakes, life has not returned to normal for many families - and what better way to help work through the issues with children than a popular pet?
Tiger has a plan to help the many cats ''still homeless, with nowhere to mouse'' and in doing so shows that sometimes all it takes is a bit of love and concern to make a difference to others' lives.
Ages 3+.
JOHN JOE'S TUNE
How New Zealand Got Its National Anthem
Tania Atkinson & Christine Ross
Duck Creek Press/David Ling 
In this informative and engaging book, Wairarapa author Tania Atkinson (aka Tania Connelly, who has lived and worked in Dunedin previously) traces the story of Lawrence principal John Joseph Woods, who wrote the music to Thomas Bracken's God Defend New Zealand.
Short snappy rhymes, lovely illustrations by Christine Ross and with all the requisite details at the end (biographies, sheet music and the anthem's words in English and Maori), make this the standout of the ''factual'' selection for me.
A great children's resource.
Ages 4+.
STAN THE VAN MAN
Emma Vere-Jones
Scholastic
When Miss Mickle from the post office gets in a pickle with a pile of parcels which desperately need delivering, it's Stan the van man to the rescue - well, sort of!
Stan helps a little boy stuck in a tree, a lost cat and a man in a broken-down car, but is all amuddle when it comes to getting the parcels to their rightful owners.
Why? He can't read!
Luckily he has a lot of new friends to help him.
A simple story with various messages to mull over.
Ages 3+.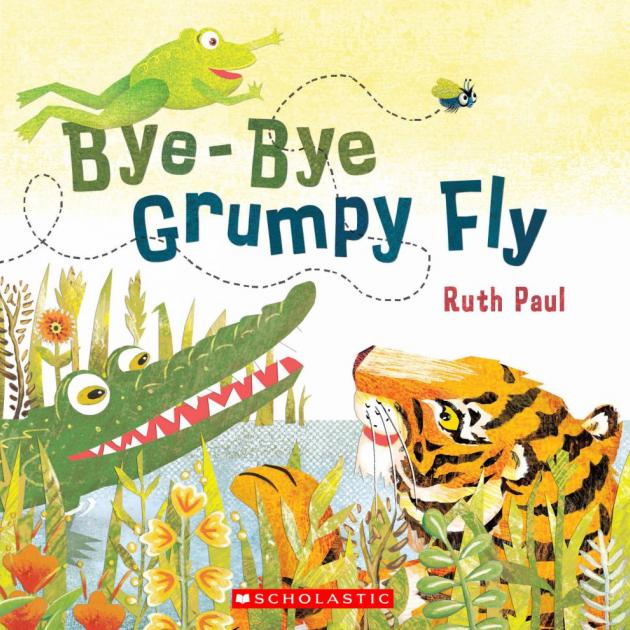 BYE-BYE GRUMPY FLY

Ruth Paul

Scholastic
''Drip, drop, drizzle. Moan, groan, grizzle. Grey sky. Grumpy fly. Splat. Flop. Fizzle.''
Grumpy fly is making everyone's life a misery until frog, crocodile, and tiger realise there's a lot of laughs to be had too - but fly had better watch out!
This fun frolic with lots of alliteration and rhyme by the reliable Ruth Paul is improved by the use of more natural-looking digitally produced illustrations than are often the case.
Ages 2+.
WHY DO CATS HAVE TAILS?
David Ling & Stephanie Thatcher
Duck Creek Press/David Ling

In this simple tale, Grandpa tries to answer his granddaughter's question: why do cats have tails?
However, she's much too sensible to believe his answers and has a much better one of her own.
A humorous tale about the perennial ''whys'', with gorgeous simple watercolour illustrations. Ages 3+.
• Helen Speirs is ODT books editor.