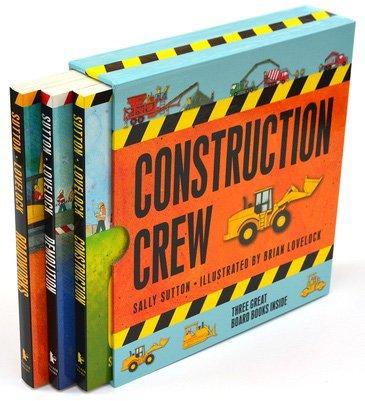 Helen Speirs reviews the latest in picture book collections for young children.
CONSTRUCTION CREW SLIPCASE
Sally Sutton & Brian Lovelock
Walker Books
Little boys in particular will love this fabulous trio of titles: Roadworks, Construction and (best of all) Demolition. "Work the jaws. Work the jaws. Bite and tear and slash. Dinosaurs had teeth like this! Rip! Roar! Crash!'' Simple rhyming text and plenty of action pictures of trucks, cranes, diggers, dozers and rollers are guaranteed to satisfy, and being board books they should go the distance too! Ages 1+.
KIWI CORKERS: GREAT NEW ZEALAND YARNS
Mixed
Scholastic 
The Kiwi Corker books are retellings of classic children's tales with a New Zealand flavour. The five titles come packaged in a little black kete, which is a cute touch, but they are something of a mixed bag. My favourite is the reinterpretation of Hans Christian Andersen's The Ugly Duckling, The Ugly Hatchling, by Yvonne Morrison, illustrated by Dave Gunson. A cute gift for young readers. Ages 3+.
Helen Speirs is ODT books editor.
THE TOPP TWINS TREASURY OF SING-ALONG STORIES
Illustrated by Jenny Cooper
Scholastic
This is a fabulous hardback collection of familiar tunes (Dingle-Dangle Scarecrow, There's a Hole in My Bucket, Do Your Ears Hang Low?, She'll be Coming Round the Mountain and The Farmer in the Dell) sung on CD by the fabulous Topp Twins. Jenny Cooper's illustrations are a treat. Big bold animals with hilarious expressions add to the madcap feel. Perfect for car trips or mat time. Ages 2+.
WHO SANK THE BOAT? AND OTHER STORIES
A Pamela Allen Treasury
Puffin/Penguin Random House 
This is a lovely big hardback collection of author illustrator Pamela Allen's works. My favourites include Who Sank the Boat? (reminiscent of English author illustrator John Burningham's wonderful Mr Gumpy's Outing) and the gentle, thoughtful and non-moralising Grandpa and Thomas, which takes place at the beach to the refrain of "Swish, swash, swoosh, sings the sea.'' Ages 2+.