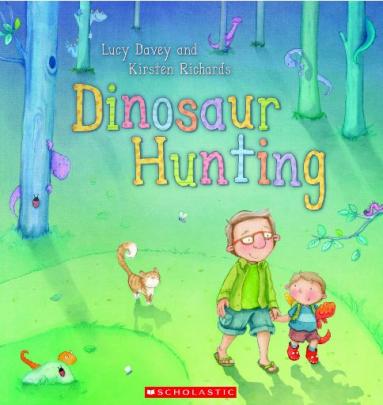 Helen Speirs reviews the latest New Zealand picture books for young children.

FROM MOA TO DINOSAURS:
Explore & discover ancient New Zealand
Gillian Candler & Ned Barraud
Potton & Burton
"Imagine we could travel back in time. What would New Zealand have looked like?'' Gillian Candler and Ned Barraud take the reader on a wonderful voyage to a time when "an orchestra of birds filled the air'' and unusual creatures were commonplace. Presented in story form, but with plenty of fact-filled asides, this a great way for children of all ages to explore our ancient past. Fascinating and fun. Ages 5+.
THE CUCKOO AND THE WARBLER
Heather Hunt & Kennedy Warne
Potton & Burton
As spring comes to the forests of Aotearoa, the grey warbler is busy building its nest. Far away across the Pacific Ocean, the shining cuckoo is preparing for a long journey. This book recounts the incredible true natural history story of the two birds with a unique connection. Informative and engaging, with rich bold illustrations, this is a lovely book for the home or education facility. Ages 4+.
WHEN WE GO CAMPING
Sally Sutton & Cat Chapman
Walker Books
When a family goes camping there is all manner of fun to be had, unless you count the pesky flies and stinky long-drops that is! Sally Sutton's text is rhyming and playful, but doesn't quite hit the mark for me. The strength of the book for me lies in Cat Chapman's wonderful watercolour and ink illustrations which are realistic and engaging, and capture beautifully the humour involved in this traditional Kiwi activity. Ages 2+.
WITCH'S CAT WANTED: APPLY WITHIN
Joy H. Davidson & Nikki Slade Robinson
Scholastic
"Once there was a very pleasant witch. She looked exactly as a witch should look, except for one small, furry detail. No cat!'' No matter what spells the witch tries, she can't conjure up the right cat for the job: they either get "broomsick'', refuse to eat toads, lizards and animal gizzards, or have no memory for spells. But the witch has one last trick up her sleeve. This humorous book has a positive message. Ages 3+.
DINOSAUR HUNTING
Lucy Davey & Kirsten Richards
Scholastic
This is Wanaka author Lucy Davey's latest children's picture book. A young boy and his father go dinosaur hunting and find their garden and nearby playground are filled not just with Stegosaurus and Shamosaurus, but Stripe-osaurus, Spot-osaurus, High-osaurus, Low-osaurus, Stop-osaurus, Go-osaurus and many others. Dinosaurs are a failsafe way to engage kids and here they can identify lots of important concepts, too. It's the usual big tick for Davey, but the illustrations - while bright and engaging - look a bit too Photoshopped for me. Ages 2+.
IF I WAS A BANANA
Alexandra Tylee & Kieran Rynhart
Gecko Press
This whimsical book features a little boy wondering what it would be like to be everything from a banana, to a ladybug, a mountain to a cloud, an elephant to a lion. I love the fact it encourages children to think about the world from different perspectives. Beautiful dreamy illustrations complement the philosophical nature of the book perfectly. Impressive. Ages 3+.
TINY OWL ON THE RAMSHACKLE FARM
Lotte Wotherspoon
Clay Press
"All is still on the ramshackle farm, Just the babble of the brook in the midnight calm.'' But Tiny Owl hears noises and imagines all sorts of monsters are out and about, until her Papa wakes and they go on an adventure. The simple rhyming text is delightful and the handdrawn illustrations - of patchwork fields, flora and assorted monsters - are just exquisite. One of the most gorgeous children's pictures books I've seen this year. Ages 3+.
Helen Speirs is ODT books editor.
Win a copy
The ODT  has two copies of  Tiny Owl on the Ramshackle Farm,  by  Lotte Wotherspoon, to give away courtesy of Clay Press. For your chance to win a copy, email helen.speirs@odt.co.nz with your name and postal address  in the body of the email,  and ''Tiny Owl Book Competition'' in the subject line, by 5pm on Tuesday, November 1.
LAST WEEK'S WINNERS
Winners of last week's  giveaway, Fiordland,  by  Andris Apse, courtesy of  Potton & Burton, were: Eunsook Choi, of Dunedin, and Judy Gillan, of Arrowtown.