Hamesh Wyatt reviews a selection of the latest poetry books.
SOUTH D POET LORIKEET
Jenny Powell
Cold Hub Press
Jenny Powell released her novel The Case of the Missing Body in 2016; a relationship between body and mind. But her first love is poetry.
This Dunedin poet has released a number of collections. Alongside Kay McKenzie Cooke, J&K Rolling, they have visited places like Lawrence, Wanaka and Orepuki. 
Powell likes to express herself and this new collection has an acuteness, a lightness of touch. Powell explores girlhood, difference and displacement. I like how she adds colour, time, identity and love to her poems. Many of these 55 new poems are full of fragile, sensitive stuff. From the title poem:
Born in the heart of South Dunedin,
too soon, too light, the Home
too full, the Doctor too late.
Night falls away, early sun climbs into play.
Powell remains the centre of her own universe. South D Poet Lorikeet gives an insight. This is the perfect place for her vulnerability to thrive. More, please, Jenny.
ANCHOR STONE
Tony Beyer
Cold Hub Press
Tony Beyer has been around a long time. Anchor Stone is a large collection from a master.
Beyer is a local voice full of traditions and simple observations. He has written more than a dozen books of verse.
He pens poems about Colin McCahon, an Elvis impersonator, and the weather.
David Mitchell gets upset. Beyer has an extended poem, At Ratana, which runs over seven pages. Paths spreads out over 31 pages.
He also includes a beautiful poem Autumn in Jerusalem; and The pine hut, remembering Ruth Dallas:
to make poetry
easy as breathing
so the words disappear
and the blue bowl
containing paper clips
on the table disappears
and its contents
neatly folded wires
invisible as always
to their blind makers
hang in the air like one
repeated pictogram
to make poetry
easy as breathing
is that difficult
Beyer's non-punctuation seems to work. His line-breaks and syntax are top class. Poetry can serve as an emotional anchor. Beyer knows this. He is evocative without preaching.
ON EDGE
Damian Ruth
HeadworX
Wellington poet Damian Ruth was born in South Africa and has done a stint in Ireland.
Many of these poems focus on his family: daughter, mother and father. Ruth is heartfelt in "A letter to my daughter on her first birthday''.
He concentrates quite a bit on his Catholic upbringing. The final poem is "One day when I am perfect'':
One day when I am perfect
and all the tasks are done
and all the letters written
to every friend I have 
One day when I have the perfect place to write
I will write the perfect poem.
When I have the perfect workshop
I will make the perfect thing.
One day when I am perfect,
I will be a perfect stranger
to every task,
to every friend,
to every poem,
to every thing,
and most of all
to myself.
Ruth has a sense of the past. It is rich and slow. He is consistent and draws a line in the sand.
PUNCTUATION
Rogelio Guedea
Cold Hub Press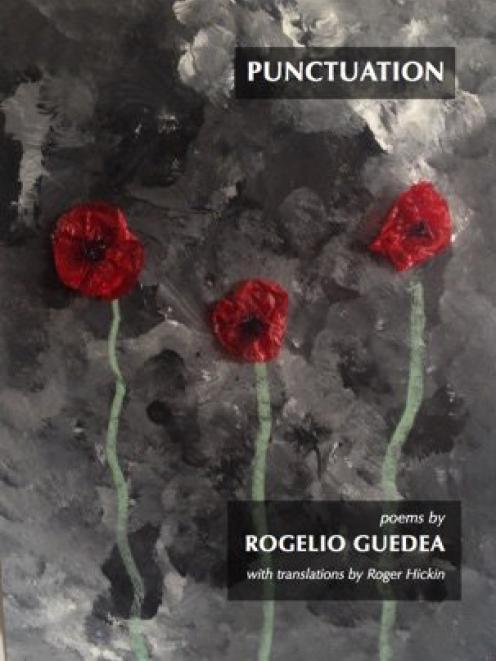 Rogelio Guedea is the author of more than 50 books of poetry, essays, narrative, interviews and translations.
He is a columnist for several Mexican newspapers and has been the co-ordinator of the Spanish programme at the University of Otago. Roger Hickin has translated his latest collection, Punctuation.
Guedea's poems can be terrifying and hilarious at the same time. Often they are uncomfortable. He maintains a conversation with his readers. Sometimes he can be beautiful and tender. This is intense stuff.
And yet:
I have nothing in my hands
and yet all things
rest there.
I have nothing in my heart
and yet in my heart
suffer all
who do not suffer.
I have nothing on my feet
and yet my feet are where
one path and another converge.
I have nothing in my love
and yet I'm in love.
Day and night I'm
full of thoughts of having
nothing and yet I'm thinking:
that I do not have you and you are with me,
that you leave and you accompany me,
that one day you will cease to be you
so that I might exist.
Guedea can be inspirational and irresistible.
SIDELIGHTS: RUGBY POEMS
Mark Pirie
HeadworX
Sidelights: Rugby Poems is a little book but spans four years of work. Mark Pirie used the same idea with his 12 Netball Poems in 2016.
Ron Palenski writes a brilliant foreword. The title comes from an Eden Park rugby column in the Auckland Weekly News in the 1930s.
Billy's Step:
He / was / a / good / bloke / fast, well built /
he could spot /
a / gap / even / off the field
*
I / remember / the time / he left / shot right / through /
Tu / said / they'd / get him one day
*
Now Billy / runs the blind side / of the land /
as far as he can get / away from / the pack.
Once again Pirie is refreshing and sorely under-rated.
Hamesh Wyatt lives in Bluff. He reads and writes poetry.