There'll be murder in the library next month as top crime writers from Scotland, Ireland and closer to home gather for the inaugural Celtic Noir crime writing festival. Here, award-winning author Liam McIlvanney explains the popularity of Celtic Noir and what crime fans can expect from the weekend.
Q First of all, how would you define Celtic Noir?
"Celtic Noir" is just a shorthand way of referring to crime fiction produced in Scotland and Ireland. We are enjoying something of a Golden Age of crime fiction in both countries at the moment. Writers like Val McDermid have long been among the most acclaimed and widely read crime novelists, while Irish crime writers have risen to prominence more recently. For example, Adrian McKinty has just sold the movie rights to his novel The Chain to Paramount Pictures for a seven-figure sum.
Q How do you explain Celtic Noir's popularity?
Celtic Noir is a broad church, but most Scottish and Irish crime novelists write socially engaged novels that have something to say about the critical issues of our time. They also tend to draw on the long tradition of Gothic fiction that flourishes in both Scotland and Ireland.
Q Where did the idea for the festival come from?
I am co-director at the Centre for Irish and Scottish Studies (CISS) at the University of Otago and we were looking to put on an event to mark the centre's 10th anniversary. Given that Val McDermid is a visiting professor of Scottish studies and crime fiction at CISS, and that I myself write crime novels, we thought a festival of Irish and Scottish crime-writing made sense. We are fortunate to be partnering with the good people at the Dunedin Writers & Readers Festival, Dunedin Public Libraries and the Unesco City of Literature to deliver the event. I am also delighted that the new co-director of CISS, Prof Sonja Tiernan, who holds the Eamon Cleary Chair of Irish Studies, will be involved in the festival, chairing one of the sessions.
Q What can people expect from the festival?
Our opening session features Dame Fiona Kidman, who has just won the Ngaio Marsh Award for Best NZ Crime Novel for her book This Mortal Boy. This will be followed by Irish author Adrian McKinty who will join me to discuss his book The Chain - a brilliant example of the high-concept thriller, or, the "book with a hook". Fellow Irish writer Liz Nugent is offering a masterclass on the core principles of writing drama and will also join local author Vanda Symon on a panel titled "Cops and Horrors", which contrasts their genres of police procedurals and psychological thrillers. I will give a public talk about Celtic Noir at the university on October 10 and am offering a workshop looking at how to plot a thriller.
Our centrepiece event is the Saturday evening session with the Queen of Crime, Val McDermid, during which she will discuss her new novel, How the Dead Speak, as well as her recent non-fiction book, My Scotland. The festival will wrap up with a panel event featuring all our international guests, where they will discuss the current landscape of crime writing in Ireland and Scotland.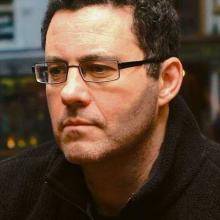 Q Why is this event a good fit for Dunedin?
Celtic Noir will give the community a chance to celebrate the city's Celtic heritage and to experience some of the finest crime writers that Ireland, Scotland and New Zealand have to offer. Dunedin has been punching above its weight for some time now as a centre of crime writing in New Zealand. Recently, Vanda Symon was shortlisted for the prestigious Crime Writers' Association John Creasy New Blood Dagger Award in the UK and also featured in an "Antipodean Noir" panel at the Theakston's Old Peculier Crime Writing Festival in Harrogate, the largest crime fiction festival in the world. Dunedin is a Unesco City of Literature alongside Dublin and Edinburgh, so this is also a way to mark that connection.
Q Is this a one-off event or are there plans to repeat the festival in the future?
I'd love to see Celtic Noir become a regular event on the Dunedin arts calendar. Certainly, the wealth of talent in Irish, Scottish and New Zealand crime fiction is such that we are not likely to run out of possible participants any time soon.
The writers 
Dame Fiona Kidman is one of New Zealand's most acclaimed and best-loved novelists. She has written more than 30 books and her latest novel, This Mortal Boy, was awarded the Ngaio Marsh Award for best New Zealand crime novel and the Acorn Foundation's prize for fiction at the Ockham Book Awards 2019. She has a DNZM, OBE and two French honours, including the French Legion of Honour.
Scottish author Val McDermid's novels have been translated into 40 languages and have sold more than sixteen million copies worldwide. This year she has released Broken Ground, the fifth in the Karen Pirie series and How The Dead Speak, the 11th book in the Wire in the Blood series, featuring clinical psychologist Dr Tony Hill and DCI Carol Jordan.
Liam McIlvanney's second novel, Where the Dead Men Go, won the 2014 Ngaio Marsh Award for Best New Zealand Crime Novel. His latest novel, The Quaker, won the 2018 McIlvanney Prize for Scottish crime book of the year and was shortlisted for the Theakston's Old Peculier Crime Novel of the Year Award, the CWA Historical Dagger Award, and the Ngaio Marsh Award.
Adrian McKinty was born in Carrickfergus, Northern Ireland and is the bestselling author of the Sean Duffy series. His novel Dead I Well May Be was shortlisted for the 2004 Dagger Award and his novel The Chain has been optioned by Paramount Pictures. His books have won the Edgar Award, Barry Award, Anthony Award and Ned Kelly Award.
Liz Nugent is a writer of award-winning psychological suspense novels Unraveling Oliver, Lying in Wait and Skin Deep. All three books topped the Irish bestsellers list and have won multiple Irish Book Awards. They have also been optioned for screen adaptations.In 2017, Nugent won the Irish Woman of the Year Award for Literature.
Vanda Symon's Celtic roots come via Fiji and her Campbell seafaring great-grandfather. She is the writer of the Sam Shephard detective series and The Faceless. Symon is a three-time finalist for the Ngaio Marsh Award for Best Crime Fiction, and her novel Overkill has been long listed for the 2019 CWA John Creasey New Blood Dagger.