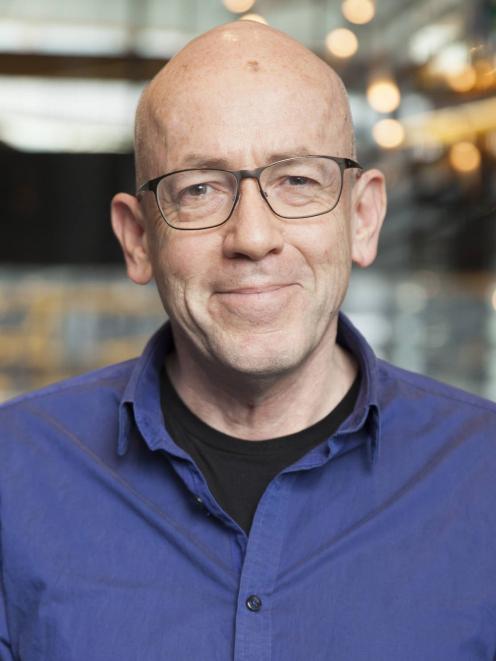 Dunedin Writers & Readers Festival programme director Claire Finlayson throws some questions to Australian Children's Laureate Morris Gleitzman ahead of his author talk this weekend. 
Q You're the current Australian Children's Laureate. That's a pretty fancy title. Is it as good as it sounds? And even better than other jobs you've had, like "frozen chicken thawer"?
The laureate uniform is more comfortable - less rubber than you have to wear in the frozen chicken thawing business. But the work is similar. One of my main laureate projects is thawing out the frozen attitudes some adults have about stories for young people - that they're silly and superficial and just empty entertainment.
Q You've said that stories are "a bit like vitamins". Can you tell us what health benefits a good story can give us?
Fun, excitement, the chance in each new book to make new friends and have new experiences, sometimes in fascinatingly different times and places, sometimes in places you know well but are seeing through different eyes, all the while discovering the joy of words and what you can do with them and what they can do to you. Each time a young reader goes on a story journey with a young character who is facing big problems, they share in the bravery, honesty, creative thinking, empathy, resilience, research skills unblunted by fear, strategising abilities undaunted by failure - all the things characters need to develop to solve or survive their problems, and by sharing these things readers develop and grow in ways that will benefit them for the rest of their lives.
Q You seem to like writing stories that appeal to 9 to 12-year-olds. What is it about that age group that you find so compelling?
It's that wonderful time in all our lives when we start thinking for ourselves. If we're lucky we've spent our earlier years in the care of adults who have been only too happy to be our Mr and/or Ms Google, supplying us with all the information and opinions and world views that we ask for. Then, at the age I write for and about, we start to see the world through our own eyes, and start to develop our own ideas about what's right and what's wrong, what's fair and what isn't, and where our future place might be in all this.
Q What were you like at that age? (And did you get enough story vitamins?)
I went through that process like everybody else. I was one of the lucky ones who got enough actual vitamins (we didn't have a TV but the kids next door used to let me come over to watch that tireless spinach spruiker Popeye) and enough story vitamins. My parents signed me up at the local public library at an early age and my TV-free daily schedule left me time for huge amounts of reading.
Q Which of your characters is most like you?
All my main characters come from inside me somewhere, and so I assume they contain at least a part of me. I hope so, because I like them and what they try to do in their lives. I have a lot in common with Goliath [from the Toad series]. Not so much the big muscles or the warts or the slime or the pleasure in watching live mud worms wriggle out of my bottom, more the ability to be grumpy and hopeful at the same time.
Q You wrote six books about the experiences of a Jewish boy called Felix during World War 2: Once, Then, Now, After, Soon, Maybe. You're now finishing the seventh and final instalment in this series: Always. Are you sure there's not going to be an eighth called something like "Never", and will you be sad to let go of Felix?
I'm busy working on the final book, but I'm not at the finishing it stage yet. I've thought a lot about why I'm finishing the series with Always, and cleverly you've answered your own question with your choice of possible title for the eighth never-to-be-written book. I'll be sad not to be working with Felix any more, but not of letting go of him because I never will. All my main characters, and the friendships I have with them, stay on in my imagination.
Q You once said, "In a mysterious way that I don't understand, putting humour next to sad things can make us even more aware of just how sad they are." Getting funny and sad to hold hands is quite a feat. Is that your favourite writing challenge?
It's part of my favourite challenge, which is to share with readers around the world - individuals I mostly never meet in person - the feelings my characters are experiencing as they struggle to solve or survive their problems. By sharing those feelings, all those readers open their imaginations to my character friends and make friends with them in turn. I think stories don't really exist until they come alive in the imaginations of readers.
Q Even though you've written a gazillion books (well, over 40) I bet you still get the occasional bout of writer's block. What tricks work best for you when your ideas get a bit clogged?
I worked out a long time ago how to avoid getting clogged. Stories need roughage in their diet, too - in the form of the problems that the main character will always, in every story, face.
Once you have a problem in a story you have at least two possible endings and you always have something to write about.
Q We've heard a rumour that Dunedin children have some of the brightest minds in the country. Do you think you're ready to meet such a top-notch bunch of youngsters when you appear at the Dunedin Writers & Readers Festival?
Bring them on. I've been training all this year specifically for this visit, talking with thousands of kids in Australia, Italy, Britain, India and China, asking them to imagine they're the brightest kids in New Zealand. They rose to the challenge magnificently. Now, to be fair, I'm going to ask the kids in Dunedin to imagine they're the brightest kids in Australia, Italy, Britain, India and China. Let's see how they go.
See him 
Morris Gleitzman will appear in conversation with Barbara Larson at 3pm tomorrow (Sunday, May 12) at the Dunedin Public Art Gallery as part of the Dunedin Writers and Readers Festival (May 9-12). This event is supported by the Australian High Commission.