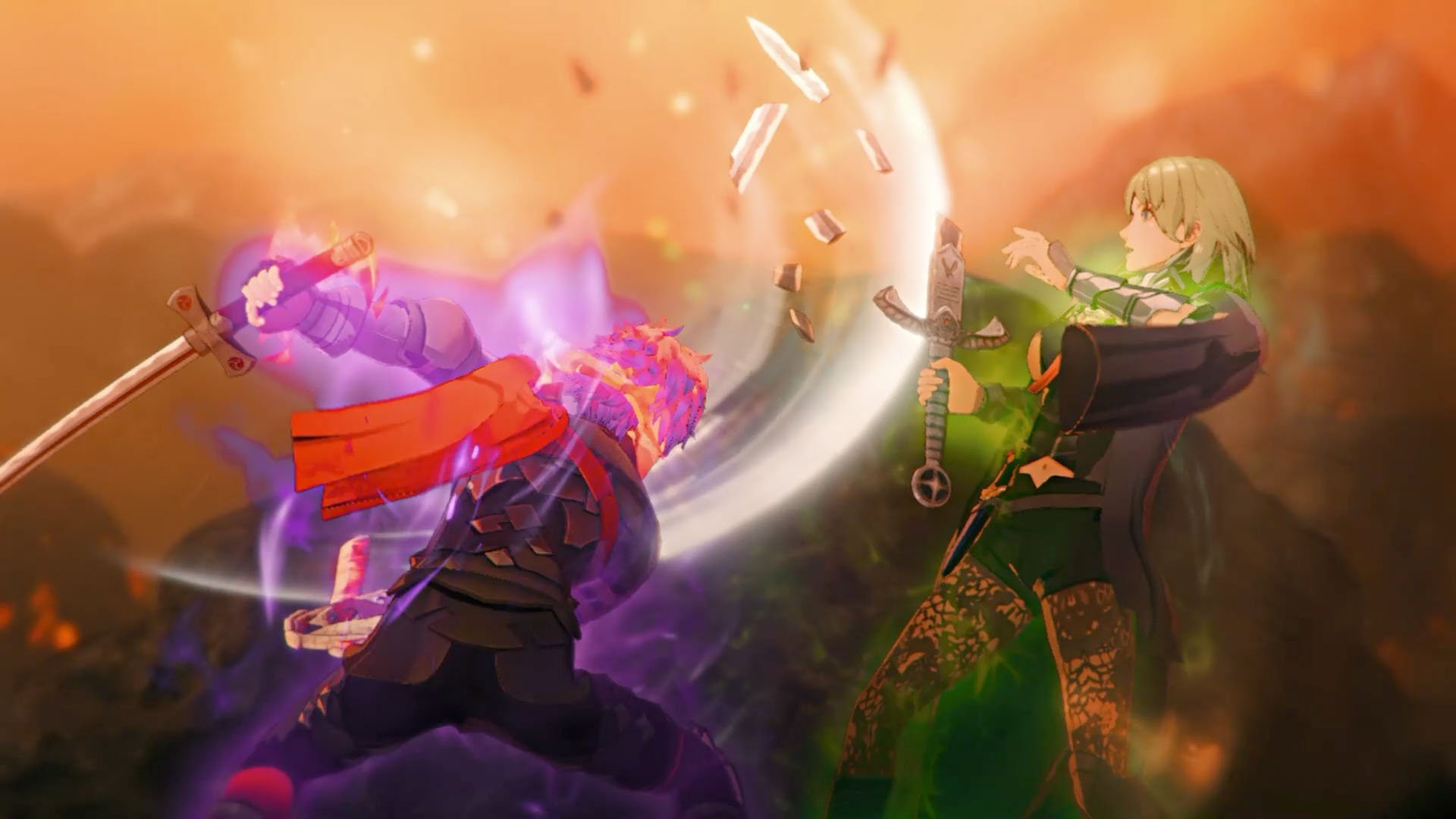 FIRE EMBLEM WARRIORS: THREE HOPES
From: Nintendo
For: Switch
★★★+

In many ways,
Fire Emblem Warriors: Three Hopes
is a superior version of its sister game,
Fire Emblem: Three Houses
.
If you're not up to date on your Japanese role-playing games, that might be a lot of confusing words for the opening statement of a game review.
You may be wondering what a "Fire Emblem" is, why one is about "hopes" and the other is about "houses", and most importantly, what do warriors have to do with anything?
Buckle up team, we're going to get through all of it.
The most important thing to know is you probably should not play Three Hopes if you have not played Three Houses.
It is impossible to discuss Hopes without comparing it to Houses, as the games share the same huge cast and plot beats.
Hopes assumes you know these characters and the plot.
To go back a bit, Fire Emblem is a series of turn-based games which use a complex paper-scissors-rock-style system.
Fire Emblem Warriors is a spinoff game combining the styles of Fire Emblem with the Warriors franchise, which is all about hacking and slashing through thousands of enemies.
Now onto those "hopes" and "houses".
What I guess we can call the "Fire Emblem Three Hs universe" is all about timelines.
There is no correct series of events. The world is designed to be explored in many different ways across many different play throughs.
Houses offers three (and a half) timelines to explore. Hopes offers three more based on the original three.
What's different?
Plot wise, the main character of Houses is now your archenemy. They work for the enemy and your new character desperately wants to kill them.
To boil it down, Hopes is essentially really good fanfiction for Houses. It assumes you know the plot of the prior game.
Because of this, it runs at breakneck pace for the first few hours.
Every Houses plot beat is spoiled and characters make ridiculous decisions for the sake of getting to the meat of the gameplay: the war.
Every timeline in the Three H universe is about war. The difference is who you support.
However, Hopes offers a more ground level view of things.
This real-time mob-slaying style is mixed with the turn-based elements of Houses.
Like Houses, you can order your troops around the battlefield to take on whatever enemy they are best suited for, but now they do it in real time.
It gives off the feeling of being a commander in this great war the characters are fighting, which feels like the true point of the game.
No longer are you moving chess pieces around a board. Now you are running around with a sword and actively slashing through thousands of enemies.
It is a shame that Hopes assumes you've played Houses, because the gameplay is often more engaging than Houses and would appeal to a wider audience.
While the plot is different in Hopes, it feels more like an excuse to revisit the same world with a focus on the nitty-gritty war.
For this reason Hopes feels more like a companion piece to Houses.
It takes many of the worst parts of the original and removes them, such as restricting your companion's friendship meters until you've watched their cut scenes (of which there are so, so many), and weapon deterioration.
It is also more actively engaging. Houses was a real highs and lows game. Hopes feels consistent at almost all times.
However, with the easier gameplay and stripped-down plot, Hopes feels like it is missing something that Houses had. An intensity and intrigue that drove you to find out what happens next.
There are also some pieces which are recreated terribly, such as spending time with members of your party.
In Houses the dialogue options in these events could be frustrating, but they at least made sense. In Hopes it feels like you are talking to an alien who responds exactly how a human wouldn't.
Some parts feel polished, while others feel unfinished.
There is just so much connecting these two games together that it just would not make sense to recommend Hopes to someone who has not played the original.
Even though it is a fantastic game with great gameplay, it makes little effort to be accessible to new players.
If you have played Three Houses, then this game will offer you more of what you love in a new refreshing style.
If this is your first venture into the series, you should opt for the Three Houses, which is still one of the best RPGs on the Switch.