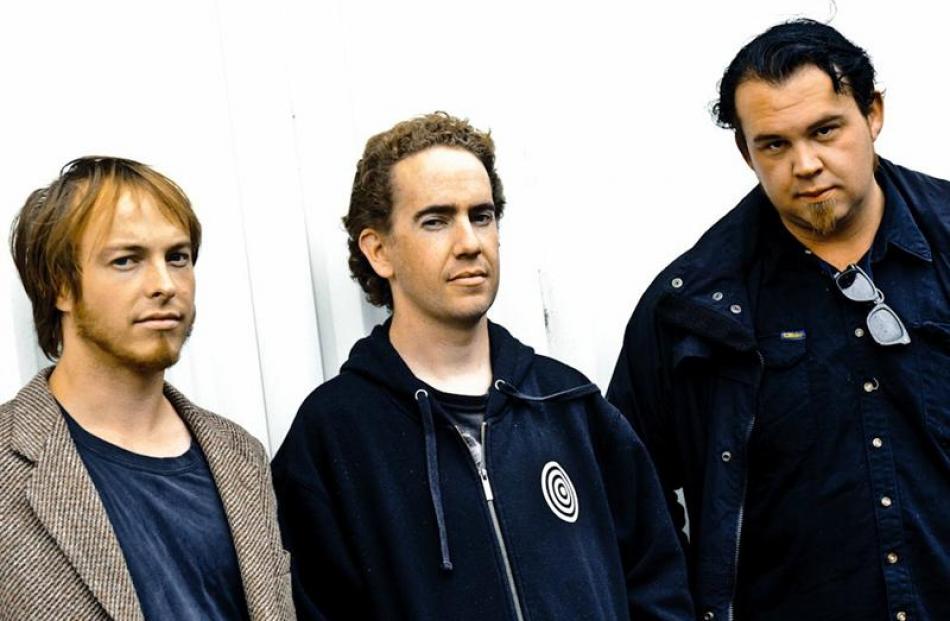 It's a familiar narrative: a band announces an indefinite hiatus, then six months later, it's back.
When Suitable Alternative last covered Dunedin sonic rock-trio Idiot Prayer, earlier this year, it was a heartfelt farewell following its "final ever show" and the accompanying live album, Idiot Prayer Say Goodbye.
Now, in a half expected, but welcome turn of events, the trio of guitarist/vocalist Tim Smith, bassist David Ager, and drummer Sam Brookland will reunite next Friday at the site of their last performance, XII Below.
With their sound sitting alongside the robust mechanical riffage of Steve Albani's Shellac, and the more melodic-post prog of Flying Nun's Bailterspace and High Dependency Unit, there is something for fans of both the heavy and the delicate in an Idiot Prayer show, and if their farewell show is anything to go by, this should not be missed.
Of course, like any good reunion, behind the show there's good motivation. For one third of Led Zeppelin in 2007, it was the death of industry mogul Ahmet Ertegun; for Idiot Prayer, it's a young Dunedin foursome called A Distant City.
The young Dunedinites, who also skirt the edges of progressive post-rock, will release their debut EP Alpaca Suitcase at the event. Recorded with Mike Holland at the University of Otago's Albany Street Studio and mixed by Live Sound Engineering's Iain Sweetman, the EP will be available from adistantcity.bandcamp.com and the group hopes to have physical copies ready for purchase after the show.
• As Radio One's 91 Club Nights continue to impress, it's the turn of disco and soul to take over Chick's Hotel.
Recently returned from Paris, Leno Lovecraft will perform his Italo Disco throwbacks in Dunedin for the first time tonight.
Leno's blend of aggressive synthesisers, winsome falsetto and relentlessly danceable drum beats results in the sort of music hedonistic disco aliens might listen to. It's a colourful cartoon, backed with endless guitar solos, and a rich, vibrant Technicolor mood.
Wellington's newest soul export Estére will also grace the Chick's stage. Armed only with an MPC (fondly named Lola) and her voice, Estére layers boppy DIY beats under sultry vocals, creating bewitching, head-nodding songs using simple but delicious ingredients.
Before, during and after proceedings, Radio One's stalwart breakfast host Aaron Hawkins will DJ a set of mood-warmers and floor fillers.
• Tui award winners Del Girl share the stage tonight with The Whirling Eddys, at a "Saturday night dance" in Northeast Valley.
Long lean bassist John Dodd plays with both outfits, providing the impetus for the double bill, at St Martin's Hall, Northumberland St.
"We love this hall," says Lynn Vare, of Del Girl. "There is something nostalgic about playing there ... We want people to dress up, come along and dance and sing, forget about fracking, asset sales, the economy and all their other worries."
• Dunedin bands Males and Two Cartoons are set to bring their take on surf-garage-pop to the nation.
To coincide with the 10-date New Zealand tour, Two Cartoons released its sophomore EP Tiny Terrors earlier this week.
Males, in turn, will issue debut EP MalesMalesMales on limited-edition seven-inch vinyl, and release new (digital) single So High, which will feature on the group's forthcoming EP.
Two Cartoons and Males perform the following dates in the South: Fitzpatrick's Irish Pub,Wanaka, Friday, November 9; The Crown Hotel, Dunedin Saturday, November 10 (with Street Chant); The Sail, Timaru, Wednesday, November 14.
---
See it
• A Distant City Alpaca Suitcase EP release, with Idiot Prayer, Astro Children and Space Bats, Attack!, Friday, November 9, XII Below, Moray Place. Door sales $5. EP available for $5.
• Radio One and the 91 Club Presents: Leno Lovecraft with Estére and Mr Aaron Hawkins, tonight, Chick's Hotel, Dunedin, 9pm. Free with your 91 Club Card or $10 on the door.
• Del Girl and the Whirling Eddys play at St Martin's Hall, Northumberland St, Northeast Valley, Dunedin, tonight from 7.30pm. $15.
---