It is a project that everyone thought was mad, but Elizabeth Sneyd and Craig Utting believed their community's children deserved equal access to the joys of playing classical music. Five years later, Liz tells Rebecca Fox about the programme's success.
They spent their savings on violins for children they did not know.
Elizabeth Sneyd and Craig Utting had one goal - to make a music education accessible to everyone in their East Porirua, Wellington, community.
Five years later, a string orchestra comprising 42 children aged from 8 to 17 years old is touring the South Island, including Dunedin, Wanaka and Arrowtown.
Last year it scooped the Wellington Airport Regional Community Awards and in 2015 the pair were awarded Queen's Service Medals for services to music education.
Dunedin-born Sneyd says the Virtuoso Strings Charitable Trust started out as an idea to circumvent the elitist nature of violin playing.
''People see violin playing as an elitist thing for wealthy kids. It costs so much for the instrument and lessons.''
She wanted the Pacific Island and Maori children of her community to have equal access to music opportunities.
''In 10 years' time, I do not want it to be unusual for a Maori or Pacific Island kid to be performing at a high level. I don't want people to be raising an eyebrow at them playing the violin instead of rugby.
''Down the track, I want New Zealand orchestras to reflect New Zealand better as a whole.''
To make this happen, she opens the doors every week at night to a free orchestra practice. The pair also run music classes out of 10 decile 1 and 2 schools during the school day and hold classes after school.
''It's open to everybody.''
Every newcomer gets a violin to play for the evening. If they come back more than twice, they get one to take home.
''It's as easy as that. We have few rules.''
Initially they tried auditioning for places but soon found it was the extroverted, confident pupils that succeeded rather than the good musicians.
''It was a monumental failure. It was just a test of confidence, with the kids with balls doing better.''
The success of the programme - more than 200 pupils come through it each year - meant they often struggled to keep up with demand.
''As a group, we are getting bigger and bigger.''
It is also difficult given the huge variety of skill levels in the group, from Trinity College grade 8 students to beginners.
''We've tackled that by getting the more experienced players to teach the younger ones, to mentor them.''
Ideally, she says, the programme will become self-sustaining as it produces teachers who can continue to teach younger pupils.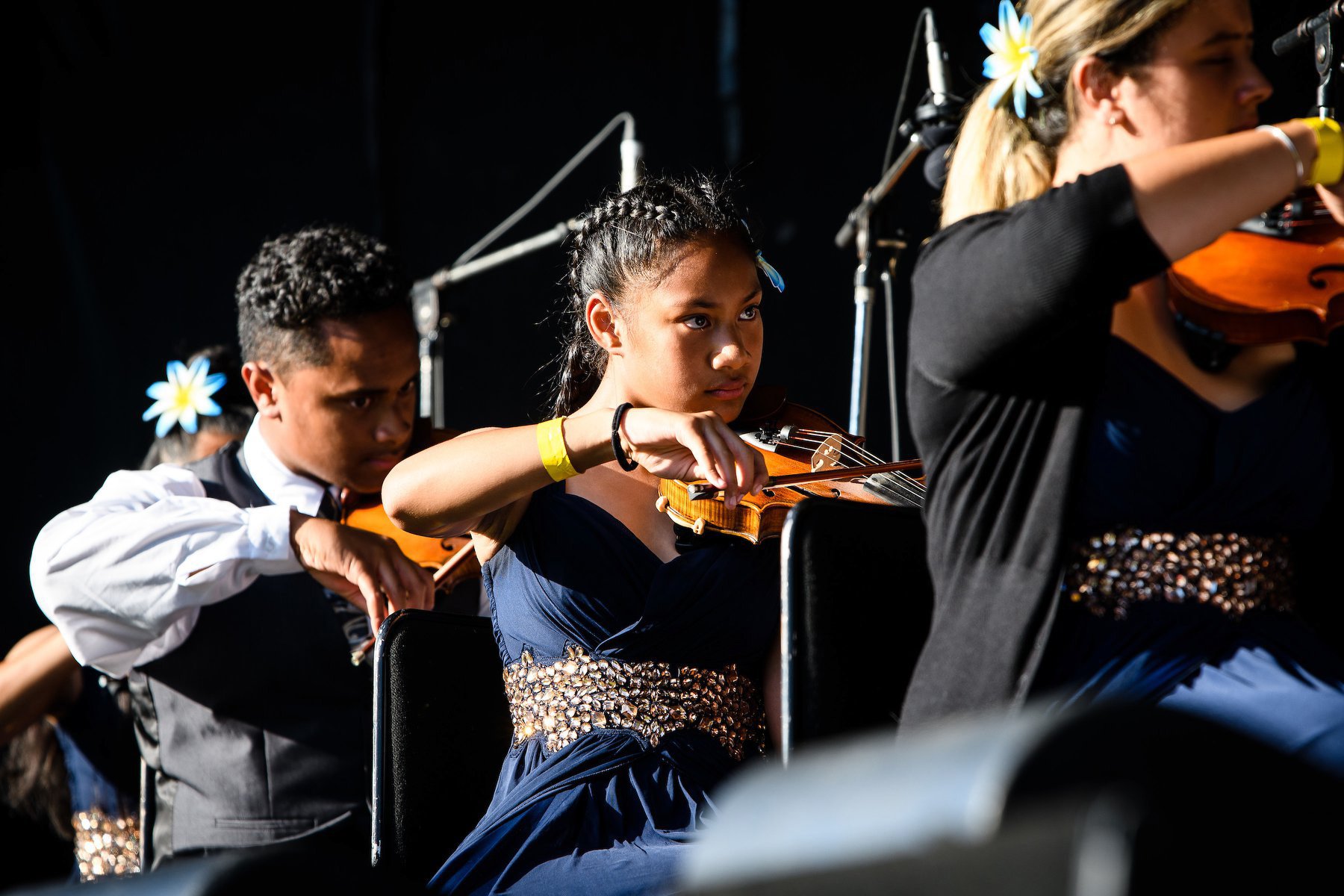 Twelve-year-olds Rochelle Pese Akerise, Jillian Tupuse, Bianca Mika, Ataahua Pakaurangi and Veititi Alapati credit their involvement in the orchestra with keeping them busy and off technology.
''It keeps me busy and it's fun to meet new people,'' Jillian said.
Rochelle got involved after her brother started playing and loves that she has made new friends.
''Thank you, brother. It was pretty hard to start with. I want to stay playing the violin. I want to improve and grow as a musician.''
They find many people are surprised when they find out they play violin.
''We don't look like people who play violin,'' Ataahua says.
Sneyd, who had lessons as a child and played in various orchestras overseas, describes her feelings towards music as a ''love-hate'' relationship.
''I had some experiences that were extremely stressful - conductors yelling at you, teachers bitching when you couldn't do something.''
So when she had children of her own, she wanted their experience to be nice and ''without the shouting and threatening''.
''It's quite common in the classical music world. I hated the snobbery around classical violin, that it's only played by a certain type of people.''
Then when her husband was teaching piano to a very talented pupil from a less advantaged background, it got them thinking.
''We realised there must be dozens and dozens more out there.''
They realised there was a huge financial barrier to many children learning music.
''Families in this community are not wealthy; they sometimes have to make tough choices. Heating the house or paying the doctor comes before music lessons.''
They did not know if anybody would be interested, as it went against the stereotype.
''Everybody told us we were crazy.''
That made the pair even more determined, and they soon realised they had to put their money where their mouth was, as no-one else would.
So they bought 150 violins, exhausting their savings.
She took some violins to East Porirua's schools, holding free lessons.
From there, the orchestra developed with offshoots of chamber music groups.
''It grew from fairly modest beginnings removing those barriers for some kids.''
They set high expectations for the pupils in a low socio-economic area where the expectations of the community, schools or even parents was not high.
Some parents were a bit wary of the project at the beginning but soon realised how much their children were enjoying it.
''They have tremendous pride. Now we couldn't run the school without the parents.''
Volunteers were integral to the success of the trust, as were donations and sponsorship, as well as the fundraising the pupils did themselves.
''Nowadays we get a lot of donations of old violins which may have sat in the attic for years, and we take them to a luthier and get them back into condition, breathe new life into the instruments.''
They now have a range of violins from the ''cheap'' to the stunning and pupils move up through the range depending on their progress.
''We have some nice ones to offer to those doing their grade 8 exams. We're constantly swapping about as they develop more interest and skill.''
Donations also helped the trust keep up with buying bows and cases and other associated equipment.
''A lot of the students help by busking, quiz nights; they are constantly building up the orchestra's reserves.''
The orchestra plays at many community and cultural events for free, believing it is important to give everyone access to music.
Each year the orchestra goes on a tour and the pupils are not required to fund any of it.
''We have a golden rule. There is no financial barriers to taking part. Although they are encouraged to take part in fundraising.''
For many of the orchestra's members the visit to the South Island will be a first, so sightseeing has been planned.
''It's a big motivation for them to get out busking. For them, it feels good to have earned their place by working real hard.''
The orchestra had become a focus of many of the pupils' lives.
''It gives them a sense of achievement - the violin is tricky to learn to play well - and learning to play as part of a group and focusing on the whole sound is another skill.''
Those that have been in the orchestra from the beginning are a tight group and have become what they call an ''orchestra family''.
''They love performing, get a real buzz out of it.''
They aim to make concerts informal and enjoyable for all the family.
Looking back over the past five years, Sneyd has seen the pupils grow into confident teenagers, ''kids with a bright outlook on the future''.
''It's been wonderful seeing those changes.''
She has no doubt some of the pupils may make a career in music but others will go on to other successful careers.
''In another five years, I do hope it is the best youth orchestra in the country. The kids have certainly go the talent and the work ethic.''