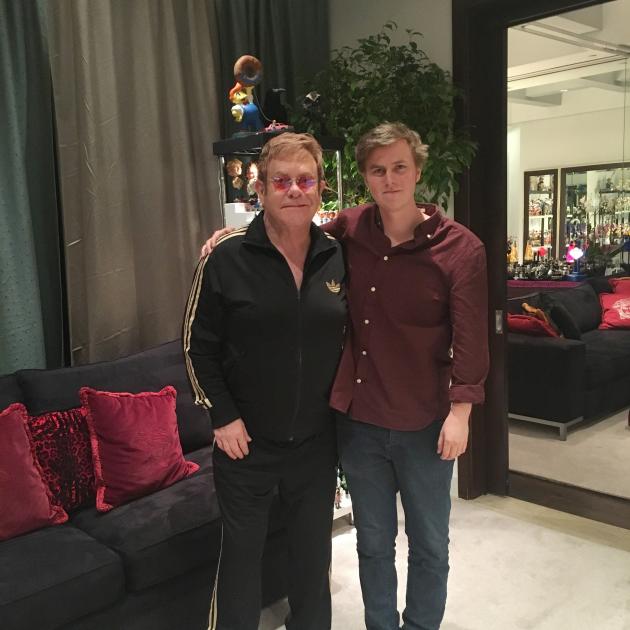 It's a miraculous day when your hero calls, Tate Sheridan tells Tom McKinlay. 
Tate Sheridan was a complete Elton John freak. Had all his albums, had watched all the interviews, knew all the stats. The Rocketman was the man.
So imagine how he felt when the phone rang one day and the voice on the other end introduced itself as Elton.
John had called to say, in so many words: "Tate, love your work."
He clearly meant it, as Australian Sheridan (26) is back on tour with the British piano man, warming up crowds around Australia before crossing the Tasman to do the same in New Zealand, including Forsyth Barr Stadium on February 4. That follows a similar arrangement for John's 2015 tour down under.
The fateful phone call came during an earlier tour still, Sheridan recalls.
"He was touring Australia in 2012 and I was studying in Canberra at the time at the ANU. And Elton is known for championing younger artists."
He is a prodigious listener to new music, Sheridan says.
"And if he likes what he hears, he will actually take the time to ring you up himself and tell you."
At the time, Sheridan's published output included a couple of tracks online.
"One crazy night, man, I just got a phone call from a no caller ID, and I picked up and he was like 'Hi, is this Tate?'. And I was like 'Yeah, who's this?'. And he said 'Hi, it's Elton'."
Once Sheridan had recovered from a brief moment of disbelief, they organised to meet.
"He was playing in Sydney the following day so I got the bus up to Sydney and we met. From then on we have just maintained a really amazing friendship over the years where he has become a real mentor to me."
At that first meeting, John said he saw something of himself, as a young man, in Sheridan's work. "A young Reg." A naivete, certainly, but something that could grow and blossom into something more.
"To have him sitting there in front of me in this bedazzled track suit telling me that I reminded him of a young Elton John was pretty crazy."
Sheridan was studying jazz piano at the time and was not quite sure which direction he wanted to take his music.
"He really played a very instrumental role in guiding me into more of the pop scene."
Not that the jazz has left the building.
Sheridan says all his three EP albums, including his latest, Angel Man, have jazz inflections. The piano playing gives it away, a lick here and there.
"It's a blessing really, because you have all this harmonic theory background that you learn at jazz school. The other side of the coin is that it can sometimes be a bit of a curse, because some of the best things ever recorded have been the simplest. Bob Dylan, Blowing in the Wind: three chords."
Sheridan had to figure out how to say more with fewer words, or fewer chords.
"I think listening to Elton's music has really helped me there because he has been such an amazing melody writer."
Which brings us back to the business of opening for Elton John.
Sheridan has to get up and perform for audiences that have come to hear Tiny Dancer, Saturday Night's Alright for Fighting, Empty Garden and a whole host of other chart-busters.
"Look, the best thing for me has been to treat it like any other gig," Sheridan says, conceding that might sound a bit strange when you're heading out in front of a 30,000-seater.
"It is certainly an amazing atmosphere," he says. "The amount of electricity that rushes your body walking out and hearing that many people, it is quite something. Having that natural adrenaline will always make you play better."
The goal then becomes, by the end of his slot, to have won over the crowd, so everyone is happy and waiting for Elton.
Which is well worth waiting for, Sheridan says, having watched from the wings many times now.
"That's probably my favourite part of the whole night," he says.
"As a young musician I am learning so much each and every night by watching that band."
John too, of course: "From the moment he steps out on that stage."
Sheridan has particular moments he looks forward to.
"I've always loved a song called Levon, which he does throw into the set."
It's from 1971.
"The band, they do this really extended outro jam at the end of it. It goes for like 10 or 12 minutes. It is quite something, they really just rock on."