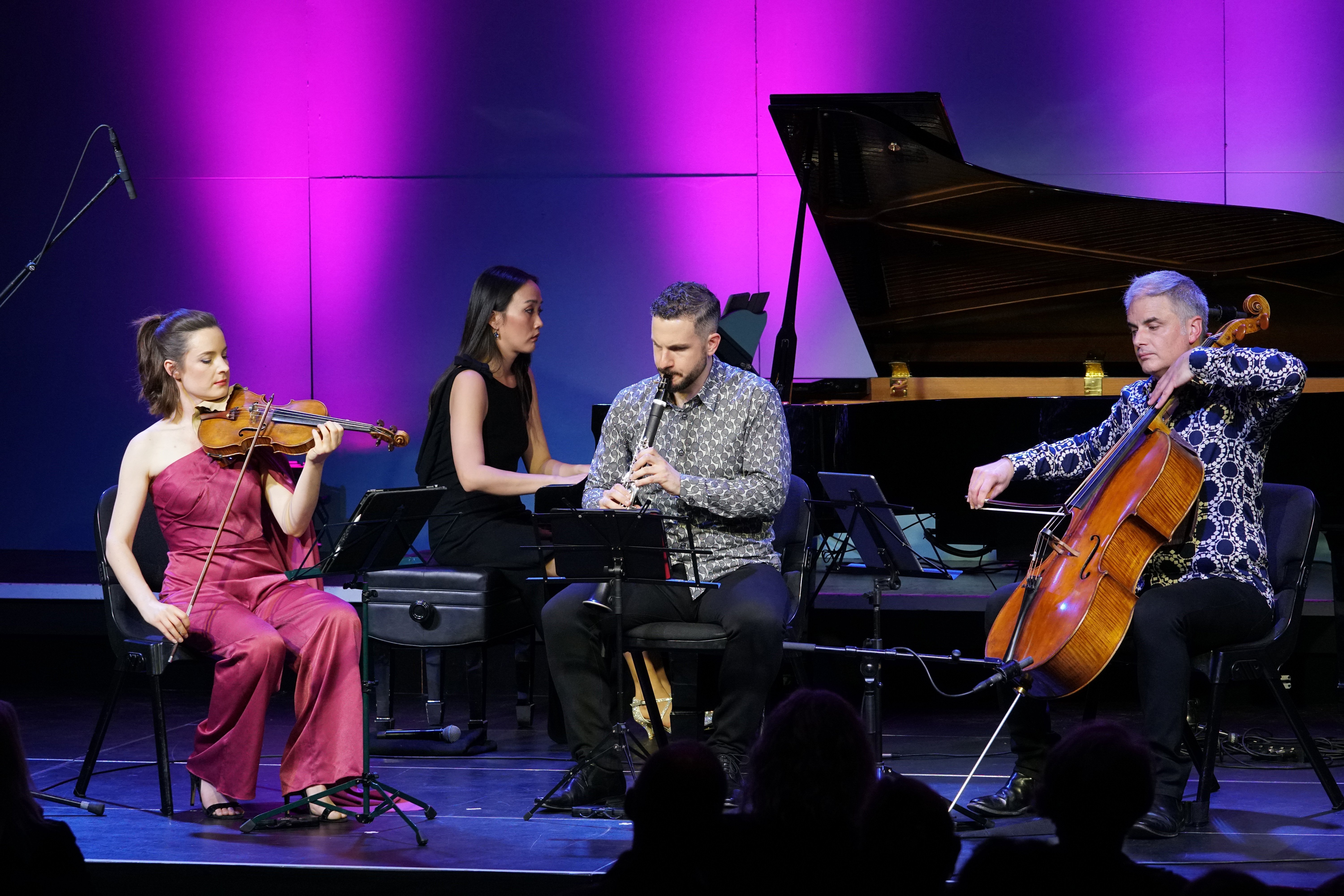 A third-generation clarinettist, American Jonathan Cohen is loving his great adventure of living and performing in New Zealand. He tells Rebecca Fox about one of his favourite pieces of music.
Captured by the German army in a French forest, three musicians found themselves in a German prisoner of war camp in the middle of winter near the end of World War 2.
Among the mud, cold and deprivation they created a work that Auckland Philharmonia clarinet section principal Jonathan Cohen, once started, cannot stop talking about.
"I think it's one of the best pieces ever written.
"They're epic odes to immortality, timeless. Just really cool stuff, a fantastic story."
Quatuor pour la fin du temps (Quartet for the end of time) was written by Olivier Messiaen (1908-92), then a medical auxiliary in the French military, and Paris military orchestra musicians - cellist Etienne Pasquier and clarinettist Henri Akoka - whom he befriended in the Stalag VIIIA prisoner-of-war camp, in Gorlitz, Germany.
They completed the work and performed it in the camp in 1941 nearly a year after Messiaen was captured, the story goes.
For Cohen the work is very special.
"The music is amazing. Messiaen was very religious, a Catholic, so the piece has sort of overtones of the Apocalypse and the end of days."
As part of the performance, Cohen will talk about the story in an effort to paint a picture of the time and place the work was conceived in - a prisoner of war camp in the middle of winter, where it probably felt like the end of time.
"The audience really connects."
Cohen is performing the work with NZTrio, which comprises Amalia Hall on violin, Ashley Brown on cello and Somi Kim on piano, as part of a national tour, which includes Dunedin.
As well as Beethoven's Gassenhauer Trio, they will also be playing Ross Harris' There may be light, which was commissioned by Chamber Music New Zealand as a companion piece for Messiaen's Quatuor to be played by NZTrio.
Harris' piece challenges Cohen as it requires multi-phonics, or the ability to play two notes at the same time, something that clarinettists do not generally do.
"We have to kind of close off part of our throat and change our air a little bit in order to make this effect, which is really hard to make work. You'll see me put in more effort with this one."
Being able to play such works on a tour is still significant for Cohen, who shifted to New Zealand from New York last January just as Covid was starting to hit the United States.
"Honestly, as we found, it's been the best place to be."
He made the move after hearing about a job at the Auckland Philharmonia, coincidentally meeting his Kiwi partner about the same time.
"I got a job, to live in New Zealand, and it's kind of this great adventure. The best part about it is getting to explore the country."
On tour last year he got his first taste of the country's smaller centres, visiting the likes of Queenstown, Dunedin and New Plymouth for the first time.
"Dunedin is unbelievably beautiful."
He was back in Queenstown earlier this month for the inaugural Wakatipu Music Festival, which allowed him to spend a bit more time in the resort.
"It's an amazing place. It was kind of fun to look around."
Having a job which allows him to play music full time is important to Cohen, who was born in New Orleans and comes from a family of musicians.
His father and grandfather are both clarinettists. His father is a professor at North Western University in Chicago and his grandfather went to Juilliard to study as did Cohen.
"My grandmother was a violinist and I have a cousin who is an oboist. I have two siblings. We grew up playing music, but I was the only one to take it up full time. Everybody in some way creates music, if not professionally then studied extensively."
Cohen's decision to take up the clarinet was sparked by a visit his father made to his preschool class to demonstrate the clarinet.
"I thought I had the coolest dad as everyone loved seeing what he did."
By the time Cohen was 9 years old he had graduated from the smaller E-flat clarinet to a standard-sized one and began lessons with his father.
One of the attractions was the "great" repertoire for clarinet - most of the great composers have written pieces for the instrument - and some of the things he heard his father playing when he was young.
"It's not as extroverted looking as a violin is ... as you just hold it between your knees and play, but it lends itself to a certain type of person. We can play softer than any other instrument - it has more of an understated quality."
The clarinet is most at home in an orchestra where it is part of the woodwind section, one of the mainstays of the group.
"It's what we do mostly and you break off and play chamber music pieces as required."
After he finished his master's degree at Juilliard, he went on to play with the Saint Paul Chamber Orchestra in Saint Paul, Minnesota for three seasons. He then moved to New York, where he worked as as freelancer.
The clarinet does not come without its challenges, which particularly involve the reed in the mouthpiece, which makes the air in the instrument vibrate when blown into to create the sound.
"We love to complain about a lot of things like the reed."
Made of cane from South America, reeds are affected by fluctuations in the weather and moisture, which affect the quality of sound the instrument makes.
"If the reed is not having a good day, we are not having a good day. In Queenstown it is dry and cold, in Auckland it is cold and wet. Each place has its difficulties."
While reeds are made to certain specifications, the cane's composition can be different, making each batch of reeds slightly different.
"We try to break them in. We work on them using sandpaper to take off this micrometre here to see if that changes it."
It is normal for a clarinettist to have five or six boxes of reeds on the go at any one time. From a box of 10 reeds there might be only two or three that are good enough to play concerts with, and the rest are thrown away.
"Hopefully, one of them will be the right one for the night. Mostly I get it right. Sometimes it can be a little bit challenging."
He will then alternate the reeds through performances for two or three weeks before starting the process again.
"It makes it sound like a science but it's really not. It's more like voodoo magic and hoping for the best.
"Ultimately, when you get up on stage you try to forget about the reed as much as possible and just play. The difference is imperceptible to most audiences."
When not performing, Cohen is enjoying getting out and seeing the countryside on his doorstep. Although he has to juggle that around keeping himself fit - he's a runner - and practising.
He can spend up to six or seven hours a day between practising and performing and admits it is hard on his hands holding the clarinet for long periods of time.
While loving his time in New Zealand he does admit it has been hard not being able to see his family and friends in the United States or have them visit here. Being on a work visa means there is no guarantee he would be able to get back into the country if he left.
"It's hard. I'm just waiting for things to settle down so I can see my family again."
TO SEE
Quartet for the end of time 
Glenroy Auditorium, Dunedin
June 18 at 7.30pm.