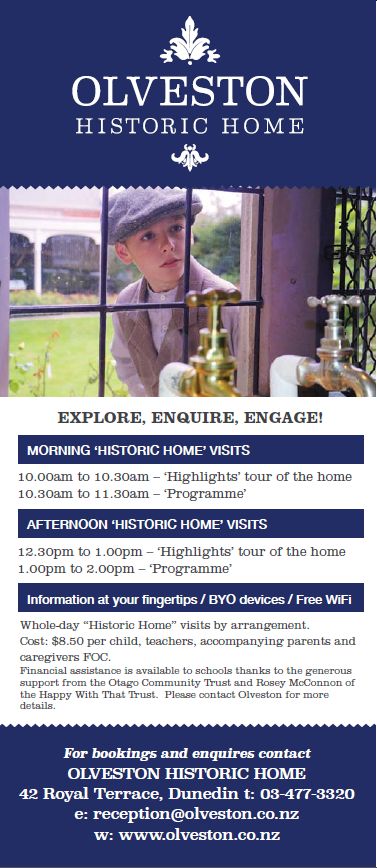 EDUCATION PROGRAMME OPTIONS
Domestic Technology' – Discover how Olveston 

was ahead of its time and compare domestic 

history between then and now.
Learn how domestic history has changed between 
Edwardian times and now. Olveston is an excellent 
example of a house in a transition period for 
architecture and society. Convenient labour-saving 
appliances were being introduced as utilities services 
such as running water and electricity were 
becoming available. The house has all the "mod 
cons" including electric lights, central heating, 
flushing toilets and an internal communication
system. Society was also changing and there were fewer big houses employing multiple staff. 
Student end their visit by creating butter, an everyday ingredient we take for granted today.
Built to Last' – Design and construction of an 
iconic home.
This programme explores the design, structure, and 
construction methods that make Olveston a 
Landmark site. Students examine the architectural 
plans, explore the building and the grounds and 
discuss what makes a house an outstanding home. 
Students then plan their own dream home putting in 
all the elements that make it sustainable, modern 
and efficient, visually inspiring and containing 
everything they think should be incorporated to 
make their "dream home".
'Edwardian Entertainment' – Games and social 
events of the era.
Olveston was a family home but also a place for 
social interaction. Conversation, etiquette and 
manners governed polite society and protocol 
maintained boundaries in society. Students learn 
about the celebrations and social events held at 
Olveston, and compare them to their own 
experiences.
Learn what games Edwardian children played, and 
participate in fun indoor or outdoor games popular 
at this time.
Programmes can also be tailored specifically to meet the needs of your students and curriculum requirements. Work with us to create your own unique learning experience.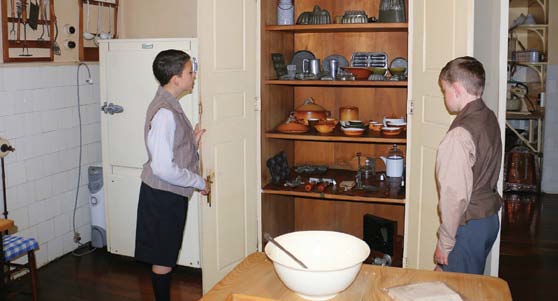 EXPLORE, ENQUIRE, ENGAGE!
Introducing innovative education programmes that 
explore the Edwardian era.
All students taking part in LEOTC programmes will 
be transformed into Edwardian children by 
wearing authentic costuming for the duration of 
their visit to the house.
EDUCATION PROGRAMME INCLUDES
Highlights Tour
Students will take part in a 30 minute 'Highlights' 
tour of the house in small groups, led by the 
educators
Family Portrait
At the completion of the school visit the students will 
take part in a group photograph on the steps of the 
entrance to the 'Great Hall'.