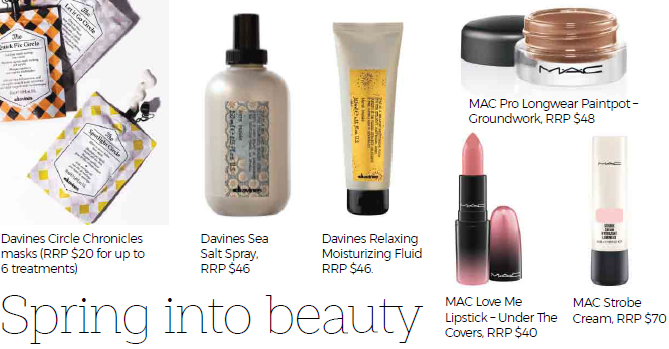 As we leave heavier winter looks behind, it's time to break out your springtime glow with glossy coral daytime lips, brushed eyebrows and fresh lustrous skin. From the runways to celebrity Instagram feeds, it's centre hair parts and beautiful brows, with less face-sculpting and more shine. If your brows are in need of a shape, try out Life Pharmacy's Glow Brow Bar (in the Wall Street Mall) or the Benefit Brow Bar in H&J Smith—both off er excellent service to give your face the perfect frame. Good skin begins with great hydration so feed your skin with some natural love from Lush (in Wall Street) or see the skin experts at Beauté Beauty Clinic. And the same goes for your locks—try one of the incredible Circle Chronicles masks ($20) from eco-hair brand Davines, available from Aart on St Andrew.
Take this easy hair and makeup look from day to night in a few easy steps.
Model: Stephanie Devereaux, Aart Model Management
Hair/Makeup artist: Rachelle Gourley, Aart on St Andrew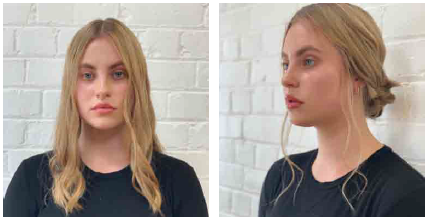 The face
Day:
Moisturise your skin. Apply MAC strobe cream (which illuminates and boosts dull tired looking skin) and your preferred foundation (we used MAC Studio Fix Stick Foundation available from the MAC counter at H&J Smith). Try a clear mascara over brows or brush into a defi ned shape. Go for a light lipstick with gloss over for a day look – we used MAC Love Me Lipstick Under the Covers.
To night:
We took the look to night by reapplying the lipstick for a fuller look (without gloss) and adding a brush of eyeshadow – we used MAC Paint Box (Groundwork).
The hair
Day:
Centre-part wet hair, apply Davines Relaxing Moisturizing Fluid and MELU Hair Shield and blow dry. Remember to dry from the top down for less fl uffi es. Section hair and do a loose GHD curl. For those who fi nd curling with their GHDs diffi cult, try the new GHD Oracle (available from Aart on St Andrew) or sleep with two loose plaits the night before. Spritz with Davines Sea Salt Spray – the smell is amazing.
Leave loose.
To night:
Pull back hair into a low ponytail, twist into a bun and fasten with an elastic or clips.