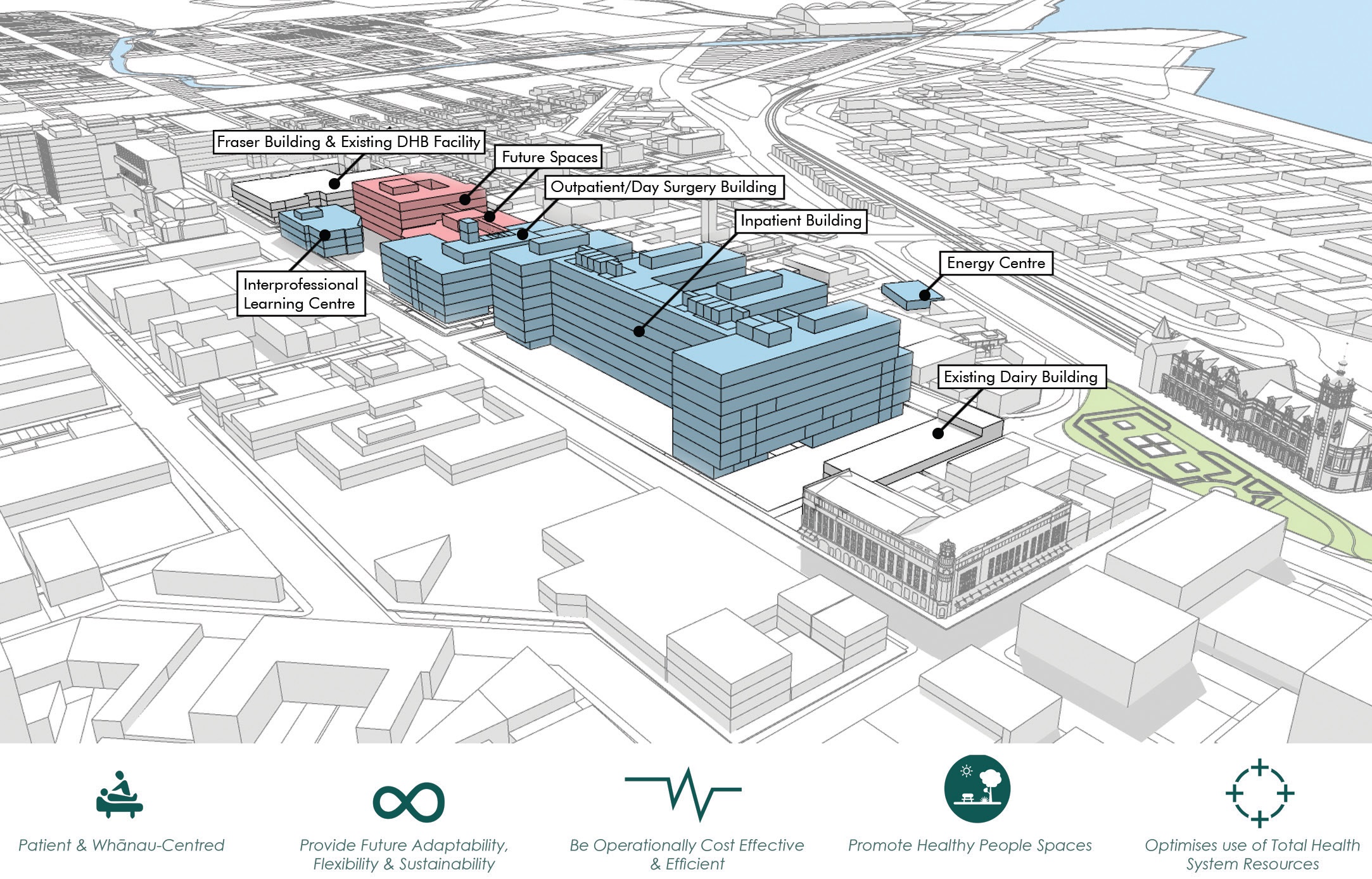 The community has the chance to get a more detailed insight into the New Dunedin Hospital project with the public release of the Site Masterplan.
The masterplan ties together the complex strands of detailed planning completed to this point and sets the blueprint for the work to come.
It marks an important step in our progress towards the New Dunedin Hospital, and the broader advancement of health services for our district.
Southern DHB Chief Executive Chris Fleming says the public release of the plan is an important milestone.
"As a health community we can now properly grasp the dimensions of our new hospital and have confidence that it will have the flexibility to meet future needs"
The Masterplan shows how all the services the hospital needs can be accommodated on the site while also leaving room for future changes.
"In this project there had already been an enormous amount accomplished in terms of understanding the hospital and how it should function.
"The next step was working out how this would be delivered in practical terms, particularly with the unique challenges posed by a narrow central city site.
"Fitting everything together for good working relationships between different departments hasn't been easy and I commend the efforts of the health planners and the Southern DHB staff involved."
While it should be noted that much of what the masterplan contains is indicative and subject to change through the planning process, it still provides a good overall summary of how the New Dunedin Hospital might look and operate.
For example, the building design guidance maximises daylight for inpatient units, including access to outside terrace spaces.
The masterplan has built-in space for future expansion and the planning approach used provides for flexible use of the inpatient units.
And, importantly, the movement of staff, patients and services will be separated with distinct corridors and dedicated lifts.
Want to know more?
A public forum on the New Dunedin Hospital, including a Question and Answer session, will be held in March, keep an eye out for the date.
To read the Site Masterplan: www.newdunedinhospital.nz
Read more from SDHB:
Commissioner Update - February 2019
Southland team tops New Zealand rehabilitation results
Southland Hospital Volunteers - making a difference to patients, staff and visitors
New Māori Health leadership team
Knitted knockers give breast cancer patients renewed confidence