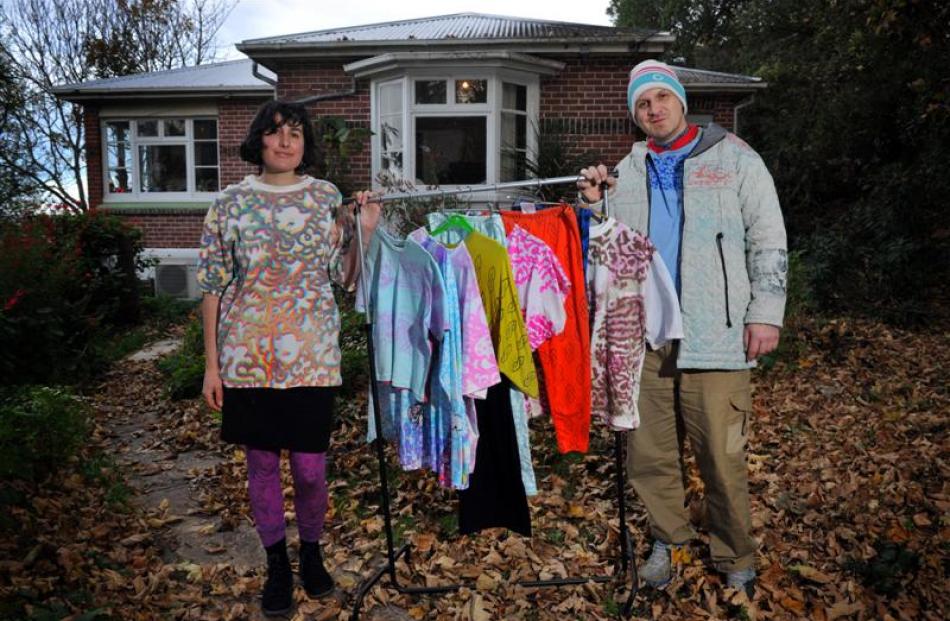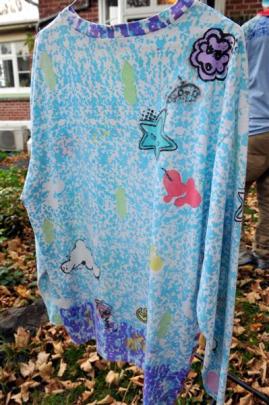 A Dunedin label has its designers' prints all over it, writes Tom McKinlay.
STeeP STReeT is a unisex label but for an installation in Dunedin this weekend, designer Rachel Blackburn has mainly made dresses.
''That's OK,'' she says with a shrug.
''I want to be more unisex but it was easy for me to make dresses and stuff.''
Fitting in the work required for the show around other commitments has been a challenge and Blackburn apologies repeatedly for housekeeping deficits in her Steep St workspace.
And dress, T-shirt or leggings, the gender of the wearer is perhaps less important here anyway.
The focus for this show is very much on the textiles and the designs they carry.
On this occasion much of the work has been done by Blackburn, but the label is a team effort with partner Jason Aldridge, an electronic musician and producer who goes by the moniker Iso.
Together they also play as Murderbike, a band of six or seven years standing.
Their collaborations in textile art and fashion go back about as long, but it has been in only the last six months that they have moved to put it on a more business-like footing, launching the label.
''I ran a 10-day boutique for a long time with my friend,'' Blackburn says.
''That was lots of handmade fashion and art coming together, that was the theme. We would make [None] gallery a boutique for 10 days and gets lots of artists and designers to put work in.''
A similar approach was used at Glue Gallery.
''I had a print studio out the back and I would make some stuff to put in the shop. It is all very DIY, it's just fun and art practice really.''
The label takes its name from Steep St, Dunedin, the address to which they moved three years ago, somehow managing to squeeze Blackburn's print table into the basement, having heaved it up the long flight of stairs from Maitland St.
Blackburn is a graduate of the Dunedin School of Art, where she majored in electronic arts, but says that out of high school she almost went the fashion-school route.
''I was just really excited by putting prints on clothing and I always sewed my own clothing. From high school I was really into sewing. I almost went to fashion school but I thought art would be more meaningful for me. So after art school, I was like `wish I had done fashion school', you know?'' she says with a laugh.
''I just started sewing again and printing with fabric and then making stuff out of that and more just for fun, just because it was exciting. When I met Iso he had done a lot of sewing and printing and he actually taught me quite a bit about screenprint and we designed costumes for performing in, for our band Murderbike. So that's the way it started, we would make matching tops and stuff.''
Iso began making clothes in the 1990s as Aka, blowing up industrial stamps to pattern long-sleeve T-shirts.
While Blackburn's background in electronic arts means she maintains an interest in digital design, most of the art for the latest line was hand drawn.
The installation also includes three large canvases, which, in common with the clothing, demonstrates Blackburn's current interest in working with an airbrush.
---
The show
• STeeP STReeT's fashion and art installation of new textile design experimentation, today at Fresh and Fruity, top floor 140 George St, noon-4pm.
• More on STeeP STReeT at tinyurl.com/mq9axsf.
---