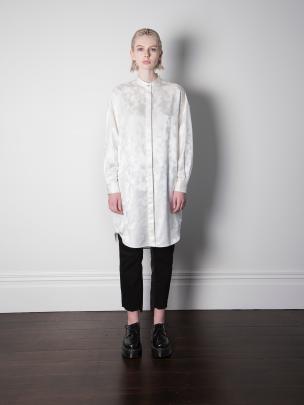 As New Zealand emerges from pandemic restrictions, our approach to fashion has changed. Fashion writer Katie Day considers style's latest evolution by taking a look at our back-to-work trends.
Cosy knits, track pants and slippers gather warm thoughts of cosy evenings or slow Sunday mornings. Yet with a swift move to the home office, these words have become synonymous with workwear. Comfort dressing has become a staple, providing much needed ease, as we adapt and respond to our changing work environments during this global crisis.
As New Zealand has entered Level 2, we have emerged into a new stage of appropriately distanced freedom. Many are returning to previous work environments and this transition invites reflection on how we dress for work. How has our approach to fashion changed during lockdown? Will we be able to infuse the benefit of home comfort in our professional attire?
Our relationship with fashion exists in a state of constant change, evolving in response to our environment and context. As a global collective, we are currently experiencing great change and, for many, crisis. This will profoundly impact both how we consume fashion and how the fashion industry responds. To envision the future of fashion, let's take a moment to reflect on how fashion has responded to crisis in the past. 
Post-World War 1, Coco Chanel revolutionised women's fashion, opposing the corset by introducing loose-fitting garments made from jersey fabric. The industrial jersey fabric had previously been used exclusively for men's underwear. However, during the war, jersey was one of the few fabrics available and Chanel not only embraced the unconventional fabric, but revolutionised fashion with it.
Another moment to note is post-World War 2. Christian Dior transformed fashion's silhouette, reintroducing the waist with the ''New Look'', infusing fresh form, energy and hope to a post-crisis era. In times of challenge, designers set out to anticipate our needs, innovate solutions and reflect our experiences. Expect fashion to once again respond creatively and effectively to our current climate.
Global challenges often present defined post-crisis styles that mirror feelings of liberation, celebration and victory and in time fashion may reflect that. However, we are not there yet. Just as we are stepping down the alert levels, fashion is following suit, and currently we are in a space that balances uncertainty with newfound freedom. We are looking for clothing that we can rely on in a crisis, clothing that will provide the comfort to hold us, the ease to sooth our minds, the protection we require and the delight we need. We are looking for versatility.
As we re-evaluate our lifestyles and return to work, the core messages we've received of ''stay safe, be kind'' naturally influence our processes and actions, including our approach to purchasing. For many, priorities have required realignment, creating the opportunity for consumer awareness to increase.
We are now compelled to consume consciously, with safety, kindness and versatility in mind.
With travel restrictions in place, our lens has also refocused, highlighting the value of local communities. We are now highly aware of the power of our purchases on the local economy and its wellbeing. Our support of each other, through shopping local when we can, connects us and leads us forward in rebuilding a hopeful future.
However, for many this is an economically distressing time and it's important to remember the power of ''shopping'' in our own wardrobe first. Anything can be creatively reinvented by looking at it from an alternative angle. Crafts such as knitting and sewing are also an excellent way to repair and reimagine the clothes you have.
With safety, kindness and versatility guiding our return to work wardrobes, a relaxed way of dressing will continue. Our professional attire will transform into a hybrid of comfort and elegance. Workwear may embrace some comfortable elements of home, such as the warmth found in the soft texture of a knit jumper or the ease found in a loose pair of trousers.
Dresses that can be thrown on, with loose silhouettes or knit fabrics, reflect a sense of ease and versatility and may be in high demand. Layering elegant work-wear pieces with comfort pieces such as a cosy knit with a silk skirt, will create texture and timelessness. Long coats will provide protection from the elements - both physically and psychologically - and may even echo the comfort of our dearly-missed dressing gowns.
And let's not forget the quintessence of versatility: the sneaker. The sneaker, currently leading all shoe styles in popularity, has overtaken the heel and is widely accepted in current work environments due to its practicality and durability. The sneaker's star will continue to rise as it exemplifies the values of versatility and durability we are looking for in our clothing.
Fashion has evolved in response to our current experience and will continue to do so. Qualities of versatility, comfort and timelessness may influence professional wardrobes as many return to their places of work. Garments that can transcend context and location, will provide the flexibility necessary as we continue to move forwards, adapting in response to this time of challenge. Great change creates opportunity for innovation and positive transformation. With safety and kindness as a guide,a healthier fashion industry can be established as we purchase with consciousness, supporting local retailers in our communities.