Social media influencer Ariana Gonzales talks to Brittany Pooley about ethical fashion and her life online.
Ariana Gonzales may seem like your everyday young, stylish woman you would spot at your local cafe. But as she sips her coffee, and gazes at her phone, Gonzales is providing a steady stream of content to thousands of online followers.
This is the reality of today's social media influencers. Despite this life online, Gonzales is just as real as you or I.
Gonzales' online presence began in 2014 with a travel blog created to share photos and stories with friends and family.
''I have always been one to document things, whether that be through photographs or words,'' Gonzales says.
Over time, more people started to follow Gonzales, seeking updates on her and now husband, Timothy's, lifestyle. The couple, who also run a photography business, have recently moved to Nelson.
''It was primarily for our immediate circles to look at, but I began to notice that other people outside of our family and friends had begun to show interest in what we were up to and it kind of spiralled from there.
''I think people became intrigued and invested in us and in our relationship, and the connections I've made with the online community I've built is what drives me to keep sharing our life in a public way.''
With an increase in followers, Gonzales began to dedicate more of her time to the blog and her social media.
Today, these platforms share a stream of photo stories giving insight into the many relationships in her life.
Gonzales primarily uses Instagram to interact and engage with her audience of over 10,000 followers.
''Because of my photography background, images are one of the ways where I feel most comfortable expressing myself creatively and what comes most naturally to me!
''I've recently started posting more over on our YouTube channel, and that's a new avenue I'm having a lot of fun exploring right now.''
ETHICAL FASHION
With a love for fashion and a natural eye for style, Gonzales also shares her journey with ethical fashion with her online following.
''I'm interested in investing into high-quality, ethical pieces and supporting smaller businesses since becoming a lot more educated on fashion consumption.''
Gonzales' aesthetic is minimal, comfortable and chic. She embraces natural, earthy tones for easily styled, simple and effective looks.
''The majority of the time you'll see me in a white shirt with denim jeans or some wide-leg pants and a duster coat/jacket of some description.
''Neutral and minimalistic doesn't have to be boring.''
As for shoes, Gonzales loves versatility, opting for styles that translate across her whole wardrobe.
''I love my Avarcas sandals. I have two pairs, one in tan and one in taupe and they literally go with every outfit. You can also never go wrong with a pair of black and white hi-top Converse.''
Gonzales' wardrobe is carefully curated with stylish, ethical pieces that speak volumes about her personal style and values.
Being an influencer, Gonzales is conscious of how her choices may affect her audience.
''Over the past year or so, my idea of fashion has changed quite a lot.
''Part of that has been because I've become more comfortable in myself and in my style, therefore cheap, trend-led pieces have become fewer and farther between in my wardrobe, and the other part is that I've become a lot more educated on fast fashion and the implications that has on people and our environment.
''It's truly opened my eyes.''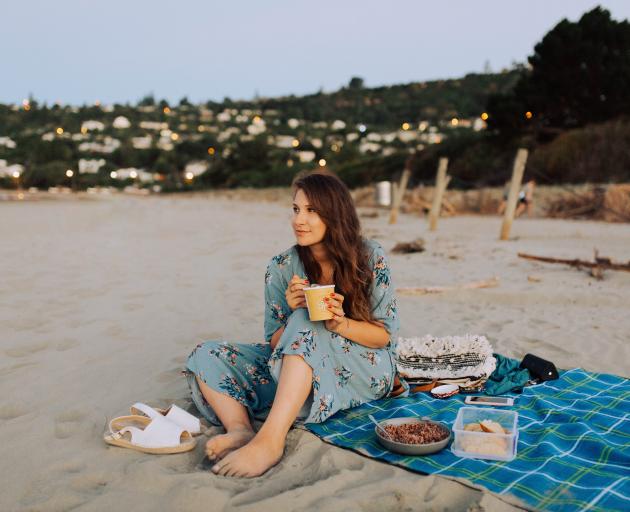 LIFE ONLINE
Gonzales says that maintaining an online presence is not as easy as it may seem.
''Whilst the photographer/influencer role can look from the outside as if we are always out and about, travelling, shooting at sunset and eating delicious meals at beautiful cafes, that's such a small sliver of what the job involves.
''Most of my time is spent editing images, writing captions, staying on top of emails, working on pitches, scheduling posts, responding to comments, doing our online marketing and keeping our website up-to-date.''
Influencers like Gonzales work with different companies to generate revenue that allows them to earn money for the time dedicated to sharing their lives.
This sometimes involves working directly with brands, and other times working through their public relation companies.
''Every collaboration is so varied and different and that's half the fun of working in this growing industry.
''Most of the time, you'll be approached by a company/brand with a brief that states their goals and timeframe for their campaign, what they want from you in regards to imagery and online marketing, and an outline of what their budget is.
''If you're interested in collaborating with them, you will then work back and forth with them to create content and once all of that has been done and given final approval from the brand, the post/content will go live.''
This process can take anywhere from two weeks to six months depending on the requirements of the collaboration.
As well, Gonzales and her husband offer their services all over the world working with couples, families and commercial businesses to share stories through photography.
RELATIONSHIPS ONLINE
Gonzales' relationship with her husband Timothy is one of the many things that attracts people to follow her online. She credits her relationship for part of the success she's found as a public figure.
''He's been so key in helping me to know my truth and my worth, both in my own identity and in my career and is my biggest support. I couldn't do any of this without him and I know how lucky I am to have him on my team.''
Despite facing some criticism, Gonzales is comfortable sharing snapshots of her personal life online.
''I am a huge believer in the idea that vulnerability is powerful but for me personally, there's always a fine line when it comes to sharing things online.
''I strive to always be 'me' sharing bits and pieces of what's in my heart with my audience, but I do believe it's important to always have that boundary line for yourself of what parts of your story you'll share to help others and what parts you want to keep private.''
She admits there are definitely implications to sharing her life online because she is opening herself up to receive criticism and opinions from such a wide array of people who don't actually know her personally.
''Whether we like it or not we often let that speak into our lives and impact us in a big way.''
Gonzales finds importance in creating a balance between her real life and the life she presents online.
''In a world where it feels like every detail about everyone is available at the click of a button, it's so important to have things that you keep to yourself and to those who are in your physical world, not just your digital one.''
At the heart of her content lies a message for her audience.
''To be compassionate towards yourself, towards others and towards the earth and to make conscious choices.''