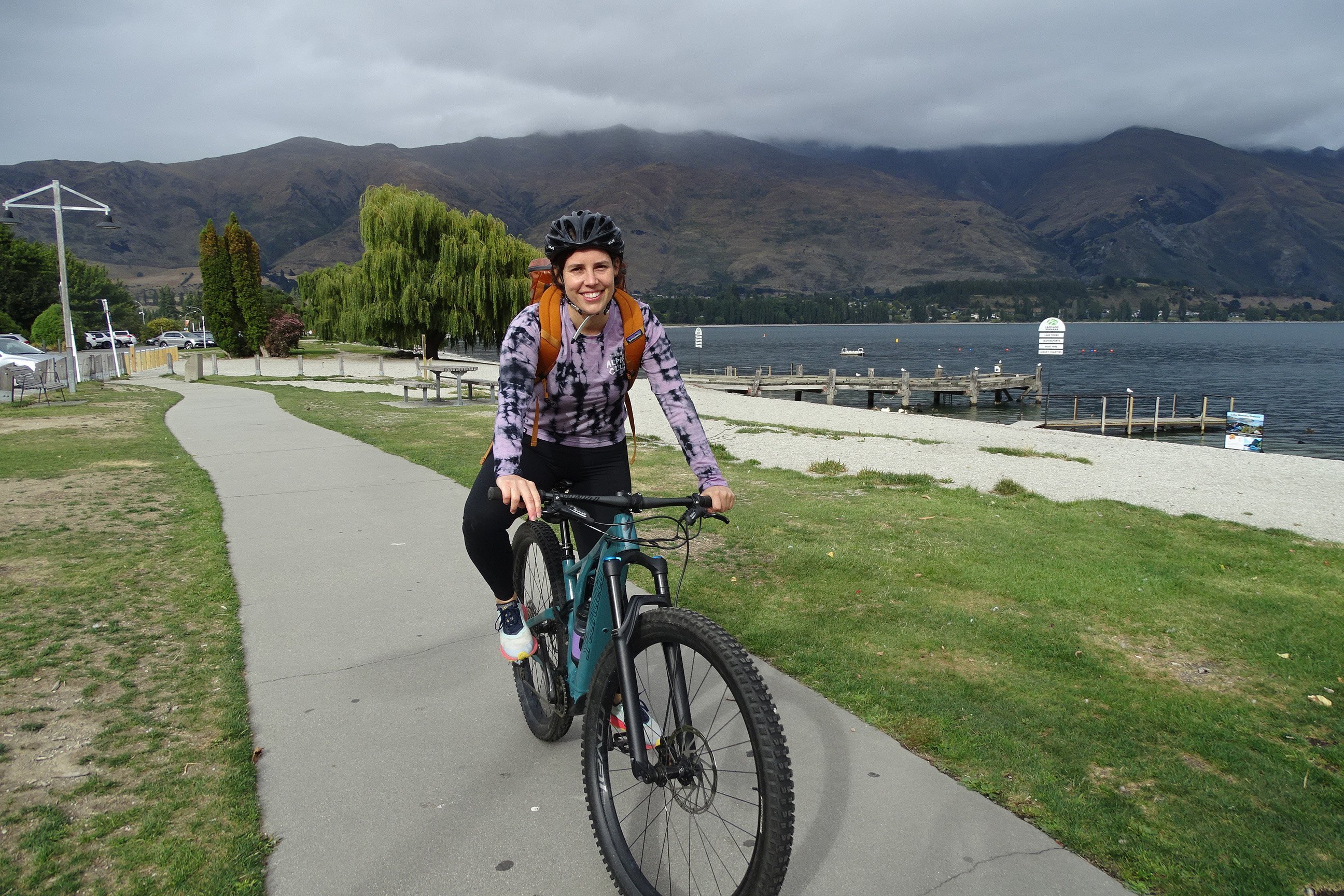 In her cycling shorts and helmet, Anna Ross does not look like a typical  cosmetics company director — something she is quite happy about. The Otago woman tells Rebecca Fox about her accidental path into the world of make-up.
Bright-coloured nail polishes and matte lipsticks are Kester Black's signatures.
What many people might not realise though, is those cosmetics are often being packed up and shipped to them from the Wanaka home of its director, Anna Ross.
And if you live in Wanaka, chances are your recent orders have been delivered by Ross on her bicycle.
Ross has nearly come full circle. She grew up in Dunedin and studied fashion at Otago Polytechnic, but the bright lights of the big city called and Ross ended up in Melbourne, but only because it was cheaper to fly there than to Wellington.
To pay the bills, she got a job in retail while she began making jewellery on the side.
"After three years, I got bored just working in sterling silver, so I thought about adding some enamel paint and thought I'd give nail polish a go."
Then she had the idea to make her own, thinking it would be a good sideline to the rings she was making under the Kester Black label that she had started in Dunedin.
"It didn't really work on the jewellery, but I thought it was quite fun."
The company name refers to St Kester Bay in the Marlborough Sounds, which she visited one summer, and the part black comes from the colour a group of priests were wearing when they appeared out of the bush at the bay — it turns out a small cottage on the beach was a priests' retreat.
It took a lot of research and investigating to work out what product she wanted to create, starting with a simple phone call to a manufacturer asking for advice.
When someone mentioned a vegan formula, she thought it was a no-brainer.
"I grew up in New Zealand. It seemed common-sense not to put animal products in nail polish."
It took a further year of research into how the beauty industry worked and how formulations were developed from a base before she got a chemist on board to help develop her "recipe" and learnt the basics of product development for cosmetics.
"It was much harder than I thought it would be, much more chemical-based; not my skill set. But over the years, I've come to understand what ingredients do what."
Ross launched her six-colour nail polish range in 2012. Her initial order was 30 units of each shade and her revenue tripled from $30,000 to $90,000 in three months.
"I thought this is it. There seems to be a real gap in the market for vegan, cruelty-free nail polish."
Within a year, she had 60 shades and now produces 20,000 units of some her top-selling shades, has an award-winning, multitasking cuticle oil and a range of lipsticks, with more products to come.
Alongside the sustainable vegan products, her company is dedicated to creating a company that is B Corp certified (verified social and environmental standards), is carbon-neutral and donates 2% of all revenue to social causes.
She puts her initial success down to creating seasonal shades of polish, which most brands did not, and selling it in non-obvious retail outlets such as fashion stores.
"It was really accessible and it was the only cosmetic brand on display. It was luck. It just worked."
In 2016, she was named Young Australian Businesswoman of the Year.
Not bad for a tomboy rugby player who had never worn nail polish until she bought some to try on her jewellery.
"I love to learn. I love to start new things, go in blind. I call myself a 'skills accumulator'. That is my personality."
The jump from jewellery to cosmetics was not so huge as it still pivoted around design.
"All the things I love working with — colour, developing a product, taking photos for a look-book and emailing customers — they are all the same no matter what.
"It's really amazing to start from nothing and create a product people love, that's beautiful."
Her love of product design means she is always striving to improve her products, so was happy when her Self-Love Oil (a redeveloped and improved product) was named as the best oil product at the 2020 International Beauty Innovation Awards. Competing against 2000 other entries, Ross' was the only New Zealand brand to win an award.
"It's a huge honour for Kester Black to receive any global awards because we are such a small player in the global cosmetics industry. It's proof that our products are as good as or better than the heavyweights in the industry."
Most importantly though, she says it will aid her international expansion plans. The awards have helped get her products stocked in London department store Liberty.
She is always keen to increase her product range as it helps her quest to be stocked in major retailers as well as providing a buffer against the dips in sales in different product ranges. This year, she plans to release more lipstick products and new eye and brow lines.
It was thinking about what she looks for in a lipstick that influenced the matt finish on her products.
"They also don't transfer, so when I have spent the day touching my face while reading emails, I know I won't have wiped make-up all over it."
That long-lasting performance is something people do not expect from small indie brands, she says.
"But that's what really sets us apart from all the others."
It has not all been plain sailing. The steep learning curve continued even when she quit her day job to make a go of Kester Black.
In the second year, she made more than $400,000, thanks to having very few expenses or staff.
"I had all this money and didn't know what to do with it. So I spent it all. I didn't know what running a business was supposed to be like. I should have invested it back in the business — I would have been two years ahead of where we are now. I went on holidays and shopped, had fun for a year."
She has learnt from those mistakes and now has the responsibility for providing for her staff and her partner, who joined her in the business two years ago.
"That's stressful. It's really difficult."
Especially in these Covid times.
"There is so much uncertainty there is no point planning anything."
There has been a lot of hard work and commitment to make it work and Ross often worked nights from home while friends and flatmates were out partying.
"I sacrificed a lot of time and fun. I never really went out and got drunk with my friends."
Has it been worth it?
"With all the hours I've put in and what I've sacrificed ... I really don't know what the answer is."
Ross says that is partly behind the decision to move back to New Zealand sooner than she originally anticipated.
After coming back in 2019 when her dad died suddenly, Ross realised living in a city was not what she wanted.
"Melbourne is an amazing city when you want to live in a city, but I really want to live in the country. I wanted to move to the country and live my best life."
Wanaka is the place she always wanted to retire to. She had visited regularly over the years for school ski trips and to stay at a friend's bach.
"I thought, 'Why do I have to wait until I retire? Why don't I move there now."'
Then Covid hit. They had to make some decisions fast and as Melbourne went to Alert Level 4 began preparing to come home.
"I'm so glad we did."
It began a stressful few months as they packed up their house to send their belongings back, but still had a business to run. They were changing warehouses and had boxes and pallets of products to house.
"We had five tonnes of nail polish and a tiny truck to move them."
They moved them into their house, filling up three of the four bedrooms, but when the lease ran out had to move them to their 12th-floor apartment in the city.
"We literally lived in a box maze for month until we got the warehouse."
There were visa complications for her Australian partner to sort out, but finally it all came together and they were able to get on a plane to New Zealand.
After being diverted to Christchurch, they decided to stay a night at Lake Tekapo to break up the road trip to Wanaka.
"We were sitting on the floor and my boyfriend proposed to me."
After they got to Wanaka, they bought a car and attended her sister's wedding.
"Everything at once with me. It was such a huge year."
On top of that they were dealing with the challenges Covid was throwing the business' way and the challenges of moving the business from Australia to New Zealand.
"It's been a total nightmare paperwork-wise, exhausting and expensive."
Initially a wholesale business with a small online presence, the online side grew by 1000% after Melbourne went into lockdown.
"It required us to change our entire business model. We were really busy. We're still way up on last year."
She puts this down to the "lipstick effect" where in times of recession people buy smaller more affordable luxury goods such as lipstick or nail polish.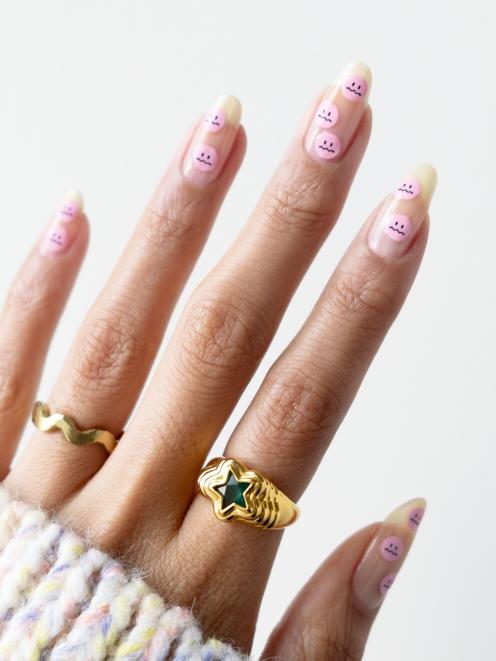 Working out of Wanaka also tested their skills. There were issues in getting a courier service for the nail polishes, which are considered dangerous goods.
And now she is facing freight problems getting her polishes, which are made in France, and her lipsticks, which are made in Italy and Australia, to New Zealand.
It meant some of the top-selling polishes were not available for months.
Despite the challenges of the past 12 months, Ross has no regrets.
"The first week we moved into the house it snowed to the ground. I hadn't seen snow in such a long time. It was so exciting."
While they continue to work hard, they have the ability to jump on their bikes whenever they want and go hiking and swimming.
"Even though we work really hard we feel like we're living semi-retirement in a way. We've got all this fun stuff. We've been learning to rock climb and camping, hiking, swimming.
"We're incredibly content with how things have worked out."
She misses her favourite pizza and wine bars, but is loving the ability to be herself, to ride her bike everywhere and not be judged for it.
"I love the freedom to be me."