Writing her first cookbook has been a labour of love for former South Otago woman Naomi Toilalo,  as she takes her passion for learning te reo and baking another step, she tells  Rebecca Fox.
A pizza night in the woolshed on the South Otago farm she grew up on is just one of the ways Naomi Toilalo wanted to acknowledge her whānau and where she came from in her cookbook.
''I gathered up all the whānau out on the farm for a shoot, my nieces made pizza. It was important to me to share that part of myself.''
Toilalo was born in the Catlins and grew up on a farm at Tuapeka West, Lawrence, spending most of her time in her ''father's world, the pakeha farming world'' so she wanted the book to reflect that part of her life too.
The cookbook, Whānaukai: Feel-good baking to share aroha and feed hungry tummies, is a tribute to Toilalo's journey to learn te reo and her passion for baking and cooking.
''It's come up a lot quicker than I thought. It's always been a dream of mine.''
Her journey to learn te reo began at 11-years-old when she went with her mother and sisters to visit her mother's whanau at Te Araroa in the North Island. It was the first time she and her cousins had been called on to their marae Awatere.
''Mum never spoke about being Maori, it was not something she was proud of, so it was a bit of a culture shock for us.''
Hearing te reo spoken on the marae blew Toilalo away and she became determined to find a way to learn the language.
The only way she could find to do it was by correspondence school. That meant she had to send any questions by post and she got the answer back two weeks later.
''It was a slow process. It was back in the days of cassette tapes, but I was desperate to learn.''
She left school with the aim of getting into television, but thought first she would continue her te reo studies at university doing a degree in Maori studies and theatre. However, she found the academic learning did not provide adequate opportunities to speak the language.
''I wasn't very fluent''.
Maori television was just beginning so she auditioned for roles getting one on Cyberworld, but found she just had to memorise the pages and pages of technical script as she did not understand it.
''It was fake it, 'til I make it. I bluffed my way through.''
When she became a mum, she and her husband Paul decided they did not want to put their daughter in daycare so as contract workers they shared the load, when one was working, the other was not.
''We tagged each other in.''
That was until she had her fourth daughter and they realised it was too much to juggle and Toilalo, who had been speaking te reo with her children, decided to be a stay-at-home mum.
After a year, Toilalo, who now lives in Auckland, decided she needed to do something for herself and give herself a creative outlet. Her sister suggested she try combining her passions on Instagram.
Whānaukai came out of that as she began making bilingual recipes and teaching te reo using Lego men, but she found the pressure to create humorous content each time too much.
''When I started this journey my husband was my funder, he'd say 'sure, go buy more baking supplies' and never complained. He knew it was something I needed to do, he's been a great support.''
Then her husband suggested she enter television series The Great Kiwi Bake Off and she thought, why not?
''Developing recipes for that was very inspiring and made me think this is exactly what I want to do.''
So began Whānaukai,  a video series on Instagram where she shares her recipes and her kete of te reo.
''Then I had an epiphany.  I love to give my kai away, so my second series was about giving.''
In Whānaukai: The Giving Series she calls for people to nominate friends and loved ones going through tough times or needing a pat on the back and she makes a dish for them.
She is now filming a second series of the show. ''It's such a wonderful way to connect with followers.''
Toilalo's love of baking began like many when growing up. She was always watching her Nana Lilly  ''a technical baker'' and her mother at work in the kitchen, helping out where she could.
''Growing up on a farm, my mum, all the aunties and neighbours, every place I went to, baked and cooked.''
She particularly loves the creative aspect of it. ''There are so many reasons to love the creation of food.''
Many of her recipes are inspired by her childhood - such as her mum's cinnamon donuts, her dad's favourite cheese scones and her Nana's Belgium biscuits.
Some come from the ''epic'' morning teas her mother made for the shearers featuring Kiwi favourites such as custard squares and sausage rolls.
Toilalo hated being a rousie but found looking forward to the morning teas made the hard work ''all better''.
The recipe book features her twists on these recipes in English and te reo which brought a different weight to the book, she says.
''Food is universal so it lightens it, but it's accessible to everyone whether you want to learn te reo or not - baking means family, fun, cooking for many.''
As a mum of four, it is a busy lifestyle, but she and her husband share the load. She is also able to combine it easily around family demands.
''It allows me to include them in it too.''
Her tamariki have become good bakers as a result, which she says is very exciting. Her youngest has turned five and is off to school giving her some time to herself to think things through.
''I'd love to do another book and another giving series.''
She says even after 20 years of learning and speaking te reo she is still on that journey.
''I'm still learning as well, the learning never stops but it's a real privilege to teach what I've learnt.''
Her advice to those on their journey to learn te reo - ''have fun, be kind to yourself and patient''.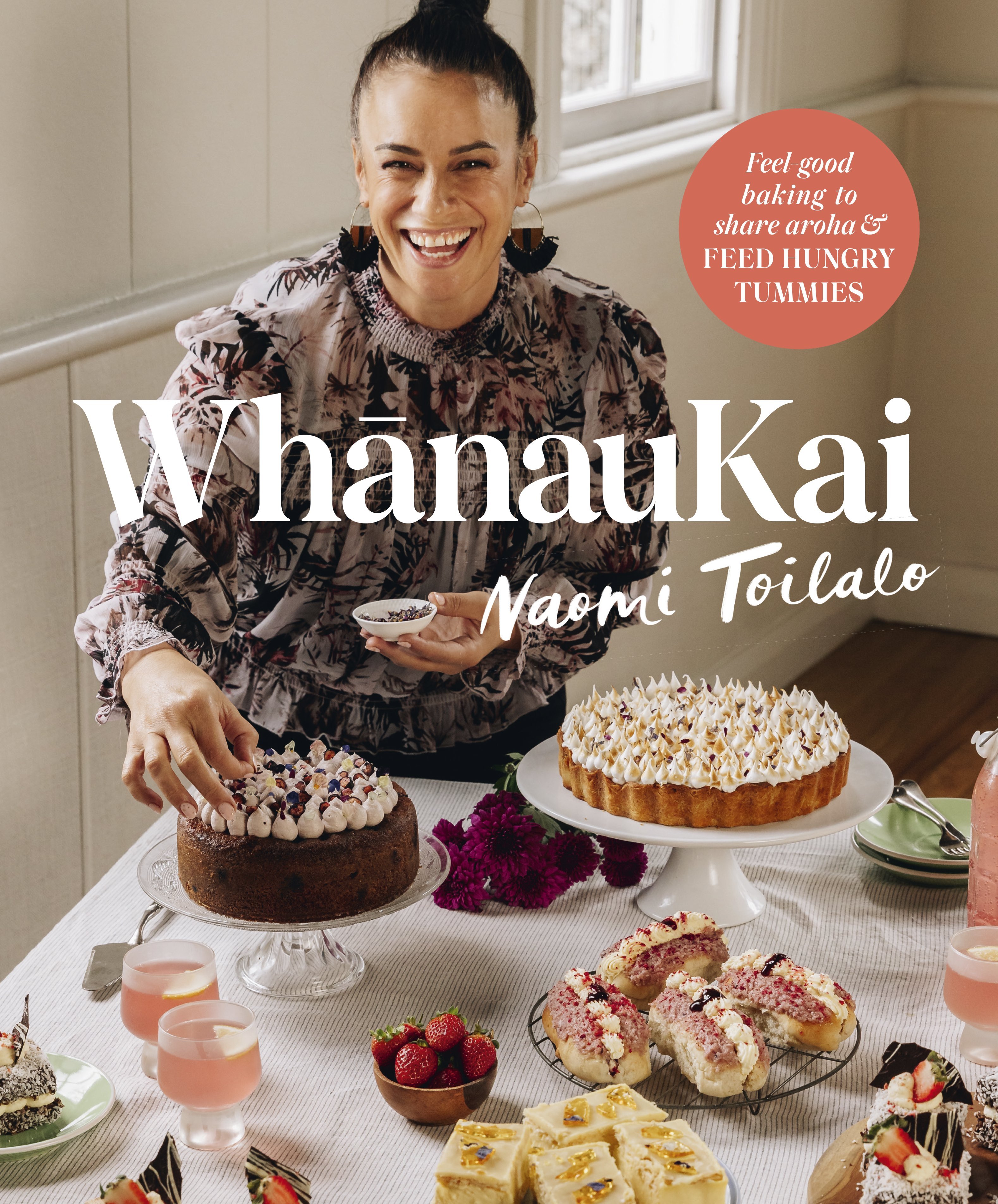 THE BOOK
Whānaukai: Feel-good baking to share aroha  and feed hungry tummies by Naomi Toilalo  (HarperCollins NZ, HB, RRP $50).