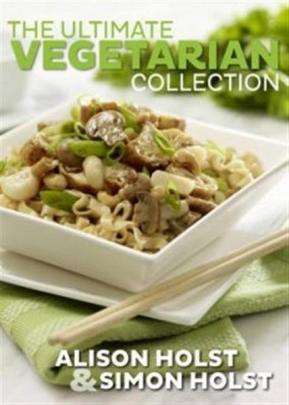 Ruth Pretty's fans won't want to miss her latest book, Ruth Pretty Cooks at Home, (Penguin), a stylish hardback that is more about cooking at weekends and for entertaining than quick, everyday meals.
Her recipes are typically elegant, often with classic flavours such as walnut and fig bread with blue cheese, apple and celery; roasted mushroom and lemon thyme dip; turkey salad with prosciutto, pine nuts and muscatels; oven-braised pork shoulder with cavolo nero, apricots and prunes; or baked rhubarb and rose geranium compote with little pavlovas. She even gives her take on the southern cheese roll - dainty little toasted asparagus rolls with a cheese and mustard filling.
A fundraising book for the New Zealand Rugby Foundation in its 25th anniversary, NZ Rugby Kitchen (Random House). The foundation supports badly injured players. Rugby players, past and present, men and a few women, have contributed recipes, from Dr Farah Palmer's paua fritters and Richard Kahui's sweet chilli mussels to Owen Frank's macaroni cheese, Andrew Hore's venison with beer and port, Israel Dagg and Sir Colin Meads' roast leg of lamb, and Chris Laidlaw's lemon shortbread with roasted rhubarb. The recipes have been tested and photographed, and there are lots of photographs of players cooking and enjoying themselves.
If you think your vegetables are boring, they probably are, writes Simon Bryant in the introduction to his book, Simon Bryant's Vegies (Lantern). If they are too perfect and available every day of the year even when out of season you are probably buying the wrong vegetables from the wrong place. Real vegetables vary from season to season and are freshly harvested, the Australian chef writes.
He regards it as his job to turn them into a meal with the minimum of fuss to let the produce shine. His book helps the cook do that and more. He creates meals out of vegetables, and although they happen to be vegetarian, many who eat these dishes won't realise until they've enjoyed it.
From humble vegetables such as potatoes and silverbeet to more exotic ones such as purple carrots and snake beans, he creates dishes such as potato potstickers with chilli peanut sauce, silverbeet with baked paneer, baby purple carrots and beets with herbed spaetzle or snake beans with garlic and tomato kusundi. His experience working in Indian and Thai restaurants comes through in the flavours, and perhaps more subtly, the inspiration of working with the renowned Cheong Liew at the Adelaide Hilton. While the recipes are not difficult - these are steaming bowls of vegetables rather than artistically arranged plates - they are often adventurous, and adventurous cooks will enjoy this book.
One of the most fascinating recent cookbooks is Who put the beef in Wellington?: 50 culinary classics, who invented them, when and why by James Winter (Kyle Books). Winter, BBC cookery programme producer, delves into the stories behind 50 famous dishes, mostly named after people, such as Caesar salad, eggs Benedict, chicken Kiev, pizza Margherita, tarte Tatin, crepes Suzette and southern specialties pavlova and lamingtons (named after Lord Lamington, governor of Queensland, who described them as ''bloody poofy woolly biscuits'').
But he also offers an alternative explanation that it was not Lamington's chef but Queensland cookery teacher Ann Schauer who invented them. Winter gives recipes for each dish or cocktail, sometimes his own version and sometimes from a prestigious chef. However, his version of lamingtons has chocolate icing sprinkled with coconut only on the top rather than the jelly-dipped version we often find here.
Vinacular, by John Saker with illustrations by Scott Kennedy (Awa Press) is sure to bring a smile to the faces of wine lovers. It's an A-Z of wine terms, gently but humorously explained. One of my favourites is Entry-level wines - ''Entry-level wines are like ground-floor apartments. It's where you start out, pay less, get no kind of a view and wonder how good it must be up there in the penthouse. (Or how hideous down in the basement).''
Too often vegetarian options on restaurant menus are disappointingly uninspired compared with other dishes, but London chef Maria Elia shows that this need not be so. The Modern Vegetarian: Food adventures for the contemporary palate (Kyle Books) will be an inspiration for anyone, chef or adventurous home cook, who wants to create stylish, sophisticated vegetarian food, whether simple or complex.
In her recipes, vegetables are the heroes and her dishes full of colour, texture, flavour and taste adventures - mushroom beetroot mozzarella and lentil cartouche, smoky aubergine, tomato and cashew-nut curry, dukkah-rolled soft-boiled eggs with chickpea puree, watermelon panzanella, and many others.
She also explores variations like textures of peas - sweet custards, soups, jellies, crostini topping, or textures of beetroot - keftedes, tzatziki, caramelised onion and beetroot bulgar pilau, Greek beetroot salad. One of the most interesting cookbooks I've come across recently and highly recommended for both vegetarians and non-vegetarians.
For vegetarians who are perhaps less adventurous but still looking for inspiration as well as easy-to-make dishes, Alison and Simon Holst's The Ultimate Vegetarian Collection (New Holland) is a must. It's a compilation from their previous books, Very Easy Vegetarian, Meals without red meat and Meals without meat. There's a wealth of recipes to take you from breakfast to dessert, with nibbles, baking and snacks along the way.