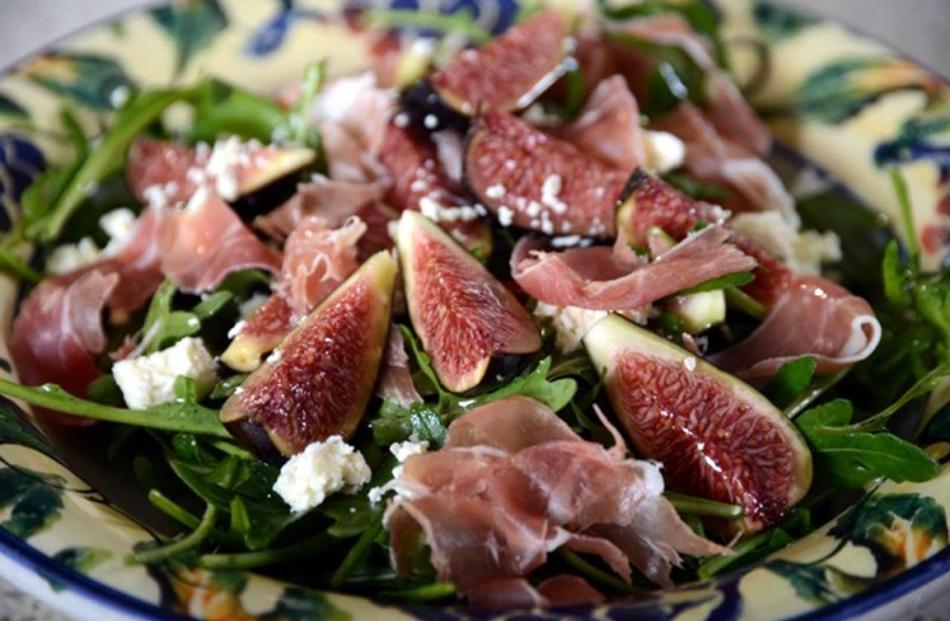 Given our love of Mediterranean cuisines it's surprising we haven't embraced fresh figs as readily as we've taken wine, olives and olive oil into our kitchens. Charmian Smith talks to Murray Douglas, who grows and processes fresh figs in Hawkes Bay. 
Strange as it may seem, a fig is not actually a fruit but a flower, according to Murray Douglas, of Te Mata Figs in Hawkes Bay.
''The fig is what's called an inverted inflorescence, which means the flower grows inside. The outside is the branch. The branch swells up because the fig flowers - and there are hundreds of them - grow inside.''
We know figs mostly as a dried fruit but once you have tasted fresh ones you don't go back, the former Dunedin City Council chief executive says.
He and his wife, Helen Walker, grew to love fresh figs when working in Australia after leaving Dunedin at the end of 1999. They lived in Haberfield, Sydney, where there was a large Italian population.
''For them figs were more than just a delicious seasonal fruit, it was part of their culture that went back centuries. The old men would sit under their fig tree and look after it and caress the trees and they'd tell me stories of the days when they lived in southern Italy. For the most part, many of them came from Calabria,'' he said.
The couple returned to New Zealand in 2007, seeking the Mediterranean-like climate of Hawkes Bay, and bought a former cherry orchard near Havelock North. They replanted it with around 29 varieties of figs.
Most people don't realise there are so many different varieties which ripen in different parts of the season and have different colours and flavours, he said.
In Hawkes Bay, where his customers are now familiar with different varieties, they may ask for purple figs with red inside, or yellow figs, or figs with a particular type of flavour, but other people just ask for fresh figs, he explains.
They not only sell the fresh fruit in season from their orchard gate, at the local farmers markets and online, but also produce a range of fig preserves, chutneys, relishes and jams as well fig salami, fig bars, panforte, pastes and syrups which are available in specialist food shops around the country.
The fig season is short, from mid-February to mid-May, and fresh figs have a shelf life of only about a week in the fridge before they turn to mush. Because they are ultimately flowers, they can't be preserved with temperature and gas like controlled atmosphere apples, he says. However, figs can be dried and during the season they dry and freeze some for processing later.
Coming from a British tradition, in New Zealand we are familiar with dried figs but not fresh. Other cultures have different traditions, Mr Douglas says.
In Croatia and Greece, fresh figs are more common to find and to enjoy, and there are many recipes for using them. Chinese and Indians enjoy fresh figs not only for themselves but also for their medicinal qualities, he said.
''In Turkey, Italy and to a lesser extent Spain, mostly they are eaten dried and manufactured into something. They will eat them fresh if they can but there's not a big tradition about fresh. While we were there we hardly saw a fresh fig but we saw plenty of dried.''
Different figs have different flavours and are used for different purposes. Smaller figs are better for drying as there is less moisture to get rid of, he explains.
The Italian Adriatic fig is a little bit astringent, full-bodied and high in natural sugars and goes into their big red jam. Chutneys need an aromatic fig. The yellow-green French Robyn fig is like eating a lolly as it is full of natural sugars and is the one to use if you want a sweet fig as in making a sorbet which is just fig and lemon, he said.
''The Spanish Brunoro Black is black on the outside, deep red pink inside, again a completely different flavour which allows us to use that flavour in ice cream. Where you couldn't use Adriatic because it would be a bit like halloumi cheese: your teeth would feel a bit funny. We've tried it. It's those experiments we had to do.
''In the case of syrups we use Gross Longue Verte, a big, fleshy fig, our largest fig at 300g, and it's slightly watery with lower sugar but still sweet and has a more pinky colour, whereas you wouldn't want a deep red colour,'' he said.
Figs, thought to be native to southwestern Asia, are one of the oldest cultivated crops. In Europe and Asia some types of figs are fertilised by tiny specialist wasps and a particular wasp has evolved for each type of fig.
The females collect pollen from wild fig trees then crawl inside the fig and pollinate the flowers. Eventually the wasp will lay her eggs in one and die. The eggs hatch and the males, which have no wings or jaws, impregnate the females and die. The females fly off to continue the pollination cycle. Some imported dried figs may have the minuscule remains of the wasps in them, he said.
Fig varieties found in New Zealand do not need to be fertilised to bear fruit.
Imported in the 1860s, New Zealand fig varieties do not have diseases commonly found overseas and therefore do not need spraying, he said.
They are easy to propagate. Just put a stick in the ground and in two or three years you will have a usable tree. Even in Dunedin, in a warm, sheltered place, you could grow a fig tree, he said.
''I'm reasonably confident that if you have the word 'brown' or 'black' in the name and put it in the sunniest spot and against a north-facing wall, if you kept it low and pruned it, you'd have a reasonable chance of getting figs.''
They prune their trees in July, keeping them low for picking. Some of them are espaliered or pollarded as figs grow on new wood, and they are grown inside the old cherry cages to keep the birds off.
Besides their own figgery, they have 14 other contract growers, mostly retired people like themselves who are ''working harder and cheaper than they have in their lives'', he said with a laugh.
''It's been a fascinating journey for us because we have no horticultural background at all. We are corporate warriors. So I have a big staff of one dog - he helps in the figgery - and Helen has some three or four in the kitchen to do the processing or send out orders.''
Te Mata Figs: tematafigs.co.nz
---
Fig, prosciutto, rocket and goat's cheese
Ingredients
8 ripe green or black figs
12 paper-thin slices of prosciutto
250gm rocket leaves
walnut oil for drizzle
50gm goat's cheese
Method
Arrange the slices of prosciutto on a serving plate. Sprinkle with rocket leaves.
Break goat's cheese over prosciutto and rocket.
Wipe the figs with a damp cloth. Cut them almost into quarters but do not cut all the way through to the base.
Arrange the figs on top of the prosciutto. Drizzle figs with walnut oil.
---
Fig parfait 
Ingredients 
450g Greek yoghurt
50ml fig syrup
225g fig compote
450g granola
4 fresh or drunken figs cut into small pieces (optional)
Method
Combine yoghurt, fig syrup and fig compote in a small bowl. Mix well.
To assemble: place a layer of the yoghurt mix in glass serving dishes and top with granola.
Repeat the layers, ending with granola.
If you have fresh or drunken figs, place them first in the bottom of the glass and repeat the layers.
Serve immediately. Note: fig syrup, fig compote and drunken figs made by Te Mata Figs are available online or check their website for local stockists.
---