Thinking of all things warm and fuzzy for winter, Otago Polytechnic's Fiona McLaren has developed a range of simple bitters.
The gentle spices liven up the drinks and provide an interesting contrast of  complementary flavours.
Using seasonal produce means the ingredients are matched to the time of year and by spicing these up we can be more creative with the flavour combinations.
Offering a long finish and a warm mouthfeel means the cocktails need less alcohol and the herbs  give an added interest and innovative flair.
Bitters are easy to research and make, they just need a little time and imagination.
By breaking them down into simpler profiles you can mix and match and I really liked the interaction with the spirits as I found I needed much less alcohol but the flavour and finish were still there.
I think it is important to be bold and creative with flavour choices in drinks  particularly now that non-alcoholic, and low-alcoholic drinks are becoming ever more popular. Variety and creativity are valued even more - whether it's because of personal preference or committed choices (Dry July is around the corner), enforced restrictions or personal beliefs - people are looking for alternative choices that add interest.
While in their concentrated form bitters can have an alcohol content in the 40% by volume range, they are only used diluted in small amounts.
But if you do not have time to make bitters you can boil and cool the flavourings in a pan with sugar and water, to create a flavoured syrup. It works well but the flavours do not come through as strongly or sharply.
Experimenting with strong herbs like rosemary, lemongrass and Vietnamese mint as stirrers and in ice cubes offered them a use more compatible with the flavour than merely as a garnish.
Here's to spicing it up a bit!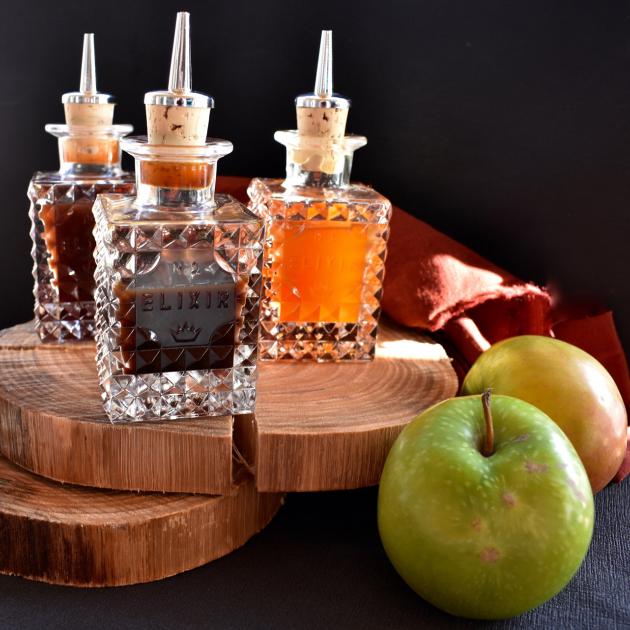 Fiona's bitters recipe
25g of your chosen flavouring ingredient (e.g. coffee or herbs)
100ml 100-proof bourbon
100ml water
20g natural unrefined cane sugar
Method
1. Combine flavouring and bourbon in a sterilised glass jar or bottle with a secure lid (I used jam jars), this needs to be stored in a dry, cool space out of direct sunlight. The jars need to be shaken vigorously every day so that all the ingredients steep evenly into the liquid.
After seven days, check the tincture to see if it smells only of the flavouring ingredient and not the alcohol.
Keep checking every day until you cannot smell the alcohol, then it is ready for the next step. With coffee it can take about 22 days.* (If smelling it from the jar doesn't work for you, place a drop or two on your palms and clap your hands twice, then cup your hands around your mouth and nose to check the aroma.)
2. Strain flavourings mix and set aside liquid.
Put solids in a small saucepan and add the water and cane sugar.
Bring to boil and simmer for three minutes.
Strain through sieve and muslin cloth, recombine with liquid from first strain. Discard solids.
Bottle or return to a clean jar for use.  I sourced the glass "Dasher Bottles" to dispense the bitters from.
* Ensure you measure the ingredients and record how long it takes to mature so you can duplicate the recipe in the future.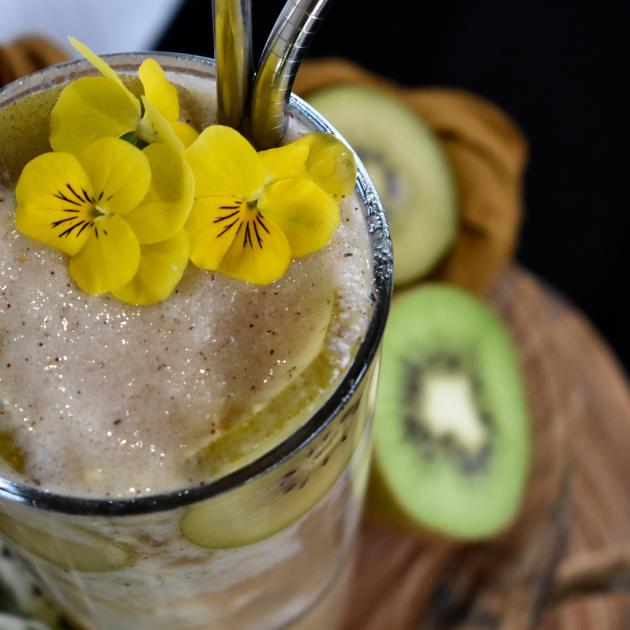 Pamplemousse spice
(Pamplemousse is French for grapefruit and super fun to say)
1 cup pink grapefruit juice
1 yellow kiwifruit
1 green kiwifruit
coriander seed and star anise bitters
Method
Blend grapefruit juice with kiwifruit and add generous dashes of bitters.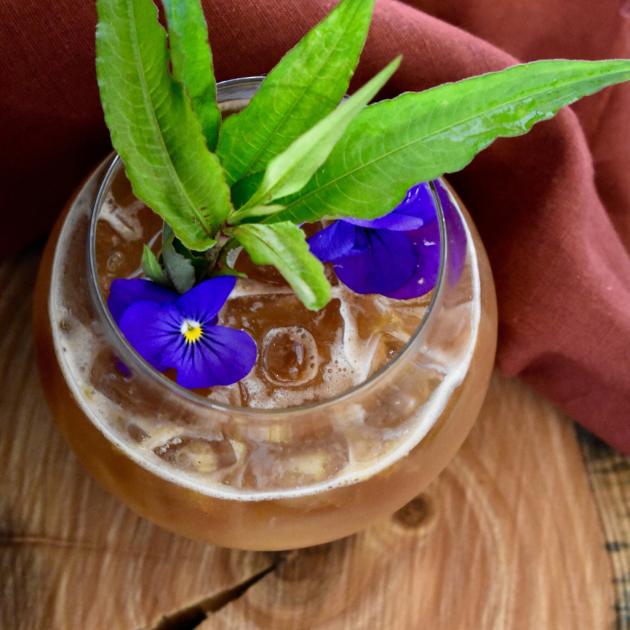 Citrus sour
1 mandarin
1/2 lime
1/2 lemon
generous sprig of Vietnamese mint
45ml fresh apple juice
ice
45ml chickpea water (acts as an egg substitute)
30ml whisky
3-5 dashes orange and mango bitters
beetroot and cinnamon bitters
Method
Muddle 1 mandarin, lime, lemon and Vietnamese mint to release oils from the skins and juice from the fruits.
Add ice, apple juice, chickpea water, whisky and bitters. Shake.
In a glass swirl ice in beetroot and cinnamon bitters.
Strain shaken ingredients into the glass over ice and use fresh Vietnamese mint as a stirrer to serve.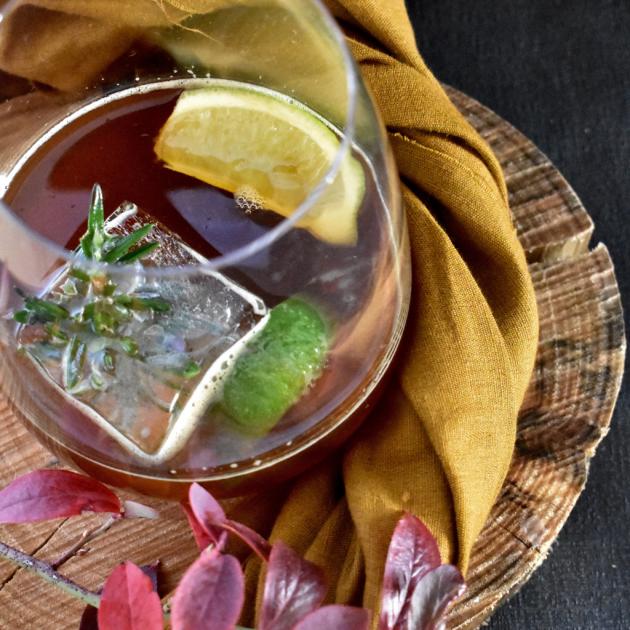 Bitter bombe
30ml Fernet Branca (a classic Italian digestive, in the same family as Aramo — the most recognised one of these is Campari)
15ml fresh lime
60ml ginger beer
wedges of lime or lemon
Method
Blend and serve over rosemary ice cube and with wedges of lime or lemon.
Note: I used fresh rosemary frozen into the ice cube to add another layer to the heady aroma of this drink.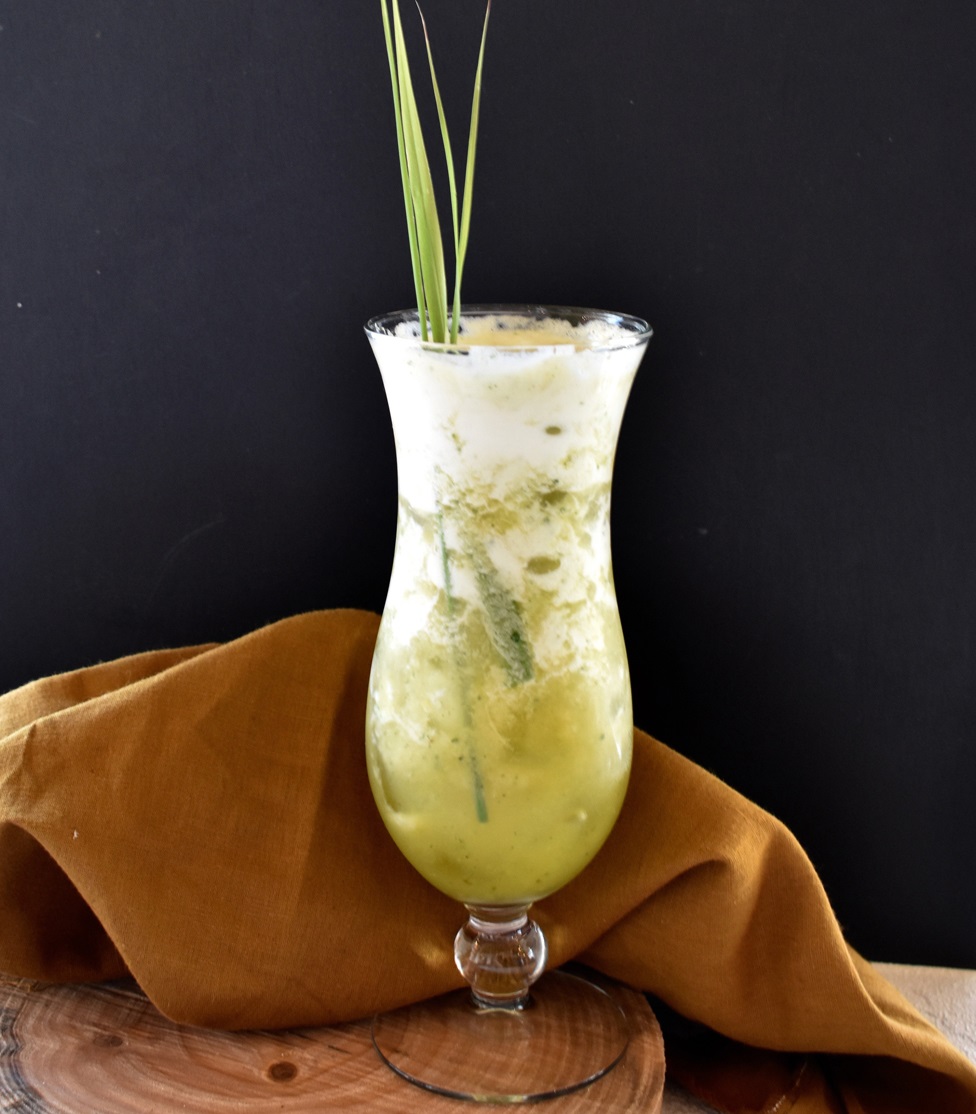 Splendor
fresh mint
fresh ginger
fresh lemongrass
fresh pineapple
15ml lemon juice
turmeric bitters
lemongrass and juniper bitters
Method
Muddle lemongrass, fresh mint and ginger together and strain into a blender.
Into the blender add the pineapple, lemon juice and bitters and blend.
Serve over ice.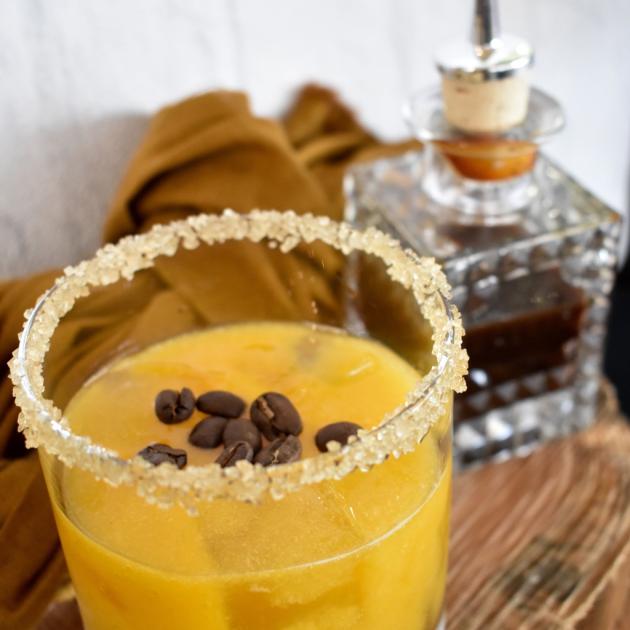 The Bambuco
(Inspired by the Columbian dance)
30ml bourbon
15ml Cointreau
1/2 fresh mango
dash of coffee bitters*
ice
Method
Blend all ingredients together and then pour into a glass filled with ice.
* You could use a good coffee extract or a shot of espresso instead, although this will taint the colour of the drink.