Moorish cuisine comes from North African influences which date back centuries.
When travelling through southern Spain, Turkey and even France you will note flavours of cinnamon, cumin, caraway and cardamom. 
Pulses are heavily used to enhance dishes and simmering ingredients together with such aromatics makes for warming, comforting dishes.
I have included a bunch of recipes which will pleasantly surprise you as the flavours, textures and ingredients work so well together and are surprisingly easy on the pocket.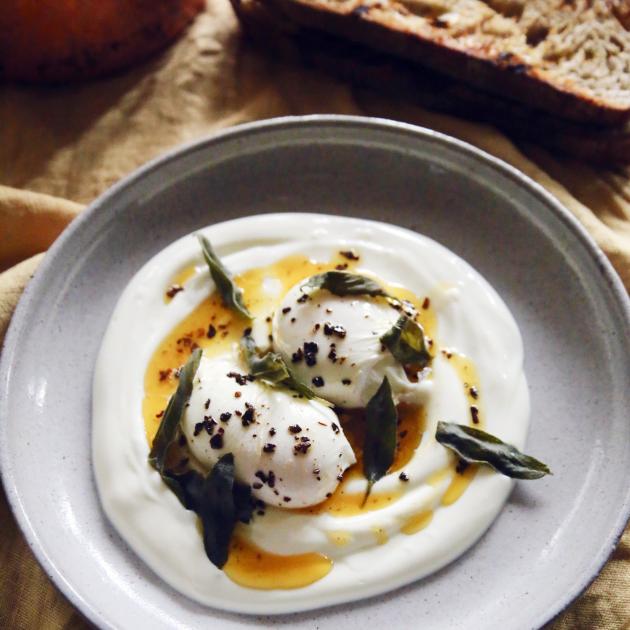 Turkish eggs with yoghurt, sage and chilli
Turkish eggs are very fashionable at the moment and are seen on many menus. This dish is an odd combination of textures, but they work together so well that this will become your new favourite!
SERVES 4
1 small bunch fresh sage leaves, picked from the stalks
1 garlic clove, crushed to a paste
350g thick Greek-style yoghurt
75g butter
1 dessert spoon white wine vinegar
4 eggs
1 tsp chilli flakes
Method
Begin by making the caramelised, brown butter (this is widely used in Turkish cuisine). Melt the butter over the lowest heat in a small saucepan. The butter will separate as it melts but don't worry, as it continues to cook the white parts will turn golden brown. This will give the butter a wonderful nutty, caramelised aroma.  But do watch it as you don't want it to get too dark. Remove and set aside.
Strain the butter slowly as you want to remove as many of the dark bits so you are left with a clear brown butter.
Add the sage leaves and fry gently in the butter until crisp. Remove the sage leaves and drain on kitchen paper.
Bring a medium-sized pot of water to the boil over high heat.  Add the vinegar to the water.
Mix the crushed garlic with the yoghurt and season lightly with a little salt.
Stir the boiling water so you get a whirlpool effect and crack in the eggs one at a time.
While the eggs are poaching, get four plates ready,
Spread the garlic yoghurt on to the plates, making a small indent in the middle of each.
When the eggs are cooked, drain and place on the yoghurt.
Warm the butter and spoon over the eggs and yoghurt, add the crisp sage leaves and sprinkle over the chilli flakes.
Chickpea, spinach and black pudding ragu
Combinations such as this are very common throughout Spain. Combining pulses with robust ingredients such as black pudding works well. We have a stockist of fabulous local black pudding right on our doorstep. Give it a try as you will not be disappointed and you will see how the combinations work well together.
SERVES 4
2 cans chickpeas, drained and rinsed
70ml olive oil
1 leek, finely sliced
2 onions, finely sliced
4 garlic cloves, peeled and finely sliced
2 fresh bay leaves
salt and cracked pepper
1 400g can tomatoes
150-200g black pudding, peeled and roughly chopped
11/2 tsp smoked paprika
3/4 tsp ground cinnamon
2-3 Tbsp sherry or red wine vinegar
150g spinach leaves, washed well and torn
To serve
lemon wedges
toasted bread
yoghurt
Method
Drain and rinse the chickpeas and set aside.
In a large deep frying pan or similar saucepan heat the oil over a moderate heat. Add the sliced leek, onions and garlic and cook for about 10 minutes so they soften and sweeten.
Add the black pudding and break up slightly, fry for a couple of minutes.
Add the spices, bay leaves, tomatoes and vinegar. Stir to combine and cook gently for 15 minutes.
Season with salt and cracked pepper.
Add the spinach and let it wilt slightly (2-3 minutes).
If a little too thick add 1-2 tablespoons of water.
Serve with plenty of toasted bread, lemon wedges and yoghurt.
Lamb pilaf with cabbage, cumin and caraway
This dish is Turkish in origin, its simple ingredients cooked in a way to enhance the flavours and to bring out the comforting textures.
SERVES 4-6
2 Tbsp olive oil
400g shoulder of lamb, cut into 1cm pieces
2 onions, grated
2 Tbsp tomato paste
1 cinnamon stick
70g butter
1 tsp caraway seeds
1 tsp cumin seeds
175g basmati rice, washed well then soaked in lightly salted water for 1 hour
1/2 medium white cabbage, finely shredded
1 bunch parsley, roughly chopped
salt and cracked black pepper
To serve
extra-virgin olive oil and lemon wedges
Method
Begin by soaking the rice and setting aside.
In a heavy-based medium-sized saucepan, heat the oil and fry the lamb pieces until golden brown. Add the onion and garlic and continue to cook for a further 2-3 minutes.
Add the tomato paste and cinnamon stick. Stir to combine.
Cover with enough water so the lamb can gently simmer until tender (30-40 mins). Set aside.
In another large saucepan melt the butter, add the caraway and cumin seeds and fry for a minute or two.
Add the drained rice and coat in the butter and let the grains toast for about 5 minutes.
Add the cooked lamb and all the sauce and stir through the rice.
Add the cabbage, season with salt and pepper and stir to combine.
Cover with enough water so the rice is covered in about 1cm depth of water. Cover with a round of greaseproof paper. Turn the heat to the lowest and cook for 10 minutes. Remove the paper and stir. Continue cooking for a further five minutes or until the rice is tender and the liquid has been absorbed.
Add the parsley, check seasoning.
Serve with plenty of lemon wedges and a generous drizzle of extra-virgin olive oil.
Puff pastry filled with custard - Miguelitos
This is a really simple dessert and one that is found in most homes throughout the homes of southern Moorish Spain and beyond.
SERVES 12
500g puff pastry
icing sugar for dusting
Custard
500ml milk
3 egg yolks
4 Tbsp cornflour
1 tsp vanilla extract
1 orange, zest only
1 lemon, zest only
1/4 cup sugar
Method
Preheat the oven 200degC.
Roll the the pastry out to 4mm thick. Cut into 12 evenly sized rectangles. Place on greaseproof paper and rest in the fridge for 20 minutes.
Making the custard
Heat the milk up over a moderate heat with the vanilla and zest.
Mix the eggs with the cornflour and sugar until no lumps appear.
When the milk has come to the boil, slowly add into the egg yolk mixture, whisking all the time. Rinse the pot and return the mixture to the pot. Heat over a moderate heat, whisking all the time so no lumps form. You want the mixture to be thick and creamy. Remove and place into a clean bowl. Cover tightly over the surface with cling film. Set aside.
Dust the pastry with icing sugar and bake until golden and well risen (10-12 minutes). Remove and allow to cool completely.
When cold, split in half and fill generously with the custard. Put the top back on and enjoy!