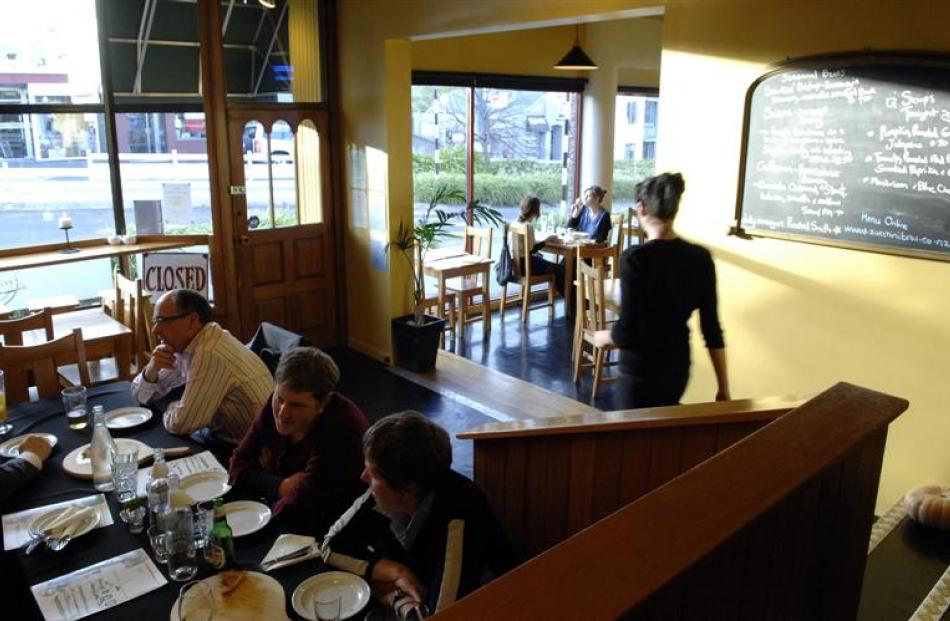 If you have ever stopped by Zucchini Bros in Roslyn, chances are you spotted the rosy face of Rachel Smith, pulling pizzas from the restaurant's oven. She and her husband, Roger, spoke to Ellie Constantine about their "dream come true".
To the casual passer-by, Zucchini Bros is a perpetually busy restaurant whose bustling staff and well-fed customers regularly steam up the windows.
To the habitual patron, the restaurant offers time-honoured favourite meals, and many fond memories.
However, owners Rachel and Roger Smith would tell you the road to achieving success was not always smooth.
Each grew up surrounded by food - her parents owned an orchard in Tasman, and his mother ran a supermarket in Taranaki. She started her first waitressing job at age 12, and he drifted quickly to the delicatessen during his part-time work in the supermarket.
They met at university in Dunedin in the late 1980s and worked in restaurants while studying.
"We both finished our degrees and, despite that, we still felt we wanted to cook," Mr Smith said.
The couple came across a golden opportunity in 1994, when a small pizza and pasta restaurant in Roslyn came on the market.
"We always really liked the neighbourhood ... and, basically, we saw the business on the market and we watched it get cheaper and cheaper and cheaper. We ended up getting it for a song," Mr Smith said.
Then the hard work began.
"We started with next to nothing and we worked seven days a week for nearly a year. We needed to open the next night or we were in trouble.
"We never really had any plan of what to do if we had any success in it. Everyone told us that 95% of small businesses failed in the first year."
Admittedly, their situation was rather grim.
Their timing put them right on the end of a recession, and the Dunedin City Council's Tansley Report, about which suburban shopping centres would survive and which would not, was fresh off the press.
"When we came to Roslyn, there were basically tumbleweeds blowing down the street," Mr Smith said.
Their choice of venue was also rather limiting.
"It was a tiny little room with a pizza oven and four tables.
"Some days were pretty hard, but we got to eat pizza, and we got really good at playing hacky sack," Mrs Smith said.
However, customers were "very generous" with praise for their food and the couple believed the "only way forward was the way forward", Mr Smith said.
They loved being in charge of their own restaurant and did not suffer from lack of fulfilment.
"It's very satisfying to cook the dishes that you love. It's a dream come true," Mrs Smith said.
After sticking at it for two years, they "had an inkling" they were going to make it.
They started thinking about expanding into the neighbouring shop.
With the bank unwilling to help them with a loan, they financed the development "week to week", with customers pitching in to build tables and a few friends helping to "put the hole in the wall".
As they developed, so did the community around them, with cafes and other businesses also establishing on top of the hill.
"A real key part of it is that sense of community. Back when we first arrived, and there was very little going on, we thought Roslyn had potential," Mrs Smith said.
When their children, Jack (13) and Tom (10), came along, "it changed things", but they grew up in the restaurant kitchen, Mr Smith said.
"Both of them slept on top of the freezer and we had a Jolly Jumper in the doorway."
The family made a point of always living close to Roslyn, so juggling child care and changeable schedules was no drama.
"It also meant they had a good relationship with where their parents worked and what they did," Mrs Smith said.
While some people might think having parents work nights would be hard on a family, for the Smiths it was actually the opposite.
"We are always there when they go to school and when they come home from school - a lot of families don't get that," Mr Smith said.
As the business grew, Mrs Smith took to working most nights at the restaurant and he only the busy ones; both would carry out preparations during the day and working together kept the couple strong.
"We have always done it. Sure it's hard on us as a couple, but we would never be able to grow apart," Mr Smith said.
The children join them on Saturdays and help out around the place for pocket money.
Sunday is their family day.
However, they are not sure about encouraging the boys to become restaurateurs.
"I would probably want them to be more ambitious than run a restaurant. We've always told them they have to get a degree first," Mr Smith said.
Despite running Zucchini Bros for 17 years, the couple never get that sense of "same old, same old" about it.
"We still love it. We still love playing with food and looking after customers," Mrs Smith said.