Asian cuisine often dances between the realms of the sweet and savoury worlds.
Whether it is an egg tart in the middle of a yum cha experience or a good old Kiwi favourite like sweet and sour pork, the sweet and savoury worlds often operate in harmony.
Inspired by the sushi balls and savoury flavours in Japanese desserts,  today's 101 comes to us from Food Design Institute bachelor of culinary arts student Sophie James.
Deep-fried sesame ice cream with miso caramel
Makes 15 portions
Ingredients
Black sesame ice cream
80g black sesame seeds
385g condensed milk
410ml heavy cream
6 eggs
300g breadcrumbs
Garnish
icing sugar
black sesame seeds
Miso caramel sauce
200g granulated sugar
90g unsalted butter
120ml cream
40g miso paste
Method
1. Heat pan on medium heat to roast black sesame seeds until a strong nutty aroma can be smelt, then leave to cool.
2. Once cooled put sesame seeds into a blender until the seeds become a powder, then add into a food processor with condensed milk until everything is blended thoroughly together and a paste is formed.
3. Whip heavy cream until stiff peaks are formed, then add one spatula full of cream into paste mixture and fold until fully mixed, repeat until all of the paste is used up.
4. When both paste and cream has become one pour into container and put into the freezer for five hours to allow the mixture to set.
5. After five hours the ice cream should have set. Roll the ice cream into 60g balls, sit them on a tray and freeze again for 30 minutes to 1 hour to harden shape.
6. Whisk egg in a bowl, then dip ice cream ball into egg and then into breadcrumbs. Again dip ice cream into egg and then into breadcrumbs to form a double coat, then return to the freezer to firm the shape.
When ready to serve, deep fry the coated ice cream for 30 seconds to 1 minute in deep fryer at 175degC.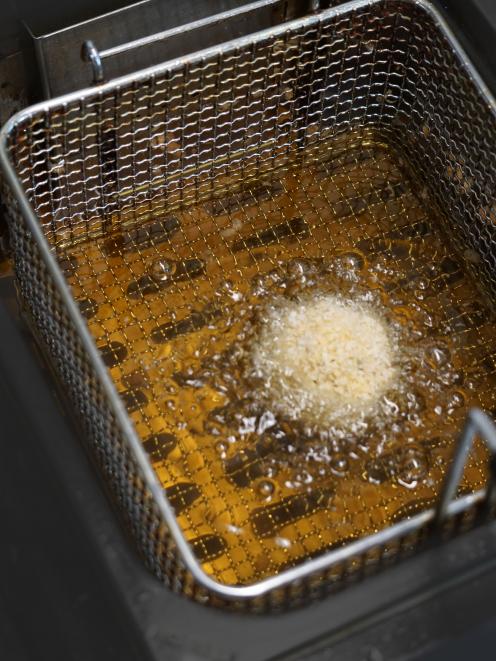 Miso Caramel Sauce
1. Melt sugar in a sauce pan on medium heat, stir consistently with a spatula to prevent the sugar from burning.
2. Once all the sugar has melted and formed an amber coloured liquid, add the butter into the liquid and stir until butter has fully melted and mixed with the sugar. However, be careful in this step, as once butter is added the liquid will boil and may burn.
3. Slowly add cream into mixture and stir so that the cream mixes with the liquid. With the liquid being hotter than the cream it may cause the liquid to bubble, so slowly adding the cream while stirring helps prevent splatters or bubbles from forming.
4. Add miso paste to the caramel sauce and mix until evenly combined
To serve
Dust ice cream balls with icing sugar, drizzle the miso caramel over ice cream and sprinkle with toasted sesame seeds.
What is miso paste?
• It is a mixture of soy beans, rice or barley that has been fermented with salt, water and a fungus
• A Japanese cultural staple it is often used to make Miso soup
• It is packed with protein, vitamins and minerals
• White miso (shiromiso) is the mildest variety
• Red miso (akamiso) is much saltier
• Mixed miso (awasemiso) is combination of the two and is dark with a strong taste
• Can be used many ways as a marinade, rub, glaze or to thicken sauces
• Is found in the Asian section of most supermarkets