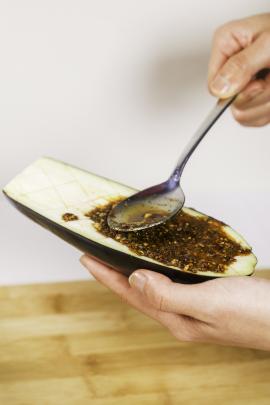 This is a fresh, fragrant and flavoursome stuffed eggplant recipe.
Within the recipe, harissa-marinated eggplants are lightly roasted in the oven before being finished with a bulgur salad with fresh herbs and a tangy tahini dressing. 
Harissa can be brought pre-made for convenience or can be easily made with common pantry spices.
Harissa baked eggplants with tahini dressing
Serves 4
Baked Eggplants
2 eggplants
2 Tbsp of extra virgin olive oil
1 pinch of sea salt
4 Tbsp of harissa
140ml olive oil, plus extra to finish
Eggplant filling
150g fine bulgar
50g sultanas
10g fresh coriander, chopped
10g fresh mint, chopped
50g pitted green olives, halved
30g flaked almonds, toasted
3 spring onions, chopped
1 ½ Tbsp of lemon juice
2 Tbsp finely chopped preserved lemon skin
Tahini dressing
4 Tbsp tahini
4 Tbsp lemon Juice
4 Tbsp water
1 Tbsp honey
1 large clove of garlic, finely minced
Method
1. Heat the oven to 200degC. Mix together harissa, two-thirds of the olive oil and a teaspoon of salt. Cut the eggplants in half lengthways. Score the flesh of each half of the eggplant with deep diagonal crisscrosses, making sure not to pierce the skin.
2. Spoon the marinade over.
3. Roast for 40 minutes or until the eggplants are completely soft.
4. Meanwhile, place the bulgar in a large bowl and add 140ml of boiling water. Cover with clingfilm.  Soak the sultanas in 50ml of warm water.
5. After 10 minutes, drain the sultanas and add them to the bulgar, along with the remaining oil. Add the herbs, olives, almonds, spring onion, lemon juice and pinch of salt. Stir to combine, taste and add more salt if necessary.
6. Serve the eggplants warm or at room temperature. Place one half per portion on a serving plate. Spoon bulgar on top and add some tahini dressing, sprinkle with chopped coriander and finish with a drizzle of oil.