With winter upon us, students from the bachelor of culinary arts programme at Otago Polytechnic have designed this 101 winter warmer dish which is perfect for a cosy night in.
Traditionally made with lashings of butter, milk and cheese, this recipe turns that on its head and is a clean take on the classic cauliflower cheese
This vegan adaptation by Jessica Alesha and Euan Fraser is a modern take on the family favourite by using a cashew nut-based sauce as a substitute for the classic bechamel and finishing it with a spicy dukkah breadcrumb topping.
These simple recipe adaptations quickly transform this classic dish from its humble and mundane roots to an elevated and exotic food experience.
The dish is perfect as a side but equally as delicious eaten on its own. Likewise, it is not only good for your soul but is guilt-free as well.
Vegan cauliflower cheese
Serves 4
Ingredients
4 cups of cauliflower cut into florets (around ½ head)
Cheese sauce
¼ tsp salt
1 Tbsp nutritional yeast flakes
1 cup of cashew nuts soaked for an hour in cold water or 30 minutes in boiling water
¾ cups of almond milk
1 Tbsp of lemon juice
½ tsp corn starch
Spicy dukkah breadcrumb topping
1 cup of wholemeal breadcrumbs
½ tsp salt
½ tsp ground cumin
½ tsp ground coriander
½ tsp turmeric
1 Tbsp of sesame seeds toasted in a dry pan
zest of 1 lemon
chopped parsley to finish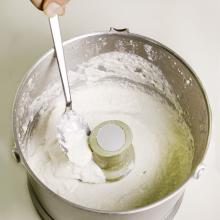 Method
1. Preheat the oven to 180degC on fan-bake. Put the cauliflower in a pot of boiling water and simmer for around 6 minutes or until just softening. Drain well.
2. Combine all of the cheese sauce ingredients in a blender and puree until smooth. Pour in a pan/pot and heat gently while stirring constantly until it thickens.
3. To prepare the spicy dukkah breadcrumb topping, lightly pulse the breadcrumbs with the spices and lemon zest until blended.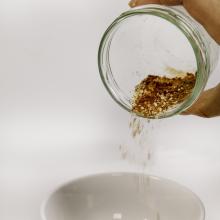 4. Put the cauliflower in a small baking dish, and cover with the cheese sauce. Sprinkle the dukkah mixture over the top.
5. Put in the oven and bake for about 10 minutes at 180degC or until the breadcrumbs are starting to brown. Remove from oven and garnish with parsley.