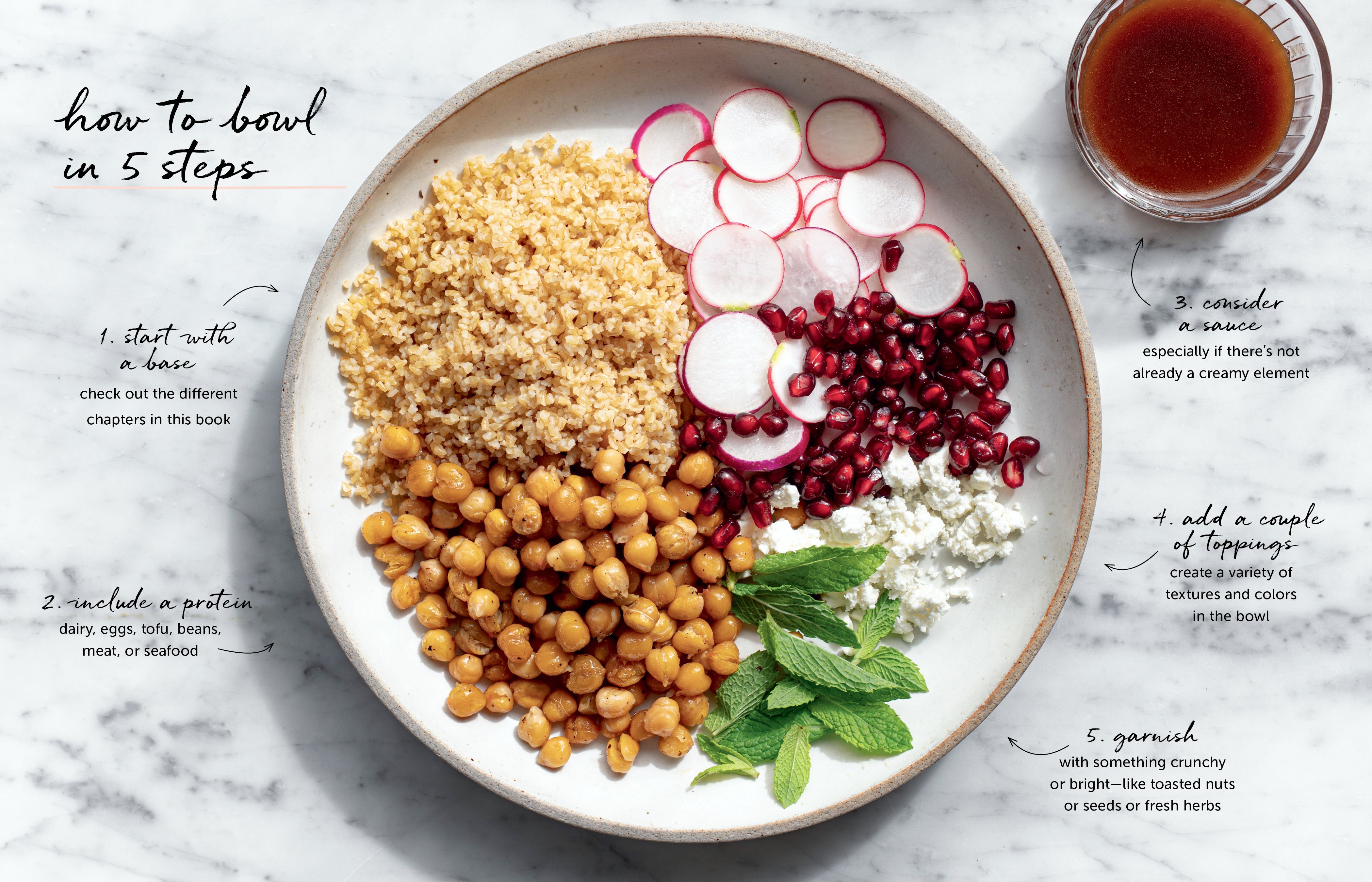 Meals in a bowl are popular with those looking for a healthy and colourful option, but cookbook author Maria Zizka says they are not a new idea. Named by Forbes as one of the most influential people under 30 in the world of food and drink, Zizka explains what makes up a one-bowl meal.
In recent years, the one-bowl meal has become a staple of contemporary eating, but the idea of a complete meal in a bowl is not new: think of Korean bibimbap, a sizzling hot stone bowl of rice served with a colourful array of pickles, spicy chile sauce, and an egg; or traditional Japanese donburi rice bowls topped with vegetables and meat or seafood; porridge with flavourful toppings is a classic bowl both in the United Kingdom and across Southeast Asia. In many cuisines, the nutritional power couple of beans and rice unite in one bowl. Whether it's savory or sweet, Mediterranean or Scandinavian, a bowl offers a nourishing, personalised and delicious meal in one.
But what exactly is a bowl? Let's go with an easy answer! In this book, a bowl is defined by the following equation:
bowl = base + topping + topping + sauce (sometimes)
Are you wondering about that sometimes? We'll get there, but first let's start with the foundation of every good bowl — the base. The chapters in this book are organised around their base ingredient: rice, other grains and legumes, noodles, or greens.
Greens can be rinsed, dried, and stored in the refrigerator until you're ready to use them.
Noodles are generally best cooked the day you eat them, but rice and other grain bases can be cooked ahead, and you might even consider making a double or triple batch for a week of meals.
Most of these recipes make two generous servings, and they all scale easily. Yield is a little tricky to determine with a one-bowl meal. The amount that you'd like to eat varies from day to day, not to mention from person to person. These recipes err on the side of having plenty of base ingredient in each bowl. That way, you're sure to cook enough to fill you up on your hungriest day, and if you prefer to save some for leftovers, then that's great, too.
A bowl needs at least a couple of toppings. However, quality is much more important than quantity — two delicious toppings are better than four that are just so-so. The best bowls have a variety of flavours, textures, and colours.
Protein plays a valuable role, contributing nutritious and filling qualities. Most recipes in this book include a protein, and all the recipes can be adapted to suit your tastes. In some cases, the base is a protein Feel free to improvise by including protein in the form of dairy, eggs, tofu, beans, meat, or seafood. If you're looking to eat vegetarian, vegan, or gluten-free, you'll find plenty of options and endless variations on the recipes.
Eggs are super-quick cooking and affordable sources of protein. When you top a bowl with a soft-boiled egg, the runny yolk acts like a built-in sauce, cloaking the other ingredients with its rich flavour.
For tinned seafood such as anchovies and tuna, make sure to choose sustainably caught fish packed in 100% extra-virgin olive oil. Buy cheese and smoked fish from local shops, if you can, or order online.
Now, about that sometimes-sauce idea. Not every bowl benefits from a sauce, because sometimes there's already a creamy component working its magic, such as yoghurt, cheese, or the aforementioned runny egg yolk. Remember that putting together a balanced bowl means exercising restraint and respecting the inherent qualities of the ingredients.
Last, the bowls in this book are often garnished with a crunchy or bright element. A finishing touch like toasted nuts or seeds looks beautiful and adds a little surprise.
Sometimes the simplest flourish of a few fresh herb leaves is all you need. Toasting nuts at home doesn't take too much time and really amps up their flavour.
A word on substitutions: Some people will tell you that you can mix and match bowl components willy-nilly. This just isn't true. Or, at least, you won't always end up with a winning combination of flavours. While the bowl is indeed a flexible template, there are certain ingredients that play well (or not) with others. Your goal is for everything in the bowl to go together perfectly. If you keep the following guidelines in mind, you'll have no trouble customising tasty bowls.
Substitution rules of thumb
For all the recipes in the Rice chapter, you can opt for white or brown rice. Just make sure to use the same size, short- or long-grain, as specified in the recipe.
When a recipe calls for a fresh, tender herb (such as parsley, basil, dill, mint, or chervil), feel free to use just about any fresh, tender herb that you love. The exception is cilantro, which tends to work best in recipes that also have soy sauce and/or something spicy (like chile pepper) as an ingredient. For Panzanella Caprese , you should probably stick to basil because tomato, mozzarella, and basil form an iconic combo.
No fancy equipment or tools are required in this book. If you happen to have a rice cooker, of course you can use it to make rice. But if you don't, rest assured that all these recipes have been developed and thoroughly tested on a stovetop.
There's something comforting and cozy about eating a personalised meal in a bowl. Putting together the base and the toppings is a satisfyingly creative act, one that's ideal for busy home cooks because most components can be prepared in advance. When you're ready to eat, just assemble and serve. Simple, nourishing, delicious.
Chilaquiles rojos
Serves 2
Chilaquiles is a quick, satisfying breakfast, and it makes for an easy weeknight dinner as well. The tortilla chip base, ancho chile sauce and eggs are nonnegotiable, but the other toppings are up to you. Add fresh coriander if you love it; omit it if you don't.
Ancho Chilli Sauce
2 dried ancho chillies
1 plum tomato
1 garlic clove
¼ tsp fine sea salt
TOPPINGS 
Soft-Scrambled Eggs
1 Tbsp unsalted butter
2 large eggs
Fine sea salt
Freshly ground black pepper
½ a 425g can of pinto beans, drained and rinsed
½ avocado, sliced
¼ cup (5g) fresh coriander leaves (optional)
3 Tbsp crumbled cotija cheese
Base
4 cups (100g) thick-cut tortilla chips
To make the sauce, bring a kettle or a small pot filled with water to the boil. Meanwhile, tear each chilli in half, discard the stem and seeds and drop the torn chillies into a large, dry skillet. Toast over medium-high heat, turning the chillies often, until fragrant and softened, about 2 minutes. Transfer the chillies to a medium bowl and pour in enough boiling water to cover. Let soak for 15 minutes. (No need to wash the skillet; you'll use it again for the chilli sauce.) Use tongs to transfer the chillies to a blender and add the tomato, garlic, salt and ¾ cup (180ml) of the chilli soaking water. Blend until smooth.
Pour the ancho chilli sauce into the skillet and bring to a simmer.
While the sauce is cooking, prepare the toppings: In a small pan, melt the butter over medium-low heat. In a small bowl, whisk the eggs just until the yolks and whites are combined, add them to the pan and cook, stirring often with a fork, until scrambled and set. Season with salt and pepper.
In a separate small pan, warm the beans with a splash of water over medium-low heat. Slice the avocado and make sure the coriander (if using) and cotija are ready to go.
Just before you are ready to serve, add the tortilla chips to the pan of sauce. Stir to coat. Divide the sauced chips between 2 serving bowls. Top with the soft-scrambled eggs, warm beans, avocado, coriander and cotija.
Sicilian favourites 
Serves 2
Caponata is a Sicilian dish made from fried eggplant cubes, chopped tomatoes and celery, and sweetened vinegar. Traditionally, caponata is served on its own, but here it serves as a full-flavour sauce for a noodle bowl that's topped with a few other Sicilian ingredients. This recipe makes a little more caponata than you'll need; leftovers are delicious spooned on toast with a drizzle of olive oil.
Caponata-style tomato sauce
1 eggplant (455g), cut into 2.5cm cubes
5 Tbsp (75ml) extra-virgin olive oil
Fine sea salt
Freshly ground black pepper
½ yellow onion, chopped
1 celery stalk, chopped
2 garlic cloves, sliced
1 Tbsp capers, rinsed
1 Tbsp red wine vinegar
1 x 425g can of diced tomatoes
Base
Fine sea salt
225g dried ziti or rigatoni pasta
1 Tbsp extra-virgin olive oil
Toppings
Ricotta salata cheese, freshly shaved with a vegetable peeler
2 Tbsp toasted pine nuts
¼ cup (5g) fresh flat-leaf parsley, chopped
Chile flakes, for garnish (optional)
Method
Heat the oven to (200degC).
Make the sauce: Place the eggplant cubes on a rimmed baking sheet, toss with 3 Tbsp of the olive oil, and season with ¼ tsp of salt and several grinds of pepper. Roast the eggplant, turning once or twice, until golden brown and tender, about 25 minutes. When finished cooking, remove the eggplant from the oven and set aside.
While the eggplant roasts, heat the remaining 2 Tbsp oil in a large nonreactive pan (i.e. not aluminum, cast iron, or unlined copper) over medium heat. Add the onion, celery, garlic, and capers. Cook, stirring occasionally, until the vegetables are softened, about 5 minutes. Stir in the vinegar, sugar, tomatoes, and ¼ tsp of salt. Simmer gently until the sauce thickens and the flavours come together, about 8 minutes. Taste and season with a little more salt and pepper. Stir the roasted eggplant cubes into the sauce.
Bring a medium pot of generously salted water to a boil. Add the pasta and cook until al dente, about 7 minutes. Reserve 1 cup (240ml) of the pasta cooking water, then drain the pasta and return it directly to the pot. Add the olive oil and a splash of the reserved cooking water and stir to coat the noodles. You can use a splash of the remaining cooking water to thin the sauce, if you like.
Divide the pasta between 2 bowls. Top with some caponata-style sauce. (Alternatively, add the cooked noodles directly to the pan of sauce and toss together over medium heat for a few minutes, until the sauce cloaks the pasta.) Scatter the ricotta salata, toasted pine nuts, and parsley over the pasta and garnish with a pinch or two of chile flakes, if you like.
Coconut farro with spicy sole 
Serves 2
Farro and other whole grains are easily cooked in plenty of salted water (as if you were boiling dried pasta), but they can also be cooked in more flavourful liquids like coconut milk. In this recipe, the coconut milk makes the farro base creamy and cooling, which is ideal because it's topped with spicy sole and the hot, crunchy condiment called chile crisp.
Base
1 (400ml) can of coconut milk
1½ cups (360ml) water
1½ cups (200g) farro, rinsed
1 tsp fine sea salt
Toppings
2 x 170g) sole fillets
1 garlic clove, pounded into a paste
2 tsp chile crisp or chile oil with chile flakes in it, plus more for serving
3 Tbsp extra-virgin olive oil
¼ tsp fine sea salt
1 lime
½cup (10g) fresh coriander leaves
1 spring onion, white and green parts, thinly sliced
Method
Make the base: In a medium saucepan, combine the coconut milk, water, farro and salt. Bring to a gentle simmer and cook, stirring occasionally, until the farro is tender and has absorbed almost all of the liquid and has a creamy texture similar to risotto or rice pudding, 15 to 30 minutes, depending on the type of farro. If the farro is still crunchy and needs to cook longer but has already absorbed all of the liquid, pour in a little more water as needed and continue cooking until tender. Season to taste.
Heat the oven to (220degC). Line a baking sheet with foil.
Place the sole fillets on the prepared baking sheet, skin-side up if the fish has skin. In a small bowl, stir together the garlic, chile crisp and oil. Rub the spicy mixture all over the fish. Season the fillets evenly with the salt. Roast until the fish is just barely cooked in the centre and turns an opaque white colour, 8 to 10 minutes. As soon as you pull the fish out of the oven, finely grate some lime zest over it and reserve the zested lime for serving alongside the fish.
Divide the farro between two bowls. Place the roasted sole on top, then garnish with the coriander and spring onion. Squeeze the lime and spoon a little of the pan juices over the greens, and serve with extra chile crisp, if you like.
Oven-toasted nuts
Spread out the nuts on a baking sheet and toast in a 150degC oven, stirring every 4 minutes or so, until golden brown inside. (Cut one in half to check.)
Immediately transfer the nuts to a plate so that they don't continue to cook on the hot baking sheet and burn.
Let cool completely before transferring to an airtight container.
Toasted nuts keep well for 2 to 3 weeks at room temperature.
Time in oven:
Walnut halves 5 to 8 minutes
Pistachios 6 to 8 minutes
Whole almonds 16 to 18 minutes 
Shelled peanuts 5 to 20 minutes
Pine nuts 5 to 20 minutes 
Seven-minute eggs
Bring a small pot of water to a boil. Carefully lower in the eggs, adjust the heat so that the water simmers gently, and cook for exactly 7 minutes.
(If you're starting with fridge-cold eggs, after 7 minutes of cooking, the whites will be set and the yolks will be soft and a little runny in the centres; if you prefer egg yolks that are fully set, cook the eggs for 10 minutes total.)
Transfer the cooked eggs to a bowl of ice water and let cool for 2 minutes, then crack and peel away the shells.