Red cabbage is packed with goodness and the vibrant colour will improve your mood.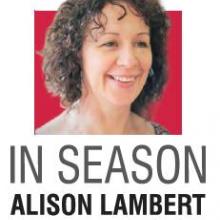 Braised red cabbage gets better overnight, so leftovers are amazing. 
Serves 4-6
2 Tbsp butter or olive oil
1 onion, sliced thinly
2 garlic cloves, crushed
2 cinnamon sticks
500g red cabbage, sliced thinly
1/4 cup sultanas
1/4 tsp ground nutmeg
2 Tbsp brown sugar
3 Tbsp apple cider vinegar
3 apples, peeled, cored and diced
1 orange, zest and juice
salt and cracked black pepper
Method
Heat the oven to 150degC.
Using an oven-proof dish, melt the butter or warm oil over a moderate heat. Add the onion, garlic and cinnamon sticks and saute for about 5 minutes.
Add the cabbage, sultanas, nutmeg, brown sugar, vinegar, apple and orange zest and juice, season with salt and pepper.
Bring to a gentle simmer for 5 minutes, cover with a tight-fitting lid and place in the oven and cook for 2 hours so that the cabbage and apples are tender and fragrant. 
Check on it and give it a stir once or twice through cooking.
Adjust seasoning, if necessary. Can be eaten hot or at room temperature and will last in the fridge for 3-4 days.