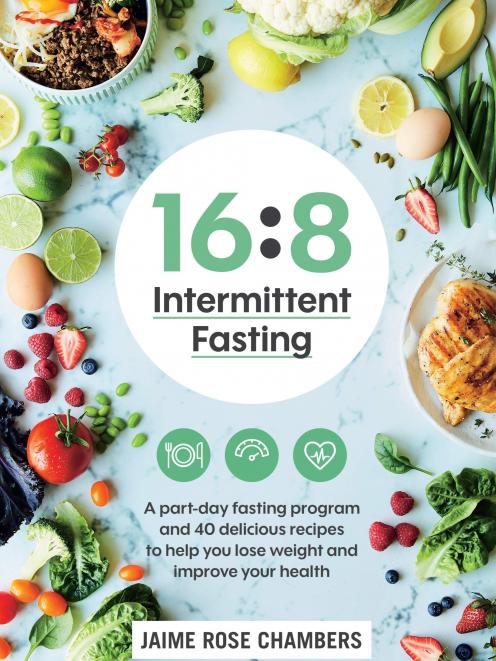 With New Year's resolutions to lose weight starting to waiver, the flow of diet books and advice gets greater. One of the latest, by Australian dietician Jamie Rose Chambers, takes a look at the use of intermittent fasting for weight loss.
Chambers belives intermittent fasting is the easiest and most effective tool for healthy weight control she has seen in her practice.
In her book, 16:8 Intermittent Fasting, she outlines how intermittent fasting works and its ability to not only control weight, but lower cholestrol, reduce blood pressure and protect against heart disease.
She watched Dr Michael Mosely's programme Eat, Fast and Live Longer in 2012 with interest, looking at the health benefits of intermittent fasting and then the scientific studies that have followed.
Mosely, who invented the 5:2 diet, recently visited New Zealand to promote his second book, The Fast 800, based on the latest science around fasting and promotes eating 800 calories a day for a few weeks followed by a new version of 5:2 and intermittent fasting, which he calls ''time-restricted eating''.
Chambers, who outlines full-day fasts and part-day fasts in her book, describes intermittent fasting as a ''health strategy'' as she does not see it as a ''diet''.
''When you are in fasting mode, it's only for a short time and it's over before you know it. When you're in eating mode you're able to enjoy nourishing food as you normally would - there's no cutting out food groups.''
In her book, as well as the science of fasting, she includes 40 recipes, most of which can be adapted to fit a fasting day, advice on how to set up a fasting programme and meal plans.
In this extract from her book, she explains fasting methods and what you can eat on fasting days.
Fasting methods explained
Intermittent fasting involves alternating fasting periods with times of eating.
Avoiding food completely, or restricting it dramatically, is known as the ''fasting period''. The period of time for eating is known in the wider fasting and diet community as ''feasting''; however in this book, I refer to it as the ''eating window''. This is because the word feasting is associated with overeating and implies extreme and contradictory behaviour.
Fasting v feasting.
Although you can eat well and enjoy wholesome food with no rules or restrictions during the eating window, it isn't a free-for-all, but rather a time for what I prefer to think of as conscious nourishing.
Although there are many different methods of fasting (ranging from hours to days, and from no food to limited food), I concentrate on two methods only in this book because they are the most well-researched (and, I believe, the most easily adaptable and sustainable).
The first of these fasting methods is what I refer to as part-day fasting (also known as time-restricted feeding, 16:8 or 18:6). In this method, you fast completely (i.e. avoid all calories) for a set number of hours each day.
The second fasting method is full-day fasting (also known as 5:2, 6:1 or alternate-day fasting), where you eat just a quarter of your daily calories over a full day, but only on certain days of the week. Research has not yet been conducted on comparing part-day and full-day fasting methods, so we don't yet know which is the better method.
What we do know is that any type of fasting can have positive health and weight-loss benefits, so the most important factor is finding the method that is right for you.
What can I eat on my fasting days?
Unlike part-day fasting, where you can't consume any calories while fasting, a full-day fasting day does includes food; your daily intake just can't exceed more than a quarter of your total calories for the day, which is 500 calories (2090 kj) for women and 600 calories (2508 kj) for men.
The foods you eat when you are fasting can be anything you like, as long as it's within that calorie limit.
However, I believe it's essential that you meet your basic nutritional needs. Plus, if you want to make the fasting day as easy as possible then eating certain foods that are low in calories but high in nutritional value and full of bulk will help keep you feeling fuller and more satisfied for longer.
These foods include: lean proteins like eggs, skinless chicken, white fish and prawns; non-starchy vegetables like zucchini, cabbage and spinach; and low-carbohydrate fruits like berries and papaya.
The way in which you distribute the calories on a full-fasting day also doesn't matter and is completely personal.
Research shows that you'll get the same results regardless of how you spread out your calories for the day. The 500/600 calories (2090/2508 kj) can be distributed throughout the day in three mini-meals, eaten over two moderate-sized meals in the earlier or later part of the day, or eaten all at once in one larger meal.
Chewy banana and oat breakfast cookies
I started making these cookies for my baby because they were so easy to whip together with one hand, and they had no added nasties. Needless to say the whole family enjoys them now. There is always a batch of these in our fridge.
Makes 6
Serving size 3 cookies
calories 210
kilojoules 878
Ingredients
1 small banana, mashed
45g (½ cup) rolled oats
1 Tbsp desiccated coconut
1 tsp olive oil
1 tsp honey
½ tsp ground cinnamon
½ tsp vanilla extract
2 Tbsp sultanas or dark chocolate chips
Method
1. Preheat the oven to 170degC. Line a baking tray with baking paper.
2. Place all of the ingredients except the sultanas/chocolate chips into a food processor and pulse until the mixture forms a chunky dough. Stir through the sultanas or chocolate chips.
3. Place heaped tablespoons of the dough on to the prepared tray, pressing down lightly on each with the back of the spoon to make a flat, round cookie shape. Don't worry about spacing the cookies too far apart - they won't spread when baking the way other cookies do.
4. Bake for about 20-25 minutes, or until the cookies are golden. Take the cookies out of the oven and leave them on the tray to cool for 5 minutes before transferring to a wire rack to cool completely.
5:2 option: Omit the sultanas or chocolate chips.



Mexican black bean and corn frittata
When I first made this frittata, it was so substantial I could hardly believe it was a fasting meal. It's so wholesome and tasty and keeps me quite satisfied for many hours.
I love it so much that it's become part of our regular routine, whether we're fasting or not. On a non-fast day I'll grate over some extra cheese and add some avocado, like I've done here. You can use fresh or tinned corn kernels for this.
Serves 2
calories 280 (per serve)
kilojoules 1170 (per serve)
Ingredients
4 eggs
2 Tbsp milk
½ tsp smoked paprika
sea salt and freshly ground
black pepper
½ Tbsp olive oil
1 spring onion, finely sliced
1 zucchini, quartered lengthways and diced
60g (½ cup) finely diced
red capsicum
100g (½ cup) corn kernels
85g (½cup) drained and rinsed
tinned black beans
1 Tbsp freshly grated parmesan
½ small avocado, peeled and sliced
Method
1. Crack the eggs into a medium bowl and add the milk and paprika, and a pinch of salt and pepper. Whisk together well.
2. Preheat the oven grill to high.
3. Heat a medium (17cm) non-stick frying pan over a medium-high heat and add the olive oil. Gently fry the spring onion, zucchini and red capsicum for 4-5 minutes, or until the veggies begin to soften.
4. To avoid a soggy frittata, pat the corn kernels and black beans dry with paper towel or a clean tea towel before adding them to the pan. Fry for 10-20 seconds.
5. Pour the egg mixture into the pan and use a spatula to move everything around so it doesn't catch on the bottom and the ingredients are evenly distributed. Sprinkle the grated parmesan over the top. Cook for 1-2 minutes, or until the outside of the frittata starts to set and become golden.
6. Place the pan under the oven grill for a minute or two, or until the top is golden and the frittata has set and is not wobbly.
7. Slice the frittata into quarters and serve two pieces per person with some sliced avocado on top.
5:2 option: Use olive oil spray instead of regular olive oil and omit the avocado.



Quick salmon with mixed vege mash
Salmon with mashed potato is a match made in foodie heaven, but potato mash can be high in calories and not terribly nutritious. My version uses four vegetable favourites, and it makes a delicious alternative to your standard mash.
Serves 2
calories 310 (per serve)
kilojoules 1296 (per serve)
Ingredients
2 125g salmon fillets
sea salt and freshly ground black pepper
1 Tsp olive oil
75g (½cup) peeled and diced pumpkin
½ large carrot, diced
60g (½ cup) broccoli florets
60g (½ cup) cauliflower florets
1 Tbsp freshly grated parmesan
1 tsp butter
1 Tbsp milk
1 tsp roughly chopped flat-leaf parsley
½ lemon, cut into wedges
Method
1. Season each side of the salmon fillets with salt and pepper. Heat a non-stick frying pan over medium-high heat and add the olive oil to the pan. Fry the fish, skin-side down, for about 5-7 minutes or until crisp and golden, then flip and cook for another 5 minutes or until cooked to your liking.
2. While the salmon is cooking, put all of the vegetables in a steamer basket placed over a large saucepan over high heat. Steam until they are soft - a knife should be able to pass through the largest vegetables easily.
3. Empty the water from the saucepan, then put the vegetables into the warm pan and place it over a low heat. Add the parmesan, butter and milk and season well with salt and pepper. Mash until the vegetables are well mixed, but still have a chunky texture.
4. Spoon half of the mashed veggies into a mound on each of two plates, and place a salmon fillet on top of each mound. Serve straight away, with the parsley scattered on top and a wedge of lemon for squeezing over.
5:2 option: Use olive oil spray instead of regular olive oil. Omit the butter and milk from the mash.