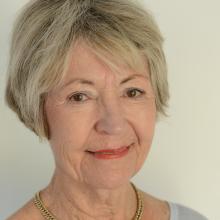 Packed with strong flavours and a glorious mix of textures, this salad makes a fabulous addition to lunch or dinner served alongside barbecued meats, roasts, chicken or fish.
Not just summertime fare but perfect for serving year round, provided you use frozen peas and choose small waxy potatoes. If you don't grow your own, shop-bought cherry tomatoes are often the best bet for flavour.
However, well-flavoured tomatoes mid-winter or early spring are impossible to find. At that time of the year, I substitute sundried tomatoes from the deli, cutting them into slender slices before tossing through the salad.
I used frozen baby peas and cook them in the microwave following packet instructions.
While developing this recipe I have used a number of different waxy potatoes. The variety I like best is Oakley's Baby Golden Gourmets.
The horseradish dressing complements the rich buttery flavour of these potatoes. Add just enough dressing to coat the salad lightly; a heavy coating dulls the lively tastes and flavours.
All seasons potato salad
Makes 5-6 as a side
Ingredients
600g waxy baby potatoes, halved or quartered if large
250g fresh or frozen peas, cooked and cooled
250g small cherry tomatoes, halved (out-of-season substitute 50g sliced sundried tomatoes in oil, well drained)
½ cup finely snipped chives or spring onions
100g feta cheese, crumbled or roughly chopped
100g roasted cashew nuts, chopped
Horseradish dressing
4 Tbsp extra virgin olive oil
2 tsp horseradish sauce|
zest of one lemon
3 Tbsp lemon juice
½ tsp raw sugar
½ tsp salt
Garnish
edible flowers
Method
Place the potatoes in a medium saucepan of lightly salted water. Bring to the boil over high heat then simmer gently for 15-20 minutes or until the potatoes are tender. While the potatoes are cooking, make the dressing.
Combine all the ingredients in a screw top jar and shake vigorously to mix. When the potatoes are cooked, drain well and tip potatoes into a bowl.
While they are still hot pour about a third of the dressing over the potatoes and turn very gently until evenly coated with the dressing.
Leave to stand for an hour or so to allow the flavours to penetrate. The potatoes can be cooked and dressed several hours ahead of time, if convenient . Refrigerate until needed.
Shortly before serving, add the peas, tomatoes and chives to the bowl and drizzle with some of the remaining dressing. Toss gently until evenly coated and well combined.
Tip on to a salad platter and scatter over the feta cheese and cashew nuts. Drizzle over a little more dressing. Garnish with edible flowers (I used runner bean flowers which are pretty and quite tasty).
Serve at room temperature.