Sophie Gray's message that you can eat tasty, healthy, fashionable food without it costing a fortune has always resonated.
During my flatting days, her early recipe books were a constant on my kitchen bench as I'm sure her new book Destitute Gourmet will be on many a student's bench this year and on those impacted by Covid-19.
Gray lost her job to Covid in the early days of lockdown, so she knows as well as any how stressful tough financial times can be.
"Using the three destitute gourmet principles to strategically attack the grocery spend, we can still eat cracking good meals while saving a significant amount of money.
"That money can be applied to some of those other important areas of life, which is empowering rather than depressing."
The three principles are:
shop smart by menu planning, setting a budget and trying cheaper brands
eat healthily and in-season to avoid expensive healthcare by adding more vegetables to your meals
 make a little of something luxurious go a long way by working out what is essential and what is a luxury
Gray says the first step is to tally up how much the family actually spends in a week, including coffee and cafe visits.
"When you have regained consciousness, work how much you can actually, honestly afford to spend on feeding your household."
Then cherry-pick from the destitute gourmet principles and tips to see what will work for the family.
"Set some goals, get the family on board and get started."
She suggests prioritising grocery spending: vegetables and fruit first, staples such as flour, rice, eggs, oats and milk next, then canned foods, next meat if you eat it and then cleaning products (dangly things for the loo are not essential).
There is no excuse for bland food especially given seasonings are normally the least expensive part of a dish, she says, so she includes a list of the condiments she uses in the book, as well as herbs, pastes and stock.
"Curry paste and a can of coconut milk are absolute essentials for me. I can create a meal that will suit virtually any diet from these ingredients."
While her early books are now out of print, her latest features some of the favourites from them. Gray asked many of her social media followers what recipes they would most like to see in a cookbook their children could leave home with.
"I selected only the ones that stood out by miles, along with some of my new current favourites."
Included is one that I've made many, many times over the years, her roasted vegetable salad with curried couscous.
There are recipes for main meals, one-pan wonders, meatless meals, snacks, salads and sides, desserts and baking.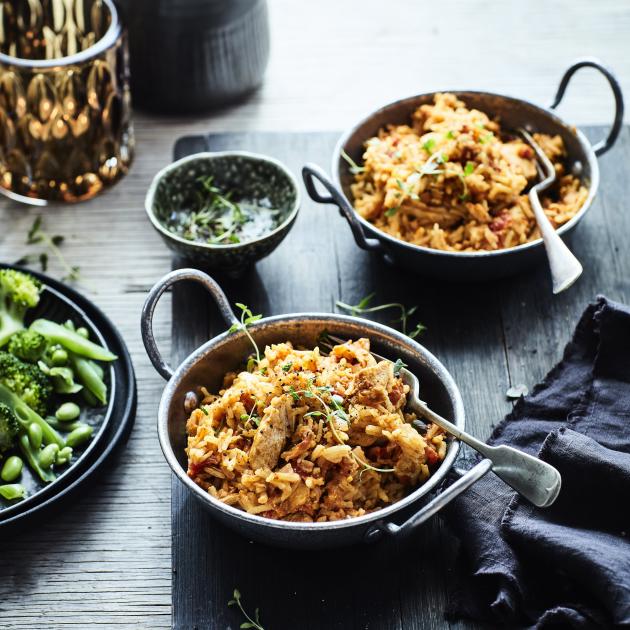 Peanut chicken and rice
This is a good Sunday night supper-type dish — you probably have everything you need in the pantry and freezer already. It's tasty and satisfying in a risotto-ish kind of way, but with a bit more zing.
Serves 4-6
Ready in 45 minutes
1 Tbsp oil
2 boneless, skinless chicken breasts, thinly sliced
1 onion, chopped
3 cloves garlic, crushed
400g can chopped tomatoes
¼ cup crunchy peanut butter
1 Tbsp curry powder
large pinch of dried thyme
3 cups chicken stock
1½ cups basmati or jasmine rice
½ tsp salt
Method
1. Heat the oil in a large frying pan and cook the chicken until sealed on both sides, then remove to a plate. Add the onion and garlic to the pan and cook until soft.
2. Return the chicken to the pan and mix in the tomatoes, peanut butter, curry powder and thyme, mixing well to disperse the peanut butter through the mixture. Add the chicken stock and bring to a simmer. Stir in the rice and salt.
3. Return the mixture to a simmer, stir once to ensure that nothing is sticking to the bottom of the pan, then cover and reduce the heat to low. Cook for 20-25 minutes until all the liquid is absorbed and the rice is cooked. Serve with a salad or green vegetables.
Tip: This is a great first family dinner for the kids to learn to make
Loaded quinoa chilli nachos
You could serve this chilli over rice or in a buddha bowl with toppings if you don't want to do the cheesy corn-chips thing. Hard-core chilli eaters can ramp up the heat by adding more of the Mexican Seasoning or adding a scattering of sliced fresh chilli or dried chilli flakes before serving.
Serves 4
Ready in 45 minutes
½ tbsp oil
1 onion, chopped
2 cloves garlic, crushed
2½ tsp Mexican seasoning (see below)
½ tsp smoked paprika
400g can chopped tomatoes
500g pumpkin, kumara or butternut, peeled and chopped into roughly 1cm pieces
¾ cup quinoa, uncooked
2 cups vegetable stock
2 Tbsp tomato paste
425g can chilli beans in sauce (I use the "hot" ones)
To serve
300g bag of corn chips (I use spicy ones)
1½ cups grated pizza cheese, or your preferred cheese (vegan if desired)
250g chopped tomatoes or cherry tomatoes
2 Tbsp pumpkin seeds, toasted and salted (see tips)
½ cup sour cream, mixed with a squeeze of lime juice (optional)
Mexican seasoning
1 heaped Tbsp ground cumin
1 Tbsp ground chilli
2 tsp sugar
1 tsp dried oregano
1 tsp salt
Chunky guacamole — optional
1 avocado, halved and deseeded
¼ red onion, chopped
handful of coriander, chopped
a good squeeze of lime or lemon juice
Method
1. In a large frying pan, heat the oil. Add the onion and garlic and cook until tender.
2. Add the spices, then stir in the chopped tomatoes, pumpkin, quinoa and stock and bring to a simmer. Mix in the tomato paste and chilli beans in sauce, then cover and simmer gently, stirring frequently, until the pumpkin is tender, the liquid has been absorbed and the quinoa is plump.
3. If making the guacamole, mash the avocado in a bowl and mix with remaining ingredients.
4. Heat the grill. Arrange the corn chips on a shallow heatproof tray or individual plates, and top with quinoa chilli and a generous sprinkle of grated cheese. Grill until the cheese is melted.
5. Scatter with chopped tomatoes and toasted pumpkin seeds. Serve with sour cream and guacamole if desired.
Tips: To toast pumpkin seeds, place in a pan with a drop of oil and fry over medium heat, turning once or twice, till golden.
You could roast the pumpkin in the oven while the quinoa cooks (without a lid) and stir it in at the end, or use leftover roast vegetables if you prefer the sweeter flavour produced by roasting.
Want more vegetables? Add chopped celery and capsicum to the onion and garlic at the start, and serve with a salad or slaw.
Baked berry swirl cheesecake with any berry sauce
Serves 8-10
Ready in 1 hour and 10 minutes + chilling
A baked cheesecake is a bit of a treat, from a cost point of view, but goes a long way. They do tend to split, but I rather like the imperfections of home-made food and happily let the berry sauce fill any crevasses in my cheesecake.
Any berry sauce
This sauce is also great with yoghurt, ice cream, porridge or pancakes.
200g (approx. 2 cups) berries — fresh or defrosted and drained; cut strawberries into pieces if using
¼ cup sugar
1 Tbsp lemon juice, or to taste
2 Tbsp water
1½ tsp arrowroot
Cheesecake
1½ packets of classic Oreo cookies (about 21)
45g butter, melted
500g cream cheese, at room temperature
2 Tbsp plain flour
1 tsp vanilla essence
1 cup sour cream (a 250g tub)
¾ cup caster sugar
2 eggs, at room temperature
Method
1. Make the sauce. Place the berries in a small saucepan with the sugar, lemon juice and water. Cover, bring to a simmer and cook until the berries are beginning to soften. Spoon out excess juice and, when cool, mix two tablespoons with the arrowroot, return it to the pan and heat gently, stirring until thick. Cool.
2. Heat the oven to 150degC. Remove the base of a 22cm springform cake tin and turn it upside down (this makes it easier to remove the cake once chilled). Grease the tin and the inverted base, then cover the base with a piece of non-stick baking paper and clip it back into place, still upside-down, so that the excess paper is outside the tin. Place the tin on a rimmed baking tray.
3. Crush the biscuits in a sturdy bag with a rolling pin, or pulse in a food processor. Mix in the melted butter, then spread evenly over the base, pressing down firmly. Chill in the fridge while you make the filling.
4. Beat the cream cheese with an electric beater until light and fluffy — around 1½ minutes. Add the flour, mixing until just combined. Add the vanilla, sour cream and sugar, mixing lightly. Mix in the eggs one at a time, then pour the mixture into the tin. Spoon a quarter of the cooled berry sauce on top and swirl it in with the tip of a knife. Bake for 45 minutes, or until light golden but still jiggly in the middle.
5. Turn off the heat and open the oven door slightly. Run a sharp knife around the cheesecake, separating it from the sides of the tin, then leave it in the oven until completely cool. Chill in the fridge before removing from the tin, to reduce splits forming. Serve in slices with extra berry sauce spooned over the top.
Tip: If you want to crack-proof your cheesecake, wrap the tin very well in foil and bake it in a water bath, then loosen the sides with a knife and chill it for 4 hours to allow the texture to firm up.