Chardonnay tends to undergo various wine-making processes, such as lees ageing, leaving the wine on spent yeast, which develops a hint of nuttiness, or malolactic fermentation, which converts sharp malic acid to buttery, sometimes even cheesy lactic acid.
Then there's oak, which can range from fermentation in barrels to hanging barrel staves in a tank to give some of the sometimes toasty, smoky oak character.
Although wine sent for review is tasted blind to eliminate preconceptions, all wine tasting and evaluation is subjective. These are personal recommendations.
BEST VALUE
Haha Marlborough Chardonnay 2013
$18
Three and a half stars 
Fragrant with hints of citrus and toasty, slightly smoky oak, this is a lively wine, textural with ripe fruit, an underlying nuttiness and a lingering, lively finish.
Mills Reef Hawkes BayChardonnay 2013
$19
Three stars
Good value
Delicate citrus and stonefruit aromas, a hint of nuts with the sweet fruit and a simple, clean finish.
Forrest Marlborough Chardonnay 2011
$22
Three and a half stars
Average value 
Hints of ripe stone fruit and an underlying smokiness, mouth-filling but understated with hints of nuts and toasty oak, leading to a crisp finish. Mature and drinking nicely now.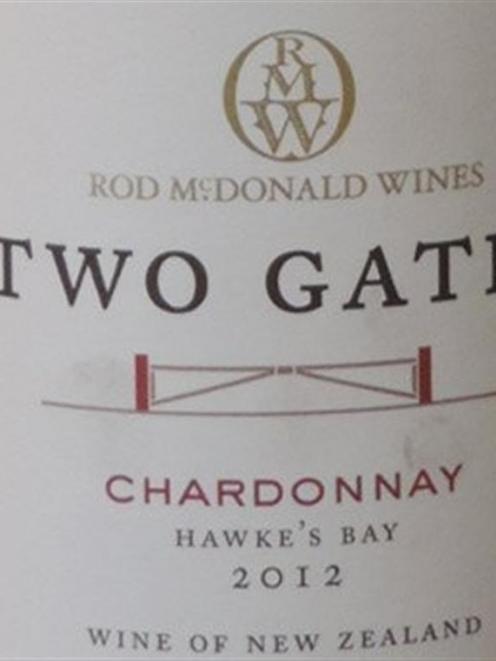 Rod McDonald Two Gates Hawkes Bay Chardonnay 2012
$30
Three and a half stars
Average value 
Perfumed with floral aromas, this takes a while to open, but then it reveals nutty, buttery flavours and a textural, dry, crisp finish. There's a lot going on here.
Neudorf Nelson Chardonnay 2012
$33
Three stars
Below average value
This wine gets better every time you take a sip as it develops in the glass. Aromas suggest slightly smoky oak, citrus and buttery nuts; it's mouth-filling, well balanced and intense with hints of stonefruit and citrus, supported by subtle, stylish oak, with a fresh lively finish.
Greywacke Marlborough Chardonnay 2011
$42
Three and a half stars
Average value
At three years old, this is still youthful and takes time to open. Pungent with smoky oak, grapefruit and a nutty complexity, fresh but restrained fruit, texture and harmony, and a long, lively finish. A stylish wine that will develop with more bottle age.
ANOTHER GLASS
 Sacred hill Hawkes Bay Chardonnay 2013
$23

Three stars 
Below average value
Hints of tropical fruit and ripe golden peaches, underlying buttery nuts and a fresh, clean finish.

Saints Gisborne Chardonnay 2012

$26 for 1.5 litre box

Two and a half stars 

Average value
Packed in a 1.5 l box, the equivalent of two bottles, this is ageing, with hints of buttered nuts and a crisp finish.