The 2017 vintage reports I received from Misha's Vineyard, Grasshopper Rock and others provided sobering reading: a warm early spring shifted to a cold, wet December and very cool January, affecting flowering and fruit set respectively with crop levels significantly down.
The relentless wind and cool weather finally relented in March and thankfully Central Otago missed the cyclones that hit further north.
Misha's Vineyard, as an example, recorded its lowest vintage heat summation, yet the very low yields, coupled with long, slow ripening, have led to marvellous depth of flavour and great vivacity across Otago, producing wines with great potential.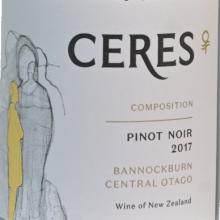 2017 Ceres Composition Bannockburn Pinot Noir
Price: $39.95
Rating: Excellent to outstanding
Dark raspberry, wild herbs, forest floor savoury notes, very alluring. Mouth filling with silky entry, a little chewy grip adding to the texture. Moves between raspberry, cherry, savoury notes and forest floor notes with a whisper of graphite on the long close. Elegance, freshness, complexity and lovely integration.
Immediate appeal yet also potential.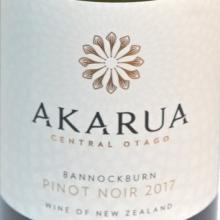 2017 Akarua Bannockburn Pinot Noir
Price: $45
Rating: Excellent to outstanding
Struck match, toast, savoury and brooding in its darker fruits, the nose changing and evolving, adding wild thyme along the way. There's richness and silkiness here, yet not over-sweetness. Plum and spice make an appearance before closing with a little stony minerality. Rich yet not cumbersome, nice integration, balance and a playful youthfulness.
Delicious.
2017 Wooing Tree Central Otago Pinot Noir
Price: $48  (not yet released)
Rating: Very good to excellent
Juicily ripe youthful fruit notes with raspberry, black pepper, earth and perfumed floral notes; a little oak spice later. This is tightly bound still, the fruit, tannic structure and a chewy pithy quality are all there, with a zesty tangy note accenting the finish.
This opens out with aeration, yet is inherently young with the best yet to come after release.
2017 Stewart Town The Bounder Bannockburn Pinot Noir
Price: $55
Rating: Excellent to outstanding
Perfumed and fragrant, roasted strawberries, red fruits and baking spices. Delicacy and lightness here, the tart cherry and red fruits have a crunchy juiciness which offers a little sweet and sour interplay. There's a sappy, youthful quality with a vivaciousness and brightness on the close.
Time brings bramble, wild herb and a raspberry balsamic- like note.
2017 Valli Bendigo Vineyard Pinot Noir
Price: $69.99
Rating: Excellent
Spices, wild herb, savoury notes, licorice with raspberry fruit, perfume and darker elements building. Vibrant, youthful, richly fruited entry with raspberry, char and some liqueur fruits. There's power and depth here, that sweet core of fruit pulsing through the wine, with a tangy freshness on the long finish.
Drinkability yet potential too.
2017 Lamont Bendigo Pinot Noir
Price: $45
Rating: Excellent
Bonfire smoke, perfumed florals, spice, herbal elements, red fruits. Elegance and poise within its tannic framework, the structure evident yet good integration too. Intensity to the red fruits that flow through the mouth, suppleness, and flavours that linger delightfully on the bright and fresh finish.
Showing its youth, but the foundations for the future are there.