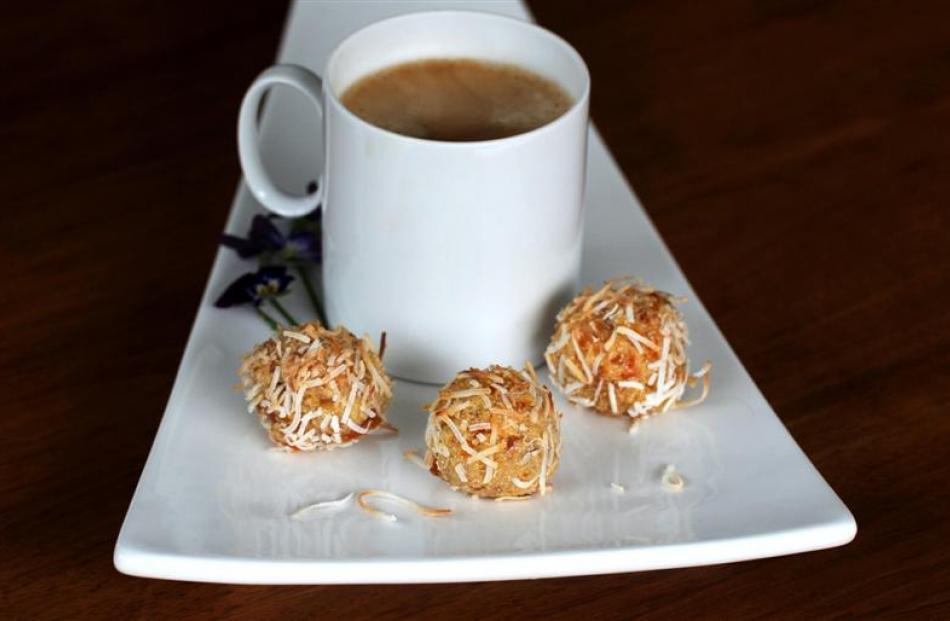 Apricot intense and densely almondy, these are an irresistible mouthful. But it is their smallness that also appeals.
So often we are offered very large portions of food; monster muffins, gigantic cookies and oversized slices.
Not just in cafes and restaurants, but also in the homes of friends.
The dilemma then becomes, do I offend my host by not accepting or eat and feel uncomfortable.
I enjoy one of these zingy little numbers at any time but for me they are the perfect small sweet something to savour with an espresso coffee.
Just a bite.
This mixture of piquant Central Otago dried apricots plus ground almonds spiked with Amaretto liqueur is sheer pleasure.
However, I do flavour these differently depending on the occasion.
My favourite flavouring is Amaretto.
An Italian liqueur flavoured with apricot kernels and bitter almonds, it really boosts the sweet, soft flavour of ground almonds.
A less expensive option but still very delicious is to use a mix of lemon and orange juice in place of the Amaretto.
The flavour of the fancies becomes more intense a few days after baking.
I think this is true of many cakes and biscuits.
Their flavours mature and deepen with keeping, whereas scones and quick breads are best eaten fresh, still warm from the oven.
Quick and easy to make, the ingredients are assembled, added to the food processor bowl and pulsed on and off a time or two until just combined, formed into small balls, rolled lightly in coconut and baked briefly.
I don't like a densely coconut ball so I use a long, fine thread coconut.
Surprisingly, the longest, finest thread variety is available in the bulk bins at some supermarkets.
It does not stick to the balls as thickly as desiccated coconut.
---
Apricot and almond fancies
Makes approximately 30 balls
Ingredients
170g Central Otago dried apricots, halved
100g crystallised ginger
150g ground almonds
100g fine semolina
60g soft brown sugar
grated zest of one lemon
grated zest of one orange
1 large egg white (size 7)
5 Tbsp Amaretto liqueur or 3 Tbsp lemon juice and 2 Tbsp orange
¾ juice cup fine thread coconut, for rolling
Method
Preheat the oven to 180degC.
Line a large baking tray with non-stick baking paper.
Place the dried apricots, crystallised ginger, ground almonds, semolina, brown sugar, lemon zest, orange zest, egg white and the Amaretto or the lemon and orange juice in a food processor. Pulse on and off until the fruit is chopped (but not pulverised) and the mixture is well combined.
To make without a food processor: Finely chop the apricots. Place in a large bowl and stir in the remaining ingredients until well combined.
With wet hands, form the mixture into small balls about the size of a large walnut.
Roll lightly in coconut and place on the prepared oven tray.
Bake in the preheated oven for 18-20 minutes until lightly golden. Transfer to a wire rack to cool.
These will keep for a couple of weeks stored in an airtight container in a cool place.
---