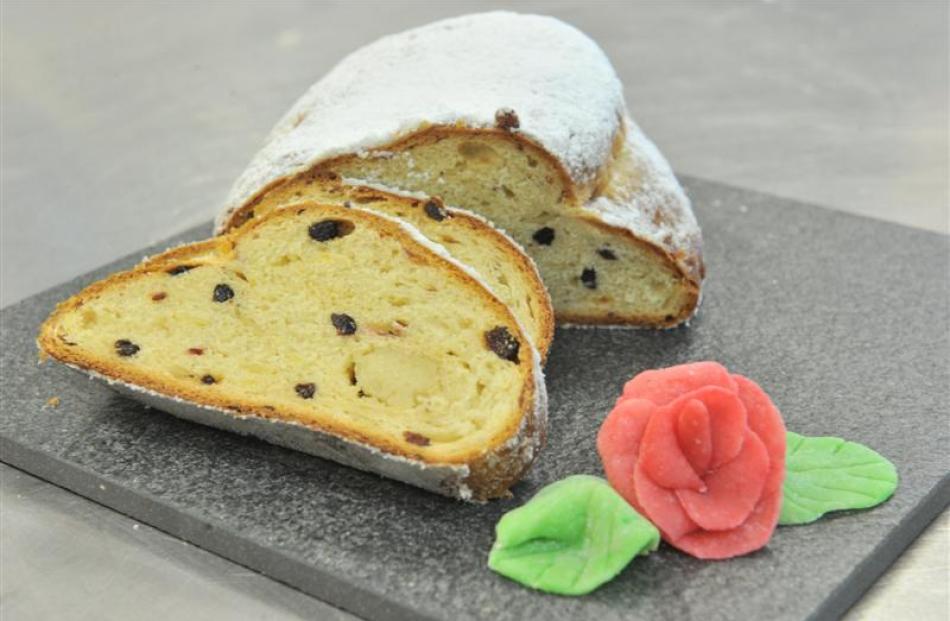 Daniel Pfyl, hospitality management lecturer at Otago Polytechnic, shares some professional techniques to make your cooking easier. This month he shows us how to make a German Christmas stollen with marzipan.
Stollen is a traditional German Christmas bread often filled with marzipan.
It's said the marzipan in the centre represents the baby Jesus and the dough the swaddling clothes he was wrapped in.
Marzipan is often coloured and shaped into fruits, animals or other decorations, but it is also sometimes baked into cakes, as in this recipe.
In Switzerland where Chef Pfyl comes from, it's shaped into pigs with small coins in their mouths which means good luck, he says.
---
Stollen
Ingredients
55g raisins
55g currants
55g cranberries
55g mixed peel
170ml dark rum
½ tsp vanilla extract
½ tsp almond extract
zest of one lemon
310ml milk (warmed to 34degC)
3 tsp dry yeast
900g-1kg strong (bread) flour
1 tsp salt
180g butter, melted
100g caster sugar
3 eggs
65g sliced almonds, skin on
250g marzipan (see below)
To finish
150g unsalted butter
200g caster sugar or vanilla sugar
icing sugar
Marzipan
(makes twice as much as needed for the stollen)
300g blanched almonds
300g icing sugar
5ml almond extract
2 egg whites
Method
To make marzipan
1) Put the blanched almonds into a food processor and process until finely ground. Take care not to process it too much, or you will end up with almond butter. If it starts to build a layer on the side of the processor bowl, it's time to stop.
2) Add the almond extract and the icing sugar. Process to combine. Add the two egg whites and work until the mixture forms a firm dough.
3) Tip it out of the processor on to a bench lightly dusted with icing sugar and ground almonds in equal quantities and knead briefly into a smooth dough.
4) Cut in two and roll into sausage shapes. Wrap in cling film, and store in the fridge. If it is well wrapped, it will keep for a long time. Covering it with chocolate will also keep it fresh.
To make the flowers and leaves
1) Take a ball of marzipan and shape it into a rough bowl. Put a drop or two of food colouring in and fold up the edges. Keep folding until the colour is even throughout. If it's not dark enough, shape it into a bowl again and add another drop or two of colour. Use a little icing sugar if the marzipan becomes sticky. Be careful not to touch the food colouring directly with your fingers or they will stain.
2) To shape the flower, start with a small piece of marzipan (red or your choice of colour) and shape it into a cone. The length of the cone doesn't matter, as you will cut off the base later.
3) Shape other small pieces into petal shapes and stick on the base of the cone, curving the top out like a petal. Continue sticking petals round the central cone until the flower looks right. Cut or break off the base so it is the right size.
4) Shape pieces of green marzipan into leaves and mark with veins using the back of a knife or a dough scraper. Arrange around the flower.
To make the stollen
1) First soak the fruit. It should be small, so chop the candied peel and the cranberries if they are large. Put all the fruit, including the lemon zest, in a bowl with the rum and vanilla and almond extract. Stir to coat and let it stand to soften, plump and absorb the flavours. Overnight is best.
2) Next, sponge the yeast: warm the milk to 34degC and put about ¾ cup of it into a bowl with a pinch of the sugar. Sprinkle the yeast over. Cover with a cloth and leave in a warm place for 10-15min until it froths.
3) Sift the flour and salt into a bowl. Start with the lesser amount, as you can always add more if needed. Make a well in the centre. Melt the butter. Whisk the eggs, add to the warm milk, the melted butter and the sugar. Mix well. Make sure the mix is warm (it should not feel hot or cold when you put your finger in). Stir in the yeast, then add the soaked fruit and almonds.
4) Mix the dough. Chef Pfyl uses a table knife, but you could use a dough hook in a kitchen machine. Add a little more flour if it seems too wet. When it has come together, knead it in the bowl, then tip it out on to a lightly floured bench and knead by pushing, folding and turning it until it is stretchy and no longer sticky. It does not need as long a kneading as bread would.
5) Shape into a ball and put it into a bowl that has been sprinkled with a little flour. Cover with a cloth and leave in a warm place until doubled in size, about two hours. When it has doubled, sprinkle a little flour on top and punch it down. Knead briefly and cut into three equal pieces. Shape them into buns by cupping them in your hands and pushing the edges underneath. The top will stretch. Cover the balls with a warm cloth and leave to rest for 5 or 10min to allow the gluten to relax.
6) Meanwhile, roll out the marzipan. Take 250g marzipan (about half the recipe given) and cut into three equal pieces. Roll each into a sausage about 10-12cm long and flatten slightly.
7) When the dough has rested, flatten it a little and, using small movements, roll into a thick oval, a bit thinner in the middle than at the edges. Lay the marzipan sausage in the centre, pushing the ends so they are a centimetre or so from the edges of the dough. Fold the dough in half to form an oval but so the bottom layer overlaps the top by a centimetre or two. Dampen the edges with a little water to help them stick.
8) Line three baking trays with baking paper. Place the stollen on them, cover with a damp cloth and leave in a warm place to prove until doubled in size again, about an hour. Alternatively, leave it in the fridge overnight to rise slowly. Leave at room temperature for about half an hour before baking.
9) When doubled in size put in a preheated oven at 180degC for 30-45min.
After 15min turn the oven down to 160degC. If it is colouring too fast, cover with foil. To check if they are done, insert a skewer into the middle of each stollen and if it comes out clean it will be done. Also, tapping the bottom will produce a hollow drumming sound when done. Remove from the oven and place on a cooking rack.
10) Melt the 150g butter and brush the warm loaves generously all over. Spread the caster sugar or vanilla sugar in a tray, roll the loaves in it and sprinkle some over so it generously coats the melted butter. Place the loaves back on the rack and sift icing sugar over. To serve, cut into thick slices and serve with coffee, or schnapps or gluhwein (mulled wine). To store, wrap in tinfoil and keep in an airtight container for up to three or four weeks, although it is best when fresh.
---
If you would like to request a particular technique we haven't already shown, please let us know. Write to Cooking 101, Editorial Features, Otago Daily Times, PO Box 181, Dunedin or email odt.features@odt.co.nz with cooking 101 in the subject line.
To check earlier Cooking 101 columns visit: www.odt.co.nz and search for ''cooking 101''.
More information on cooking from Otago Polytechnic can be found on www.otagocookeryl4.blogspot.com
---